Preseason Bracketology: 9-12 Seeds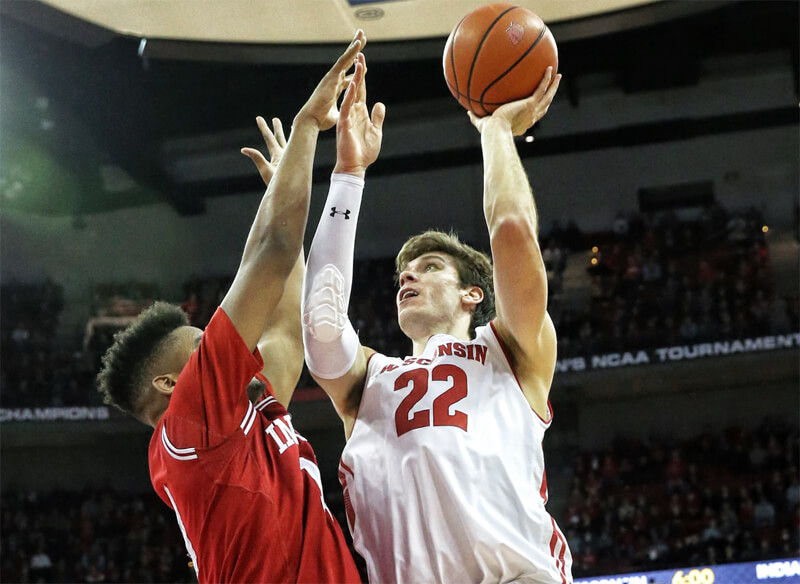 Yesterday we hit the 13-16 seeds, and today we'll hit the top teams from single-bid leagues as well as the squads I project as the final at-large teams to make the field.
12 Seeds
Northeastern – The Huskies tied for the regular season title in the Colonial and seemed to be on their way to the Big Dance before losing a 17-point lead in the tournament championship game. Northeastern returns all five starters and its top six scorers, led by junior Vasa Pusica, who scored nearly 18 points per game while dishing out 5.1 assists as well. Backcourt mate Shawn Occeus is the reigning CAA defensive player of the year and gives coach Bill Coen another capable scoring option. The Huskies ranked 13th in effective field goal percentage while taking over 45 percent of their field goal attempts from beyond the arc. At the same time, they ranked third in 3-point defense and forced opponents to take just 28.3 percent of their attempts from long range, good for second in the nation. Northeastern should be one of the top mid-major teams in the country and are the odds-on favorite to win the CAA with Charleston the most likely to challenge.
Buffalo – A pair of All-MAC players return for a team that won the regular season and tournament titles before blowing out Arizona in the first round of the NCAA tournament. The inside-outside duo of guard C.J. Massinburg (17.0 ppg, 7.3 rpg, 2.4 apg) and center Nick Perkins (16.2 ppg, 6.0 rpg) should be the league's best, and the Bulls also return Jeremy Harris, who scored 15.5 points per game and knocked down over 41 percent from 3-point range last season. The Bulls played at one of the fastest tempos in the country a year ago, and their adjusted offensive efficiency ended up in the top 35 thanks to solid shooting numbers both inside and outside the arc. While Buffalo seems poised to run away with the MAC East, the race in the West should be an interesting one with Ball State, Eastern Michigan, and Toledo all in the mix.
Saint Louis – Former Michigan State guard Javon Bess (13.3 ppg, 7.4 rpg) led the Billikens in points and rebounds last season, and he'll be relied upon heavily once again for a young Saint Louis squad. Sophomores Jordan Goodwin and Hasahn French were both key contributors as freshmen, with Goodwin scoring in double figures and leading the team in assists and French establishing himself as an effective shot-blocker and rebounder. A number of impact newcomers are in the mix as well, led by grad transfer Tramaine Isabell, who scored 21 points per game last season at Drexel, and freshmen CarteAre Gordon and Fred Thatch. If the new pieces can integrate quickly, the Billikens should be able to hold off the likes of Davidson, George Mason, and St. Joe's in the Atlantic-10.
Loyola Chicago – Following an early January loss to Indiana State, the Ramblers won 21 of their next 22 games and made a fairytale run to the Final Four where they fell to Michigan. Three of the team's five double figure scorers are back this season, including Clayton Custer, who led the team in points and assists. Backcourt mate Marques Townes (11.1 ppg) and MVC Freshman of the Year Cameron Krutwig (10.5 ppg, 6.1 rpg) will be the other headliners, but additional rotation players are also back in the fold for coach Porter Moser. The Ramblers won the Missouri Valley by four games a season ago, but Illinois State and Southern Illinois should make it a much closer race in 2018-19.
11 Seeds
Western Kentucky – Just two of five double-digit scorers are back for the Hilltoppers, but Rick Stansbury added a five-star recruit in big man Charles Bassey to go with grad transfer Desean Murray from Auburn. Virtually all of the key returnees are in the backcourt, led by Taveion Hollingsworth (13.3 ppg) and Lamonte Bearden (11.1 ppg, 3.4 apg). Western Kentucky had an up and down season that included wins over Purdue and SMU at the Battle 4 Atlantis followed by losses in three of their next four games, a 14-2 start in C-USA play, losses in their final two league games, and a run to the NIT semi-finals. I'm pegging them as the Conference USA favorites, but Marshall, Old Dominion, and even North Texas will make the race atop the league an interesting one.
Alabama (First Four) – Even with Collin Sexton gone after one season in Tuscaloosa, there is still plenty of talent with Donta Hall (10.6 ppg, 6.6 rpg), John Petty (10.2 ppg), and Dazon Ingram (9.7 ppg, 5.7 rpg) all back for the Crimson Tide. They also add Texas transfer Tevin Mack, who sat out last season after scoring 14.8 points for the Longhorns in 2016-17. Point guard play and frontcourt depth are question marks, but Alabama should be able to sustain their performance on the defensive end, where they ranked 20th in adjusted defensive efficiency. While I don't see the Tide finishing in the top five of a deep SEC, a return to the NCAA tournament is certainly within reach.
Central Florida (First Four) – The chasm between UCF's offensive and defensive efficiency was vast last season, as the Golden Knights finished eighth in adjusted defensive efficiency but 281st on the offensive end. Their field goal percentage defense was phenomenal, and they rarely put opponents on the line, but UCF finished 279th or worse in two-point, three-point, and free throw shooting. Both B.J. Taylor and Tacko Fall averaged at least 11.3 points but missed roughly half of the season due to injury, while Michigan transfer Aubrey Dawkins missed the entire year with a shoulder injury. The return of all three should improve an inept offensive attack, while players like Dayon Griffin (8.7 ppg, 4.1 rpg) and Ceasar DeJesus (8.6 ppg) lead a quintet of guys who scored at least five points per game. I wouldn't be shocked to see UCF win the AAC, but I'm also hesitant to project the level of offensive improvement needed to do so given last season's offensive woes.
Arizona (First Four) – Sean Miller has his work cut out for him after losing all five starters, who were also the only five players on the roster to score more than 4.3 points per game. Of the returnees, sophomores Brandon Randolph (3.7 ppg) and Emmanuel Akot (1.8 ppg) will be counted on to take major steps forward, while junior Dylan Smith needs to improve on his long-range shooting. Miller added grad transfers Ryan Luther, who averaged a double-double last season at Pitt, as well as Justin Coleman, who posted 13.5 points and 6.6 assists for Samford last year. Duke transfer Chase Jeter is also eligible after sitting out last season. Freshman guard Brandon Williams is a top 40 recruit and is in line to play significant minutes right away, and fellow frosh Devonaire Doutrive gives Miller another option in the backcourt. While the pieces sort themselves out on offense, the Wildcats need to show improvement on the defensive end after a precipitous drop last season, where they finished outside the top 40 in adjusted defensive efficiency for the first time in seven years.
Butler (First Four) – The graduation of Kelan Martin leaves the Bulldogs with a significant scoring void to fill. Kamar Baldwin (15.7 ppg, 4.9 rpg, 3.2 apg, 1.5 spg) will be asked to produce even more as a junior, but others will need to step up as well. Paul Jorgensen averaged 10.2 points last season, and Sean McDermott and Henry Badley both knocked down better than 43 percent from long range. Duke transfer Jordan Tucker becomes eligible in December and should provide additional scoring punch. If some combination of Nate Fowler, Joey Brunk, and a pair of freshmen can cobble together productive minutes on the front line, the Bulldogs could outperform this seed. As it is, they feel like a middle of the pack team in a tough Big East.
Texas – I feel like I am lower on Texas than the consensus, but I think we've reached "prove it" territory with Shaka Smart in Austin. The defense was terrific last season, ranking 12th in adjusted defensive efficiency, but how much does that change without Mo Bamba? The backcourt will be strong with double-digit scorers Kerwin Roach II and Matt Coleman back, both of whom also dished out at least 3.6 assists per game. Dylan Osetkowski (13.4 ppg, 7.2 rpg) returns in the frontcourt, and Jericho Sims will be counted on to take a major step forward after posting five points and 3.9 boards per game last season. The status of Andrew Jones, who missed most of last season while battling leukemia, is up in the air due in part to his recovery from treatment and in part due to a toe injury he recently suffered. Four freshmen who ranked in or around the top 100 will join the roster, as will Mount St. Mary's transfer Elijah Mitrou-Long. Based on talent, the Longhorns have all the makings of a tournament team, but it also feels like Texas has underperformed under Smart, who has a 50-50 record in his three-year tenure.
10 Seeds
Maryland – The Terps started 13-3 last season before things went off the swivel, as a 30-point road loss at Michigan State kicked off a stretch that saw Maryland go 6-10 and led to them missing postseason play altogether. The early departure of Justin Jackson, who played just 11 games last season, was not a shock, but do-it-all sophomore Kevin Huerter also stayed in the draft where he wound up being picked late in the first round. Still, the cupboard is not bare in what is shaping up to be a key season for Mark Turgeon. Point guard Anthony Cowan (15.8 ppg, 4.4 rpg, 5.1 apg, 1.5 spg) is the headliner, and Turgeon is hoping Cowan can improve on his 19.0 turnover rate, a number that was emblematic of Maryland's struggles to take care of the basketball. Sophomores Bruno Fernando (10.3 ppg, 6.5 rpg) and Darryl Morsell (8.7 ppg, 4.4 rpg) are really the only other returnees of note, and Fernando in particular has high upside if he can show the ability to step out and make shots with a bit more consistency. With so few key pieces returning, freshmen will have the chance to earn minutes right away. McDonald's All-American Jalen Smith is the highest rated of the bunch and will slide in alongside Fernando up front. Aaron Wiggins and Eric Ayala are the other first-year players most likely to contribute right away with Wiggins providing additional scoring on the wing and Ayala settling in as the backup point guard and a guy who could allow Cowan to play off the ball a bit if Turgeon wants. I don't see Maryland climbing into the top four of the Big Ten, as they seem most likely to end up in the middle of the pack in a balanced league.
Texas Tech – In contrast to my comments above about Shaka Smart, Red Raiders head man Chris Beard is someone I am finding it hard to bet against. Keenan Evans and Zhaire Smith are both gone, which leaves a fairly large scoring void when you factor in the additional role players they lost as well. Jarrett Culver (11.2 ppg, 4.8 rpg) appears most likely to step up his production, but just three other rotation players return, each of whom scored between 3.5 and 5.1 points per game. Beard did add sought after transfer Matt Mooney, who scored nearly 19 points per game at South Dakota last season. St. John's grad transfer Tariq Owens will be in the mix up front, and fellow newcomers Khavon Moore and Deshawn Corprew will have a chance to earn minutes right away. Texas Tech finished fourth in adjusted defensive efficiency last season thanks to top 20 performances in effective field goal defense and turnover rate. Look for the defense to carry the day while the pieces sort themselves out offensively.
St. John's – Chris Mullin returns his top three scorers and adds Auburn transfer Mustapha Heron (16.4 ppg, 5.3 rpg last season) and Quinnipiac transfer Mikey Dixon (16.5 ppg in 2016-17), so talent won't be an issue. However, it's worth noting the Red Storm lost 11 straight games at one point last season before shockingly beating Duke and Villanova in back to back games. Shamorie Ponds (21.6 ppg, 5.0 rpg, 4.7 apg, 2.3 spg) should challenge for Big East player of the year, while juniors Marvin Clark II and Justin Simon both logged a ton of minutes with each averaging at least 12.2 points and 4.7 boards a season ago. There isn't much size on the roster outside of South Carolina transfer Sedee Keita, and Mullin's track record as a coach provides some concern as to whether all of this talent will mesh into a successful basketball team. As a result, the range of outcomes is fairly wide for the Red Storm, who I think will ultimately finish in the middle of a jumbled Big East.
Providence – The Friars lose three starters, but I trust Ed Cooley to figure things out. He'll look to build around junior Alpha Diallo (13.2 ppg, 6.6 rpg, 2.3 apg) and senior Emmitt Holt, who averaged 12.5 points and 5.4 rebounds in 2016-17 before missing all of last season with a serious injury. Cooley will also need either sophomore Makai Ashton-Langford (4.2 ppg, 1.7 apg) or freshman David Duke to provide stability at the point guard spot. Like Duke, fellow freshman A.J. Reeves was a top 50 recruit and will have the chance to earn playing time right away. Providence finished within the top 40 in adjusted defensive efficiency, and if they can maintain that level of play, Cooley will be able to buy some time while things sort themselves out on the offensive end. Given his track record, I'll give him the benefit of the doubt to parlay the talent on this year's roster into a finish in the top half of the Big East.
9 Seeds
Wisconsin – Virtually everyone is back for the Badgers, who struggled with injuries and inexperience last season and finished just 15-18 and 7-11 in the league. All-American Ethan Happ (17.9 ppg, 8.0 rpg, 3.7 apg, 1.5 spg, 1.1 bpg) will once again be the focal point for Wisconsin, and he could be even more dangerous if he can improve his free throw shooting and/or ability to score outside the lane. Guards D'Mitrik Trice and Kobe King were both lost for the season in December and should return as key parts of the rotation. Those injuries did open the door for more playing time for Brad Davison, who was second on the team in scoring and assists while playing through a shoulder injury that required offseason surgery. Brevin Pritzl and Khalil Iverson both averaged at least eight points, but both were also inconsistent. Sophomores Aleem Ford and Nate Reuvers scored around five points per game while logging valuable playing time, which positions them as key reserves once again this year. Last season the Badgers finished outside of the top 50 in adjusted defensive efficiency for the first time since 2010-11 while also taking a huge step back offensively. I'd expect improvement in both of those areas, and if all goes well, Wisconsin could start a new streak of top four finishes in the Big Ten.
USC – The Trojans found themselves on the outside looking in on Selection Sunday despite being ranked 34th in the RPI and finishing 12-6 in the league, but the reality is they had not beaten an at-large caliber team and never really lived up to what was expected of them heading into the season. Andy Enfield loses three double-digit scorers but hopes to have Bennie Boatwright (13.6 ppg, 6.4 rpg) healthy for a full season after seeing him miss 13 games last year and 17 contests in 2016-17. Sharpshooter Jonah Matthews (9.3 ppg) is also back in the mix, and big man Nick Rakocevic will look to build on his strong play down the stretch. The recruiting class is among the league's best, led by Kevin Porter and Elijah Weaver, both of whom are top 50 recruits. Porter's scoring prowess should help ease the blow of the key losses from last season's roster, while Weaver will initially share point guard duties with former Duke guard Derryck Thornton but could very well take over the gig full time.
Miami (FL) – Jim Larranaga will have to replace three significant contributors, but there is still firepower for an offense that finished just outside the top 50 in adjusted offensive efficiency. Dewan Huell (11.4 ppg, 6.7 rpg) and diminutive guard Chris Lykes (9.6 ppg, 2.3 apg) are the top returnees, although guys like Dejan Vasiljevic (9.0 ppg) and do-it-all forward Anthony Lawrence (8.8 ppg, 6.5 rpg, 2.3 apg, 1.4 spg, 1.0 bpg) provide additional reliable options. Florida Gulf Coast grad transfer Zach Johnson scored 16.1 points per game for Dunk City last year, and proved he can compete against high-level teams when given the opportunity. Another transfer will slide into the rotation, as Miles Wilson is eligible following a transfer from Mount St. Mary's, where he scored nearly 12 points per game in 2016-17. There isn't much proven size on the roster, but the Canes will look to play small again anyway after using a similar lineup last season and still managing to finish just inside the top 50 in adjusted defensive efficiency. Look for Miami to finish somewhere in the 7-10 range in a loaded ACC.
Iowa State – I was tempted to have the Cyclones a bit higher, but a preseason injury to Solomon Young and offcourt issues for Cameron Lard (12.6 ppg, 8.1 rpg, 2.2 bpg) give me pause. Still, I think it's reasonable to expect Iowa State to take a step forward following last year's 13-18 campaign. Lindell Wigginton (16.7 ppg, 3.7 rpg, 2.8 apg) was productive albeit inefficient as a freshman, but he shot just over 40 percent from long range and will challenge for All-Big 12 honors this season. Coach Steve Prohm has been vague about what (if any) time Lard will miss, but his absence will have a huge impact on the Cyclones given his performance as a freshman where he shot 60.1 percent from the floor. Transfers Marial Shayok (Virginia) and Michael Jacobson (Nebraska) will slide into the rotation, while freshman Talen Horton-Tucker was ranked just outside the top 50 and is the other newcomer most likely to see significant playing time. There is plenty of room for improvement on both ends of the floor, as ISU's 81st ranked adjusted offensive efficiency represents their first finish outside of the Top 25 since 2010-11, and their adjusted defensive efficiency was their worst since in the 17 years of history on KenPom.
Follow Andy on Twitter (@andybottoms) for more thoughts on college hoops and to receive an update whenever new brackets are posted.
Filed to: 2018-2019 bracketology