6-Banner Sunday: Improved depth the theme of IU's season-kickoff week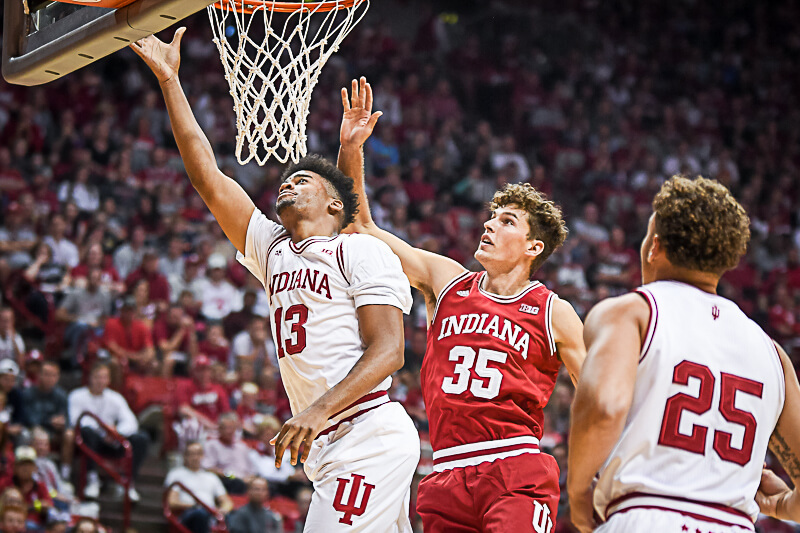 6-Banner Sunday is Inside the Hall's weekly newsletter in partnership with The Assembly Call. More than 5,800 Indiana fans receive the newsletter each week. In addition to appearing each week on the site, you can also opt to receive 6-Banner Sunday by email. A form to subscribe via email is available at the bottom of this week's 6-Banner Sunday.
Welcome to another edition of 6-Banner Sunday, a joint production between The Assembly Call and Inside the Hall where we highlight the six most essential IU basketball stories of the past week.
Last week marked the beginning of basketball season in Bloomington, as the Hoosiers participated in Media Day on Wednesday before fans piled into Simon Skjodt Assembly Hall on Saturday for Hoosier Hysteria.
The crowd was ready to blow the roof off the building when players like Romeo Langford and Juwan Morgan were introduced, and the women's basketball team raised a banner for last season's WNIT title.
Here are some highlights from a busy week for Indiana basketball.
In this week's edition:
• Optimism in the air at Hoosier Hysteria
• Depth on display in scrimmage
• Media Day takeaways
• New locker room unveiled
• POTB Mailbag; IU memorabilia collector podcast
• Inside the Hall Introductions
Banner #1
Optimism in the air at Hoosier Hysteria
Indiana basketball kicked off its season with a packed house at Simon Skjodt Assembly Hall for Hoosier Hysteria.
The players and staffs for the men's and women's teams were introduced, both Archie Miller and Teri Moren addressed the crowd, and a banner was raised for Indiana's WNIT title.
Juwan Morgan and Brenna Wise won the 3-point contest, and Romeo Langford won the dunk contest. Then the men's team scrimmaged for 15 minutes to close out the evening.
Inside the Hall's Ben Ladner made note of the distinct optimism present in the building.
New seasons have a way of renewing optimism and raising expectations, justified or not. Saturday's turnout represented a new sense of possibility and ambition for the program, and Hysteria provided an outlet for the Indiana faithful to put its passion on full display. They and Archie Miller feel high expectations are warranted, and hope to sustain their commitment for the length of the season.

"We need this home floor to be as dominant of a building to play in for our opponent as it can be, and we're going to need to you every single night to be able to give us a chance," Miller said to fans on Saturday. "We have one of the greatest places in all of college basketball to play, but when it's really, really good, we don't lose at home."
Although it's unwise to draw significant conclusions from an event like Hoosier Hysteria, one thing that was on full display throughout the event was the camaraderie among the players and the excitement level around this team. Indiana already has some chemistry on the court, and that will only increase with practice starting. And the players and coaches seem just as excited about this season and this team as the fans are.
After the festivities ended, the Assembly Call crew put together a post-event show to recap Hysteria, discussing their most important takeaways from the afternoon. Jerod joined the show live from Assembly Hall.
Wyandotte Safety Solutions is your one-stop shop for safety training and safety products. WSS offers CPR & First Aid training, fall protection, and lift training. We also sell PPE, AEDs, and First Aid supplies.
We are an Indiana company serving Indiana and all of North America. Check out our website for more information: ptsarcflash.com.
Banner #2
Depth on display in scrimmage
If there's anything to take away from the scrimmage at Hoosier Hysteria, it's the depth the Hoosiers will utilize this season.
The returning contributors plus the talented freshman class will likely create a logjam for playing time. Zach Osterman of IndyStar wrote that the rotation is a work in progress, and that's not a bad thing.
The point is, that's 14 players who could reasonably command at least a rotation spot this winter. Of course, not all 14 will, but it's Miller's job between now and Nov. 6 to figure out who is relegated to a background role.

"I feel like we can be real deep, on both ends of the floor," said Durham, who finished Saturday's scrimmage with an unofficial seven points and four assists.

It's an enviable problem for Miller to solve, but it will require solving nonetheless. Indiana is more unmolded clay than finished article right now. Figuring out how to draw the best version of itself out of this group will take some time.
In the previously linked ITH story, Ladner pointed out strong play from Race Thompson and Evan Fitzner in the scrimmage.
Despite taking a redshirt season last year, Thompson led all scorers with nine points and looked comfortable in a five-on-five setting.

Fitzner added eight points for the side in red, including two 3-pointers, and showed great instincts and awareness on both ends of the floor. He appeared to have a natural chemistry with Devonte Green in the pick-and-roll and a solid grasp of Indiana's defensive and floor-spacing principles.

"I think as a team we're still adjusting," Fitzner said. "We've got a lot of young guys, so there's still going to be an adjustment period. But I think for the most part, what we've done so far, Coach Miller has done a great job introducing all the offense, and the defense is a big part."
Banner #3
Media Day takeaways
With media day in the rearview mirror, there's plenty to take away from what Archie Miller and his players said.
Among his many comments about the team, Miller compared Romeo Langford to Randy Moss and Usain Bolt, described Jake Forrester as a high-energy guy that will get the crowd behind him, and said Justin Smith has worked on his shot to become a more adept perimeter player this season.
A big takeaway Inside the Hall's Alex Bozich had was from Miller's comments about the team's depth. At times last year, IU would deploy only an seven or eight-man rotation. The team projects to be much deeper this season with plenty of returning talent, plus freshman that will impact, or in some cases start, from day one.
With 13 scholarship players and a walk-on in Zach McRoberts who started frequently last season, one of the fascinating preseason storylines for Indiana is the rotation. Who will be in it? Will it go more than eight or nine players deep? And how will it change as the season progresses?

Miller admitted on Wednesday that there is going to need to be "give and take" and "sacrifice" as Indiana navigates through the season. In other words, the fight for minutes is going to be fierce.

"There's going to be some serious sacrifices, not just from Romeo (Langford) but Juwan (Morgan) to every single guy that just wants to contribute," Miller said. "This has to be a team of depth and togetherness this year. It really does. If we're not playing nine, ten guys, then we're not getting the maximum out of everybody on the team."
Indiana Daily Student columnist Murphy Wheeler determined that Justin Smith will be the X-factor for IU this season. Last season, Smith came on strong in conference play, particularly after De'Ron Davis was lost to injury. He averaged 7.6 points and 3.0 rebounds per game in Big Ten games, while showing the elite athleticism and and the potential for more physicality in his future.
Last season, Smith averaged 6.5 points and 3.2 rebounds as a freshman. With the type of intangibles he possesses, there isn't any reason why he shouldn't at least double those numbers this season.

Just one glance at Smith as he posed for promotional photos during IU's media day Wednesday and one can see the kind of attributes Smith brings from a physical standpoint.

He has an impeccable frame at 6-feet 7-inches, and has bulked up closer to 235 pounds this summer. He also has long arms that can disrupt passing lanes and get around the rim with ease when scoring or rebounding.

And if his improved vertical showed anything, it just confirmed the kind of unbelievable athletic talent Smith truly is.

It now comes down to whether Smith can become a more polished and skilled finisher, regardless of if he's streaking toward the lane or battling inside.

"Justin has a chance to really be one of the best finishers in our league," Miller said. "He has a chance to put more points on the board for us, and for him in general, I think that's the difference between averaging six or seven and maybe 11 or 12, maybe 13 on a deep team."
From the way Romeo Langford spoke and carried himself at Media Day, you wouldn't know he was such a heralded recruit. On Wednesday, he set high goals for himself and for his team while still remaining humble. As Gregg Doyel wrote for IndyStar, he was noticeably normal.
As Morgan continues from a podium in the IU media room, surrounded by 30 or more reporters and at least a dozen video cameras, Romeo Langford shifts in his seat. He doesn't like this, the attention, the praise. Doesn't need it. Baffling, really, that an athlete so young and talented could be this humble, but that's what he is. Morgan is about to continue, but before you hear what he says, you need to see what Romeo is doing: Lowering his head. Closing his eyes. Pinching the bridge of his nose.

Make it stop.

But, no. Morgan keeps going.

"He's always making the extra pass," Morgan says. "We all know (Romeo) can score, and he shows that ability, but he also is able to see passes and plays before it even happens. … As good as he is, he's only getting better."
Indiana's fortunes this season will be closely intertwined with Langford's play. The Hoosiers are hoping he'll be the missing piece with his smooth shooting stroke and keen passing ability. But again, you wouldn't be able to tell how important he is to the team just from hearing him talk. It's clear that he prefers to let his play do the talking. And that may be exactly how Archie Miller wants it as well.
Banner #4
New locker room unveiled
During Hoosier Hysteria, Indiana unveiled a new locker room at Simon Skjodt Assembly Hall.
The locker room features a lounge made possible by a large donation from Cody Zeller and Victor Oladipo. The press release from the program detailed the large space the Hoosiers now have at their disposal.
Unveiled to Coach Archie Miller and the Hoosier team Thursday, the new Roberts Family Indiana Basketball Team Center offers Hoosier players, coaches, managers, and staff a state-of-the-art space that will be the envy of any other purported similar facility in the country. Included in its more than 4,000-square feet of space are the Andy Mohr Locker Room; the Oladipo Zeller Legacy Lounge; the Tim Garl Athletic Training Room; and the Basketball Coaches annex.

"As a program we want our players to experience the best of the best, and as we took inventory on how we wanted to do things as a new staff, one of the things we really approached was a new area for our team and creating an environment that is cutting edge and second to none," said Miller. "I think that's what we have been able to create here."
The space will only enhance what IU basketball can offer to players and recruits. At Hoosier Hysteria, a pre-recorded video of Oladipo and Zeller was shown, with the former players talking about their donation and how much they still care about the Hoosiers.
Banner #5
POTB Mailbag; IU memorabilia collector
For the first time ever, Alex and Jerod answered listener voicemail questions on Podcast on the Brink. Those questions led to discussions about recruiting, including the Hoosier Hysteria official visits by five-stars Trayce Jackson-Davis and Keion Brooks, as well as which Hoosiers had breakout potential for the upcoming season, and more.
Additionally, Assembly Call's Brian Tonsoni conducted a long live YouTube chat with IU memorabilia collector Chris Williams, who runs the well-known IUArtifacts Twitter account. The pair discussed Williams' collection of Hoosier memorabilia and his passion for collecting IU memorabilia and sports memorabilia in general.
Banner #6
Inside the Hall Introductions
Last week, Ben Ladner and I (Seth Tow) officially got started as interns on Inside the Hall, after starting with The Assembly Call a few weeks back. We both made our introduction posts so you can learn a few things about us.
Ben and I are super excited to be working together again, after working together last year at Inside Indiana, and we're both thrilled to join the Inside the Hall and Assembly Call team.
Ben loves basketball as much as anyone you'll ever meet, and he'll be sharing that love with you all throughout the season.
Basketball is at once glaringly simple and impossibly complex. The object is to throw a ball through a hoop, sure; but the strategy, decision-making, and physical ability required to accomplish that task can be overwhelmingly complicated. It is, among other things, an art form, requiring varying degrees of skill, power, speed, and deception, and no two teams combine those elements exactly the same way. That's what makes the game fascinating and continually draws me closer to it. The who and what of basketball are plain for anyone to see. Understanding the how and why takes more digging, and is ultimately the more worthwhile pursuit.
I'm excited to bring a lot of experience I've gained throughout my three years at IU back to the beat for another year. I truly consider it a privilege to cover a program like Indiana basketball.
I'm from Maryland, so I didn't grow up with IU basketball; I grew up going to Terps games (I'm too young to remember the 2002 National Championship Game —- I was only four years old). The basketball school culture is similar at Maryland as it is at IU. But I've been taken aback by the Hoosier fan base ever since I arrived in Bloomington. The fans are as knowledgeable about basketball as any team's fan base I've seen in any sport.

And the first time I stepped in Assembly Hall, the history of the building and the program hit me unlike any venue I've been to, with the possible exception of Fenway Park. That's the type of thing that made me fall in love with sports from a young age.
And with that, the joy of hanging Banner #6 is now one week closer.
Thanks for your continued support for The Assembly Call and Inside the Hall. We'll be back next weekend with a new roundup.
Now go enjoy yourself a 6-banner Sunday. If you'd like to receive this newsletter in your inbox each Sunday, please enter your email address below:
Filed to: