Five takeaways from Indiana's 2018-2019 media day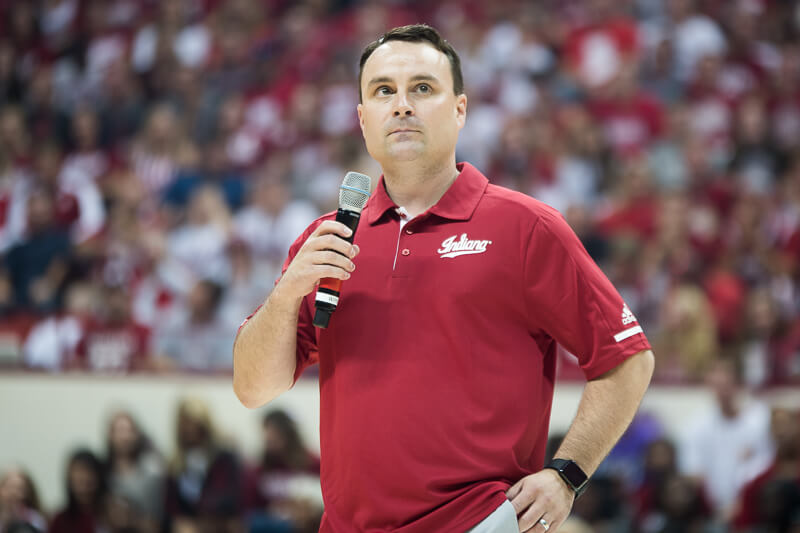 Indiana held its annual media day on Wednesday afternoon at Simon Skjodt Assembly Hall and Cook Hall. All 17 players on the 2018-2019 roster spoke with the media as did Archie Miller, who is entering his second season in Bloomington.
Here's a look at five takeaways from Wednesday's festivities:
· Depth could be Indiana's strength: Juwan Morgan and Romeo Langford are the clear headliners on Indiana's roster in the preseason, but the Hoosiers have a chance to be one of the Big Ten's deepest teams.
With 13 scholarship players and a walk-on in Zach McRoberts who started frequently last season, one of the fascinating preseason storylines for Indiana is the rotation. Who will be in it? Will it go more than eight or nine players deep? And how will it change as the season progresses?
Miller admitted on Wednesday that there is going to need to be "give and take" and "sacrifice" as Indiana navigates through the season. In other words, the fight for minutes is going to be fierce.
"There's going to be some serious sacrifices, not just from Romeo (Langford) but Juwan (Morgan) to every single guy that just wants to contribute," Miller said. "This has to be a team of depth and togetherness this year. It really does. If we're not playing nine, ten guys, then we're not getting the maximum out of everybody on the team."
Even if Indiana does go ten deep regularly, that still leaves plenty of talented guys on the outside of the rotation. It's a good problem to have for a coaching staff that spent its first season in Bloomington searching for answers on the bench that simply didn't exist.
· Romeo Langford appears to be comfortable in Bloomington: Langford took the podium on Wednesday with Indiana's senior leader, Juwan Morgan, and nothing appears to have changed with his demeanor or approach. He's still a humble star.
Langford has never been a kid who seeks out attention and while it is clear that he's a celebrity in Indiana, he said he's been treated like a normal student since arriving on campus.
"They treat me like any other student," he said. "It's not as crazy and hectic as you would think, like being stopped going to class. I think I've probably been stopped maybe like once or twice this whole time since I've been going to class, but I'm enjoying myself on the campus and having a fun experience."
In many ways, the team situation for Langford is ideal. The Hoosiers have upperclassmen leadership in Morgan and Evan Fitzner and several other strong returnees who should help take some of the pressure off of the Indiana Mr. Basketball.
"I really don't feel pressure," Langford explained. "I'm just coming here to play basketball and do my job, and that's all I'm focusing on, having a successful season with my teammates."
· For Devonte Green, the offseason has been about mental growth: Talent has never been a question for Devonte Green.
Consistency and approach, however, have been challenges through two seasons for the junior guard. One of the biggest takeaways from Wednesday was Miller's revelation that Green was arguably Indiana's most consistent player this offseason.
"If you ranked our players top to bottom in consistency, it would be very hard for me to tell you that Devonte didn't have as consistent as an off-season as any guy," Miller said. "How that translates as we start practice and games start looming and minutes start to be handed out, that's where as a junior you'd hope he would be the guy that could really see the light at the end of the tunnel."
So how does Green explain his growth? It was a process that took time.
"I don't think it was any one big situation," he explained. "I think it was a bunch of little things that led to me mentally developing my game. I actually spent all of May working with my brother (Danny Green). He was really helpful."
· Morgan offers insight on offseason's most impressive players: One of the most interesting questions answered on Wednesday was posed to Morgan.
At the end of his availability, he was asked a loaded question. Excluding Langford, who was seated besides him, Morgan was asked which returning players and which newcomers have impressed him the most. And he didn't dodge the question.
"I would say Al (Durham), Devonte (Green) — Justin (Smith) has just become more confident in his game, but I would say Al and Devonte for sure, just because Al is a lot more confident in his game, and he's added so many aspects to his game, and then Devonte has just become more under control and not making home run plays but making more singles than he has before.
"Then of the freshmen, I would say Rob (Phinisee) has impressed me the most, just from his ability to read the game, especially adjusting to the pace of the game. He just pretty much got it as soon as he came in, and I think he'll get like more of the reads and terminology as we go on to say with all of them. But I think he's come the most far so far."
Given that Indiana's guard play surrounding Langford is going to be crucial to this year's team success, the fact that Durham, Green and Phinisee were all mentioned should be viewed as a positive by IU fans.
· De'Ron Davis is slowly making progress: After missing the second half of the 2017-2018 season following an Achilles injury, De'Ron Davis said Wednesday he's hoping to be ready for the start of the season.
"I'm just trying to experience a little discomfort, but other than that, this process has been smooth," Davis said. "Really I'm just planning on being back by the first game. I don't know how healthy I'll be just yet."
But as Miller explained, it often takes a full 12 months to get back following an injury as significant as the one Davis had last January.
"A lot of times when guys come off these injuries, you really don't get a chance to see them maybe recover and feel good about themselves in almost a year," Miller said. "So you're looking at January 1 when he did it, and to me, he's on schedule, but in terms of looking like a De'Ron that played in November and December a year ago, he's not there yet."
Filed to: