Optimism and enthusiasm on display at Hoosier Hysteria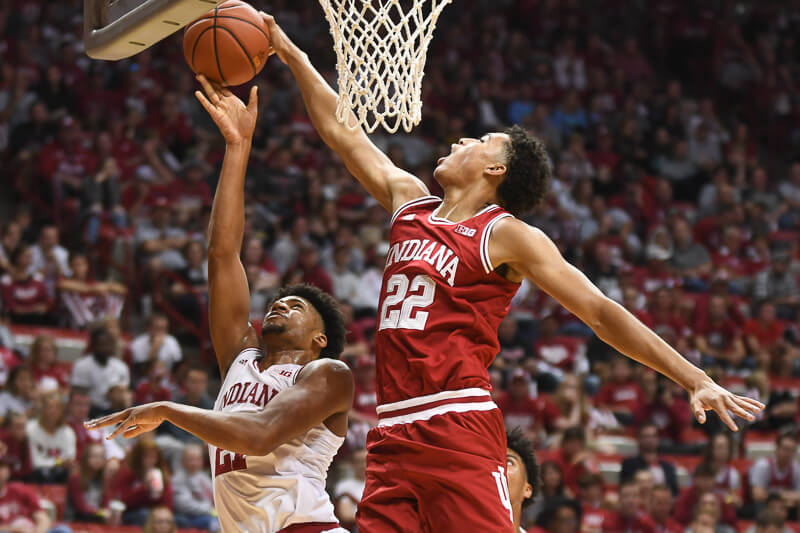 With start of the regular season still over a month away, Simon Skjodt Assembly Hall teemed with excitement at Hoosier Hysteria Saturday afternoon.
The enthusiasm inside the building was palpable and, at times, overwhelming when the likes of Romeo Langford, Zach McRoberts, and Juwan Morgan were introduced with highly-ranked recruits Trayce Jackson-Davis and Keion Brooks looking on courtside.
New seasons have a way of renewing optimism and raising expectations, justified or not. Saturday's turnout represented a new sense of possibility and ambition for the program, and Hysteria provided an outlet for the Indiana faithful to put its passion on full display. They and Archie Miller feel high expectations are warranted, and hope to sustain their commitment for the length of the season.
"We need this home floor to be as dominant of a building to play in for our opponent as it can be, and we're going to need to you every single night to be able to give us a chance," Miller said to fans on Saturday. "We have one of the greatest places in all of college basketball to play, but when it's really, really good, we don't lose at home."
The festivities began with introductions of the women's and men's teams, as well as the raising of the banner for IU's 2018 WNIT championship. Former stars Tyra Buss and Amanda Cahill were in attendance for the ceremony.
The 3-point contest lacked some of the buzz and fan fervor that the dunk contest and scrimmage provided, but nonetheless offered a fascinating – albeit limited – look at the sorts of shooters that might fill out Indiana's roster this season.
Langford did not take part in the event, but senior transfer Evan Fitzner scorched the nets with 10 triples (out of 15 attempts) in the second round, including a stretch of six consecutive makes. But the duo of Juwan Morgan and Brenna Wise ultimately took the 3-point title, making a combined 20 attempts in the final round.
The dunk contest offered a glimpse at the wealth of athleticism Indiana touts. Devonte Green and Al Durham were eliminated early, but Langford, Jake Forrester, and Justin Smith put on a show in the second round, with Langford's mix of 360s and self-passes earning the victory.
Another highlight from the afternoon was the unveiling of the Andy Mohr Locker Room and the Oladipo Zeller Legacy Lounge, named for former IU stars Victor Oladipo and Cody Zeller, who donated money for the construction of the facility.
The day's final event offered the most substantive – though still significantly incomplete – look at Indiana's talent and style. The cream team edged out the crimson crew, 29-25, in the team's intra-squad scrimmage thanks to strong showings from Forrester, Durham, and Race Thompson. Despite taking a redshirt season last year, Thompson led all scorers with nine points and looked comfortable in a five-on-five setting.
Fitzner added eight points for the side in red, including two 3-pointers, and showed great instincts and awareness on both ends of the floor. He appeared to have a natural chemistry with Devonte Green in the pick-and-roll and a solid grasp of Indiana's defensive and floor-spacing principles.
"I think as a team we're still adjusting," Fitzner said. "We've got a lot of young guys, so there's still going to be an adjustment period. But I think for the most part, what we've done so far, Coach Miller has done a great job introducing all the offense, and the defense is a big part."
Durham looked confident and competent in the pick-and-roll, while Forrester provided great energy on the glass and in transition. The pair combined to produce two open looks around the rim in the pick-and-roll and on a fast break. Despite struggling early, Damezi Anderson found his footing on offense, contributing seven points for the crimson team.
Morgan scored just five points, but played a strong all-around game that included some crafty work around the basket and a handful of assists. Langford had only one bucket, a floater in the lane, but looked comfortable as an offensive initiator and facilitator.
While offering an exciting peek into the progress and promise of this team, the scrimmage was also a mark of how far it still has to go. A few defensive breakdowns lead to open threes, and signs of preseason rust were evident.
"We obviously have a long way to go, but it's going to be a lot of fun," Miller said. "We have a really good balance of older guys that are coming down the home stretch and we have some new faces that obviously have bright futures. We have to put it together."
Filed to: Hoosier Hysteria