6-Banner Sunday: Indiana All-Stars bounce back with blowout win over Kentucky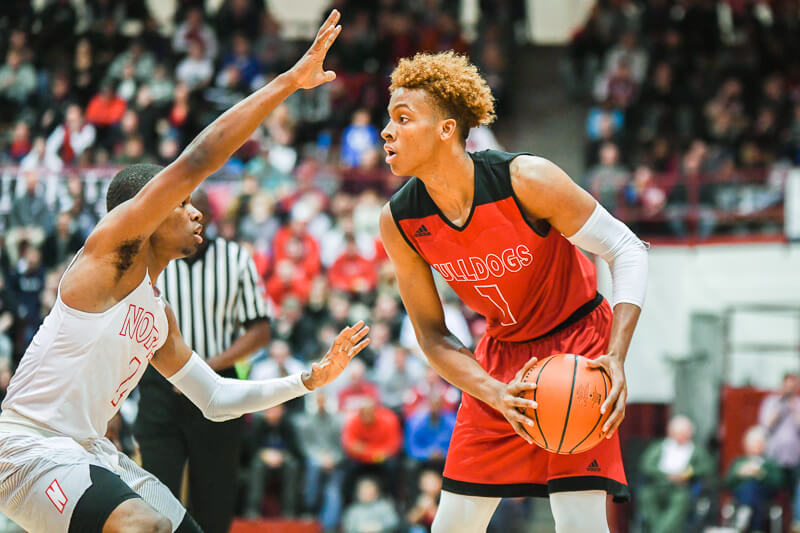 6-Banner Sunday is Inside the Hall's weekly newsletter in partnership with The Assembly Call. More than 5,000 Indiana fans receive the newsletter each week. In addition to appearing each week on the site, you can also opt to receive 6-Banner Sunday by email. A form to subscribe via email is available at the bottom of this week's 6-Banner Sunday.
Welcome to another edition of 6-Banner Sunday, a joint production between The Assembly Call and Inside the Hall where we highlight the six most essential IU basketball stories of the past week.
Just like that, Indiana All-Stars weekend has come and gone. 6-Banner Sunday has your full recap below.
In this week's edition:
· Indiana All-Stars weekend
· Langford's final game in New Albany
· Jackson-Davis and Hurt make Team USA
· Armaan Franklin picks up an IU offer
· What's going on with Mike Davis?
· Four IU baseball players drafted
Banner #1
Indiana All-Stars weekend
After a shocking loss to the Kentucky All-Stars in Louisville on Friday, the Indiana Seniors bounced back in a big way on Saturday evening.
Romeo Langford came out aggressive and led the way from the start, pacing the seniors with 16 first points en route to a commanding 56-30 halftime lead. It was more of the same in the second half as the Seniors cruised to a blowout victory before an impressive crowd of 8,266 at Bankers Life Fieldhouse, which was a 10-year high for the event.
Langford was named the game's outstanding player. He finished with 22 points, 8 rebounds, and 4 assists in 31 minutes. Robert Phinisee scored 3 points, dished out 3 assists, and grabbed four rebounds, while Damezi Anderson scored 10 points and grabbed 6 rebounds. Aaron Henry (Michigan State) scored 15 points and Eric Hunter (Purdue) scored 12 points. See the complete box score here.
The final score on Saturday night was 109-81, meaning that despite Friday's lackluster result the Indiana All Stars still outscored the Kentucky All Stars by a total of 17 over the course of the full 80 minutes of action. Given that the Indiana All Star team features many more players going to major D1 programs, and is now 18-2 over the last 20 games in the series, that's the kind of dominance most expected. It just all occurred over the final 40 minutes.
Wyandotte Safety Solutions is your one-stop shop for safety training and safety products. WSS offers CPR & First Aid training, fall protection, and lift training. We also sell PPE, AEDs, and First Aid supplies.
We are an Indiana company serving Indiana and all of North America. Check out our website for more information: ptsarcflash.com.
Banner #2
Langford's final game in New Albany
Two nights before the Indiana Seniors took on Kentucky, they played against the Indiana Juniors at New Albany High School.
It marked one last opportunity for Romeo Langford to bid farewell to his hometown fans before heading off to Bloomington next week. He put on a show by recording 26 points, 11 rebounds, two assists, and four steals.
But at halftime, the Seniors were being thoroughly outplayed and trailed by seven. That's when, according to Damezi Anderson, Langford took it personally:
"It was a fire in his eyes. I (saw) it on his face," Anderson said. "He was locked in. We could feel it. He was about to go to work. He's about to be focused. We've just got to jump on his back and have him lead us."

The Seniors went on an 18-1 run in the opening stages of the second half to take the lead for good. Defensively, the Seniors took the game over, recording 12 steals in the second half alone, including a combined six from Langford, Phinisee and Anderson.
The Seniors held on to the lead and came away with a 111-101 win. Rob Phinisee finished with 11 points and five assists, while Anderson put up 16 points, six rebounds, three assists, and two blocks.
More from New Albany:
· Langford says goodbye to New Albany (Courier-Journal)
· Langford a star among stars (News and Tribune)
Banner #3
Jackson-Davis and Hurt make Team USA
Tryouts for the U18 Team USA basketball squad were held over the past two weeks, and a number of Hoosier targets were participants.
Among the more than 30 players to try out with IU interest were: Trayce Jackson-Davis, Matthew Hurt, DJ Carton, Keion Brooks, Jalen Lecque, and Trendon Watford.
Of those players, only Jackson-Davis and Hurt made the final 12 man roster for Team USA. The squad begins pool play in the FIBA Americas U18 tournament today with a 6:00 p.m. Eastern contest with the Dominican Republic.
While at tryouts, Jackson-Davis spoke with Inside the Hall about the opportunity to suit up for the red, white, and blue, as well as his thoughts on Romeo Langford committing to IU:
"(Langford) has an impact just because the IU fans are buzzing again and they have something to cheer for. Not that they didn't (before), but they have something big to cheer for. So they want me to follow in his footsteps and I think that's what they're trying to get to so that they could keep the IU teams (consistently) good and never go down again."

Jackson-Davis plans on trimming his list to between five to seven schools in August after the AAU season wraps up.
TheHoosier.com has info on how to watch each and every Team USA game from St. Catherines, Ontario, Canada.
More on U18 Team USA:
· Trendon Watford says IU trending in "right direction" (ITH)
· Matthew Hurt eyeing a fall decision (247Sports)
Banner #4
Armaan Franklin picks up IU offer
The latest player to earn a scholarship offer from Archie Miller's staff is class of 2019 four-star guard Armaan Franklin. The Indianapolis Cathedral combo guard was given the offer during his visit to Bloomington on Thursday.
The 6-foot-4 Franklin already had several high profile offers, including from Louisville, Purdue, Xavier, Butler, and Ohio State.
In his junior year of high school, Franklin averaged 23 points, 7.8 rebounds, 3.8 assists, and 1.4 steals per game.
Through just over a year in charge, Archie Miller and the rest of the IU coaching staff have been judicious when it comes to offering scholarships, so extending this one to Franklin means they were impressed by his play, especially on the AAU circuit and with the Indiana Junior All-Stars, where he was the team's leading scorer against the Seniors.
Banner #5
So … what is going on with Mike Davis?
It was all but official.
Former IU basketball coach Mike Davis was supposed to be introduced as the new coach of Detroit Mercy by now. After six seasons at the helm of Texas Southern, he was reportedly heading to Detroit Mercy, where he would be in line for a nice pay raise and a job with better resources.
The Texas Southern Athletics website had even posted a farewell message and an official statement on Tuesday. Two days later, it had vanished.
So, is Davis still heading to Detroit? And if so, what is the holdup?
As The Detroit News reports, it's a mystery:
Texas Southern sure added intrigue to the situation Thursday, when it scrubbed a statement from its website in which it announced Davis' intention to depart for Detroit Mercy. The statement was given to Houston media outlets Tuesday, and posted on the school's athletics website Wednesday morning. It was still there as of Thursday morning. By mid-afternoon Thursday, it was gone.

Also, a "Thank You Coach Davis" montage that greeted visitors to the Texas Southern athletics website no longer exists, and Davis still is listed as Texas Southern's men's basketball coach.

Dr. Charles McClelland, Texas Southern's vice president of intercollegiate athletics who first told Houston media outlets about Davis' departure, didn't immediately return a message from The Detroit News seeking comment Thursday. Detroit Mercy officials have been almost entirely mum throughout the search to find Bacari Alexander's replacement. A university spokesman said Tuesday night that "there is no agreement."
Hopefully, we get answers to this peculiar situation over the next week. If so, we'll provide an update in next week's 6-Banner Sunday.
Banner #6
Four IU baseball players drafted
The 2018 IU baseball season came to a heartbreaking end last Sunday when the Hoosiers lost by one run to Texas after failing to score with the bases loaded in the bottom of the ninth. Just two wins away from their first Super Regional appearance since 2013, it marked a sudden end to a successful season that saw the Hoosiers win 40 games.
In the days since Indiana's elimination, the MLB draft was held, and four Hoosiers were selected.
The first Hoosier off the board was ace Jonathan Stiever, who was selected by the White Sox in the fifth round. He is just the sixth IU pitcher drafted within the first five rounds and is Indiana's highest selection since Kyle Schwarber was picked fourth overall by the Cubs in 2014.
Before the draft was complete, three more Hoosiers were selected – infielder Luke Miller in the 22nd round, outfielder Logan Sowers in round 28, and left-handed pitcher Tim Herrin in the 29th.
Miller and Herrin both just completed their junior campaigns and will have to decide by July 6th whether to sign their professional contract or retain their collegiate eligibility.
And with that, the joy of hanging Banner #6 is now one week closer.
Thanks for your continued support for The Assembly Call and Inside the Hall. We'll be back next weekend with a new roundup.
Now go enjoy yourself a 6-banner Sunday. If you'd like to receive this newsletter in your inbox each Sunday, please enter your email address below:
Filed to: