6-Banner Sunday: Even 4th-grade Romeo Langford was a special player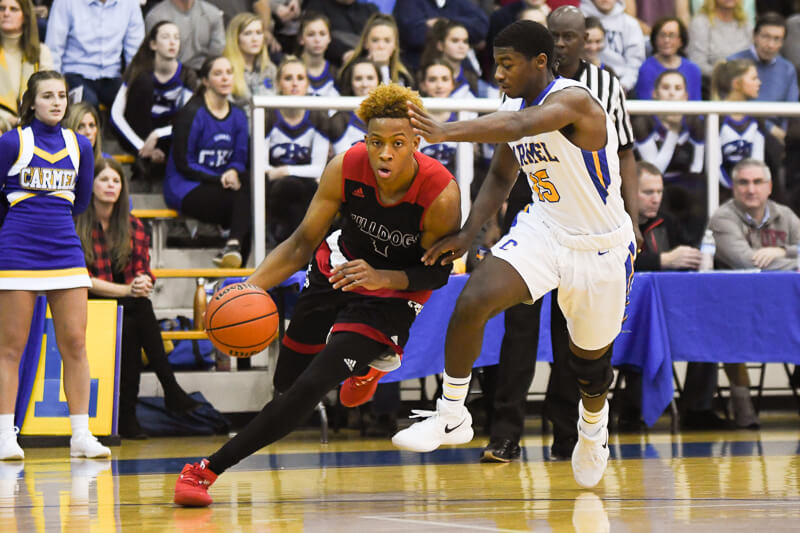 6-Banner Sunday is Inside the Hall's weekly newsletter in partnership with The Assembly Call. More than 5,000 Indiana fans receive the newsletter each week. In addition to appearing each week on the site, you can also opt to receive 6-Banner Sunday by email. A form to subscribe via email is available at the bottom of this week's 6-Banner Sunday.
Welcome to another edition of 6-Banner Sunday, a joint production between The Assembly Call and Inside the Hall, where we highlight the six most essential IU basketball stories of the past week.
The top story again this week is about Romeo Langford — and it features an angle that you probably haven't heard yet. But Romeo wasn't the only recruitment to make news this past week.
Indiana offered several guards in the Class of 2019, and the coaching staff had a busy weekend shuttling between Indy and Dallas to watch a number of top-flight recruits.
In this week's edition:
· How good was Romeo in fourth grade?
· IU offers trio of 2019 guards
· Final class of 2018 rankings released
· 2018-19 Big Ten opponents revealed
· Indiana's embrace of Oladipo
· Last Days of Knight + Bonus links
Banner #1
Romeo Langford as a fourth grader
Before Romeo Langford became a New Albany legend and the most sought-after recruit remaining in the class of 2018, he was just a kid — although not your average kid.
By the time he reached fourth grade, he was already a dominant force on the court.
Inside the Hall's Alex Bozich caught up with Langford's fourth-grade coach at Mount Tabor Elementary School, Adam Ruddell. Soon after Ruddell first watched Langford play, he realized there was something special.
It didn't take long for Ruddell to realize he was coaching a player who had the chance to be special.

"There's something that you see and you say, 'there's not going to be any coaching to it,'" Ruddell said. "The instinct and the way he glides now is the way he was gliding back then. Everything that he did looked smooth and effortless. He had a fadeaway (jump shot) as a fourth grader."

In fact, Ruddell remembers being so excited about Langford that he told just about anyone who would listen about the young player.

As a childhood friend of Ruddell, I can vouch for his recollection as he once mentioned Langford to me after he coached him during the 2009-2010 school year.

"I was telling everybody, this kid is really good," Ruddell said. "I told everybody that I knew. I'd go home and talk to my roommates and say, 'did you see what this kid did today?'

"Once he would get the ball, he was beating everybody down the floor. And he was gliding. He looked like a gazelle. Just unbelievable to see at that age. And you wouldn't have known that he was better than everybody else. Nicest kid, didn't react to anything."
More on Langford as his April 30th commitment date approaches:
· Senior season highlights (ITH)
· Why Langford's college decision matters so much (The Big Lead)
· Langford attends send-off for New Washington student (News and Tribune)
Banner #2
IU offers trio of 2019 guards
With the AAU circuit starting back up this weekend, the IU coaching staff is hot on the recruiting trail. Archie Miller and his assistants are spending the weekend at AAU events across the country, including an Adidas Gauntlet event in Indianapolis.
Before the weekend even began, the program made noise by offering three different class of 2019 recruits: guards DJ Carton, Tre Mann, and Jahmius Ramsey.
Carton is a rising star from Bettendorf, Iowa. He was in Bloomington for the Purdue game this past season and is ranked in the top-50 of his class.
Mann (No. 37) and Ramsey (No. 91) are both guards from Florida that are highly ranked by 247Sports. They both reported receiving offers on IU on Tuesday.
For full coverage of the Adidas Gauntlet event, keep an eye on Inside the Hall throughout the next several days.
More on class of 2019 players with IU interest:
· Trayce Jackson-Davis senior season highlights (ITH)
· Highlights of DJ Carton, Tre Mann and Jahvius Ramsey (Youtube)
Banner #3
Final class of 2018 rankings released
The high school basketball seasons throughout the country have come to a close, and the final editions of the class of 2018 rankings have been released. All four of IU's 2018 commits are ranked by at least one recruiting service.
The highest ranked future Hoosier throughout the recruiting sites is four-star wing Jerome Hunter. The versatile 6-foot-7 sharpshooter is in the top-64 of all four (Rivals, 247Sports, ESPN, 247Composite).
McCutcheon star point guard Robert Phinisee climbed up the rankings after a stellar senior campaign that saw him eclipse 2,000 career points. Now a four-star recruit and an Indiana All-Star, Phinisee finds himself in the top-125 of three different services.
After leading his team to an undefeated regular season, long-range assassin Damezi Anderson remained a consensus four-star recruit, while Jake Forrester was slated as a four-star player in all but one of the rankings (247Composite, three-star).
As a team, Indiana is top-21 in the nation in both Rivals and 247Composite, and top-5 in the Big Ten. If Romeo Langford commits, expect that number to receive a big boost.
Banner #4
2018-19 Big Ten schedule revealed
The Big Ten conference unveiled the list of single and double-plays for the 2018-19 season on Thursday. It will be the first time the conference will have a 20-game schedule, which means each team has seven double-plays.
The longer schedule also assures that certain rivalries are protected, including the IU-Purdue series. From now on, the Hoosiers and Boilermakers will meet twice in every regular season. Indiana's other double-plays for 2018-19 are Illinois, Iowa, Michigan, Michigan State, Northwestern, and Rutgers.
As for single-plays, the Hoosiers will host Nebraska, Wisconsin, and Ohio State. The series that will be away-only are Maryland, Minnesota, and Penn State. That means the Hoosiers won't travel to the Kohl Center, also known to IU fans as a house of horrors.
Inside the Hall has more on the Big Ten schedules for every team.
Banner #5
Indiana's embrace of Victor Oladipo
Former IU All-American Victor Oladipo and the Indiana Pacers have the LeBron James in a spot he is unaccustomed to –- potentially facing a first-round elimination in the NBA Playoffs.
Behind Oladipo's heroics and an incredible 30-point performance in Game 3 from Bojan Bogdanovic, the Pacers have a 2-1 series lead. It's the opposite of the Pacers' last postseason when a Paul George-led team failed to win a single playoff game against the Cavs.
Prior to the series, Oladipo authored* a piece for the Players Tribune on his time as a Hoosier. Titled They'll Embrace You Like No Other, the story goes in-depth on how beloved Oladipo was throughout his three years in Bloomington:
I got a few starts late my freshman season. By the time sophomore year rolled around, I was a starter. I wasn't a national name … but man, they were getting to know me in Indiana.

And it wasn't like they just knew how to pronounce my name. No, they knew me everywhere in Bloomington. For my 8 a.m. class every morning I'd have to wear headphones from the time I went out the door to the time I sat down at my desk, just so I wouldn't be late because of all the people who would come up and try to talk to me. I wouldn't even be playing music most of the time, so I could hear people whispering my name.

I wanted to talk to everybody. I really did. It was a thrill to be known like that. Every time somebody said my name or pointed me out, it made me want to work that much harder and be that much better the next time I stepped on the court.

Those three years in Bloomington were just — they changed me. Yeah, I became a better basketball player, but it was also the first time I saw an entire community be so passionate about a single thing. About a game we were playing. I learned that interacting — even just taking the time to stop and talk once in a while with the community — can actually change people's entire outlook on life.
The Pacers will look to take a 3-1 series lead today when they host the Cavaliers. Tip is scheduled for 8:30 eastern with the game airing on TNT.
*Bob Kravitz of WTHR spoke with Oladipo after the piece was published. Oladipo said the article was ghost-written, but all of the information is factual.
More on Hoosiers in the playoffs:
· Toronto's OG Anunoby was involved in a confrontation with the Wizards in Game 3 of their series
· Eric Gordon scored nine points in the Rockets' Game 2 win over Minnesota
Banner #6
Last Days of Knight + Bonus links
If you haven't watched the new 30 for 30 The Last Days of Knight, make sure to do so. It's free to stream on ESPN+ if you sign up for a 30-day trial of the service. Our own Jerod Morris, who was a student at the time, was initially skeptical but found the film worth watching.
It chronicles Knight's last season as Indiana's coach, his complicated legacy, and IU's role in enabling Knight's behavior. Perhaps the most worthwhile part of the film is its focus towards the end on Neil Reed. Reed was made an outcast by the IU community after going on camera to tell the world about the time Bob Knight choked him but found peace in California as a teacher.
The film is told through the lens of director Robert Abbott, who initially broke the Knight choking story for CNN. Abbott spoke with our Jerod Morris and ITH's Alex Bozich on this week's Podcast on the Brink to discuss Reed, Knight's legacy, and the making of the film. After you watch the movie, make sure to listen to the podcast.
Before you go:
· On the latest Assembly Call Radio, the crew talks about the latest in IU recruiting
· Simon-Skjodt Assembly Hall is about to get renovated locker rooms thanks to some generous donors (ITH)
· No. 8 IU Baseball is now 29-7 on the season after falling 5-4 in the second of three games at Ohio State
· IU softball's unbelievable turnaround continues. After posting an 8-23 non-conference record, Indiana has started Big Ten play an astounding 12-2
· The Cutters won the Men's Little 500, while Kappa Alpha Theta won the Women's race
And with that, the joy of hanging Banner #6 is now one week closer.
Thanks for your continued support for The Assembly Call and Inside the Hall. We'll be back next weekend with a new roundup.
Now go enjoy yourself a 6-banner Sunday. If you'd like to receive this newsletter in your inbox each Sunday, please enter your email address below:
Filed to: