A look at how IU's four signees finished in the final 2018 rankings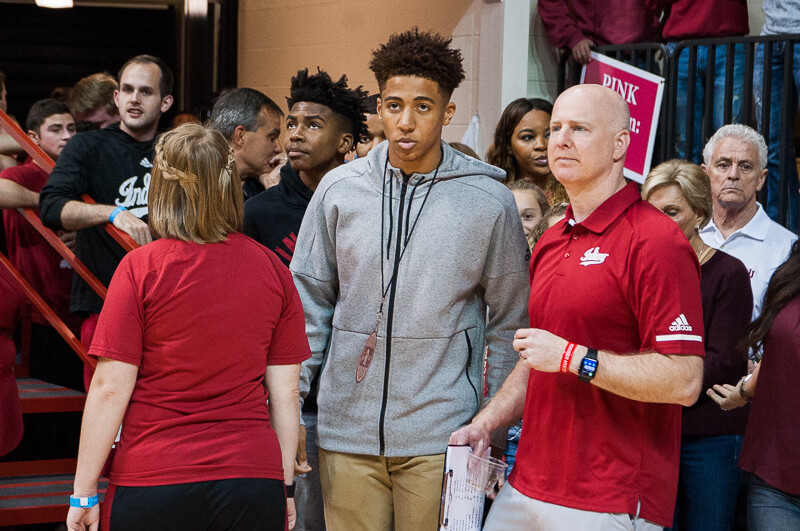 The national high school all-star events are in the books and all of the major recruiting services have released their final rankings for the class of 2018.
Indiana's four-man class – Jerome Hunter, Robert Phinisee, Damezi Anderson and Jake Forrester – currently stacks up as one of the better groups in the country. And the class could get a major boost if Romeo Langford chooses the Hoosiers on Monday, April 30.
But as it currently stands, the Hoosiers have four signees in the fold for 2018. Here's a look at how each of the four signees fared in the final rankings released this past week.
(Note: 247Sports acquired Scout, so the rankings of the former Scout team are now reflected in the 247Sports rankings. The 247Composite ranking is an aggregate ranking that uses several of the national services.)
Jerome Hunter
Rivals.com: No. 49 (4-star)
247Sports: No. 46 (4-star)
ESPN: No. 64 (4-star)
247Composite: No. 54 (4-star)
Notes: Hunter is the highest rated of the four signees and he was also the first to commit to the Hoosiers last July (just a few hours before Damezi Anderson). At 6-foot-7, Hunter can play and guard multiple positions, which should make him a candidate for early minutes in Bloomington.
Robert Phinisee
Rivals.com: No. 99 (4-star)
247Sports: No. 109 (4-star)
ESPN: Unranked (4-star)
247Composite: No. 123 (4-star)
Notes: Phinisee had an outstanding senior season at McCutcheon and was a surefire pick for the Indiana All-Star team. It still feels like he's been undervalued nationally, but these rankings go out the window in a few months and Phinisee will have the opportunity to outperform his ranking.
Damezi Anderson
Rivals.com: No. 114 (4-star)
247Sports: No. 92 (4-star)
ESPN: Unranked (4-star)
247Composite: No. 112 (4-star)
Notes: Anderson led South Bend Riley to an unbeaten regular season and a run to the Class 4A semi-state before losing to Carmel. Indiana struggled to find reliable perimeter shooting and scoring on last season's team, so if that part of Anderson's game translates immediately to the college level, he should have a chance to play early.
Jake Forrester
Rivals.com: No. 127 (4-star)
247Sports: No. 131 (4-star)
ESPN: Unranked (4-star)
247Composite: No. 135 (3-star)
Notes: Forrester played at the Westtown School in Pennsylvania, which competed against some of the nation's best teams all season. His teammate, Cam Reddish (Duke signee) got the majority of the headlines and attention, but Forrester quietly put together a strong senior campaign. He's a high energy frontcourt player who can run the floor, block shots and rebound. You can never have too many of those.
Team Rankings
Rivals.com: No. 20 (5th in Big Ten)
247Composite: No. 21 (4th in Big Ten)
Notes: As of today, this is a very solid recruiting class that should help Archie Miller build a foundation of talent as he looks to bring Indiana back to the top of the Big Ten standings.
The obvious elephant in the room is Langford and his decision coming later this month. Using the 247Composite recruiting calculator, adding Langford to Indiana's class would lift the Hoosiers to No. 8 in the 247 rankings and the top spot in the Big Ten.
Filed to: Damezi Anderson, Jake Forrester, Jerome Hunter, Robert Phinisee