Revisiting our preseason top 25 Big Ten players list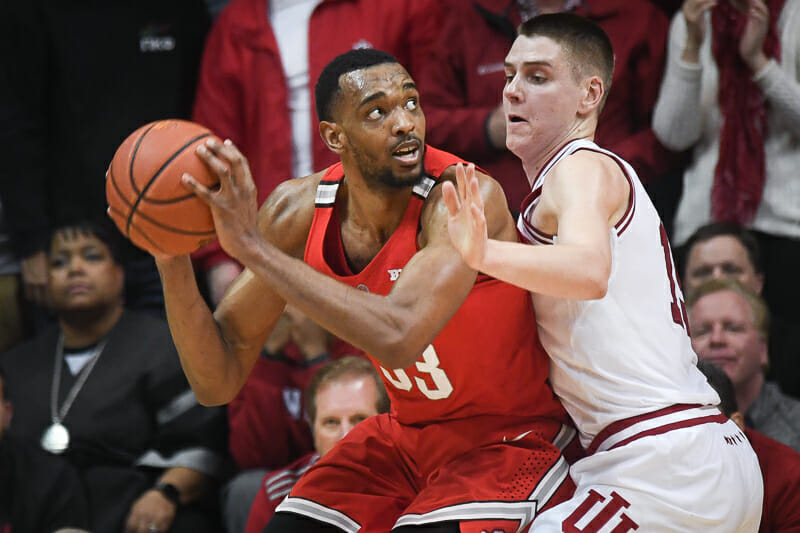 Each year, Dylan Burkhardt of UMHoops and I huddle over the summer to produce a list of our projected top 25 players in the Big Ten for the upcoming season.
It's something both of us enjoy putting together and it also helps us get more familiar with rosters around the league, but it's also produced its fair share of hits and misses over the years.
The list published in August of 2017 was no different as we got a few things right and plenty of things completely wrong. Here's a look at what we got right and what we missed for the 2017-2018 Big Ten top 25 players list:
· Keita-Bates Diop: Should not including the man who won Big Ten player of the year on the preseason top 25 list prevent us from publishing future lists? If so, this exercise was fun while it lasted.
The truth is that Dylan and I debated including Bates-Diop, but really didn't know what to expect as he was coming off an injury that forced him to miss the majority of the 2016-2017 season. Throw in the fact that Ohio State underwent a coaching change in June and the Buckeyes were a tough team to peg for everyone.
In the end, Bates-Diop was terrific and deserving of the Big Ten player of the year award. And Ohio State was one of the league's best stories after being picked by most to finish in the bottom four of the conference.
· Our top four players all had terrific seasons: Our preseason top four – Miles Bridges, Ethan Happ, Moritz Wagner and Vincent Edwards – all lived up to expectations for the most part.
Bridges didn't win Big Ten player of the year as projected, but he was first team All-Big Ten. Despite a poor season by Wisconsin, Happ was still on the media's first team All-Big Ten.
Wagner was a major reason Michigan advanced all the way to to the national championship game and was a second team All-Big Ten pick by the coaches and media. And Edwards, despite some late season injuries issues, was one of the league's best players.
· Jaaron Simmons: A graduate transfer from Ohio, Simmons entered the season as the likely candidate, on paper, to replace Derrick Walton Jr. in Michigan's lineup.
But Simmons had a minimal impact as Zavier Simpson emerged as arguably the best defensive guard in the Big Ten.
Simmons was a fringe rotation guy for most of the season in Ann Arbor. We had him at No. 24 on our preseason list, a complete whiff.
· Carsen Edwards and Tony Carr: It's not that we didn't include Edwards or Carr, it's that we had them both entirely too low. Edwards was No. 23 on our list and Carr was No. 22. Both ended up as first team All-Big Ten players.
Assuming he returns to West Lafayette, Edwards is likely to enter next season as one of the favorites for Big Ten preseason player of the year. Carr is leaving Penn State early for the NBA after leading the Nittany Lions to the NIT championship.
The two backcourt guys we had much higher on the list – Northwestern's Bryant McIntosh (sixth) and Minnesota's Nate Mason (fifth) – failed to meet preseason expectations.
· Amir Coffey and Reggie Lynch: A pair of mulligans are in order here as Coffey was injured for most of the season and Lynch's ugly off court issues got him removed from Minnesota's roster early in conference play.
Looking ahead to next season, Coffey will be an interesting case. If he's completely healthy, he's probably worthy of a spot somewhere in the top 15, if not higher.
· Charles Matthews and James Palmer Jr.: After sitting out the 2016-17 season due to NCAA rules, both Matthews and Palmer Jr. put together very productive seasons.
Palmer Jr. was probably the second biggest surprise in the conference behind Bates-Diop and a legitimate selection for first team All-Big Ten honors.
Matthews might have NBA options this summer after starring for the Wolverines in the NCAA tournament.
· Juwan Morgan: The versatile forward was a second team All-Big Ten selection and was not included on the preseason top 25 list.
Robert Johnson and De'Ron Davis both made our list as both had far more preseason buzz in Bloomington. Johnson didn't perform to our expectations – he was 13th – and Davis missed most of conference play with an injury.
(Editor's note: Here are links to each installment of the list: 25-21, 20-16, 15-11, 10-6, 5-1)
Filed to: