Big Ten's top 25 players for 2017-18: 5-1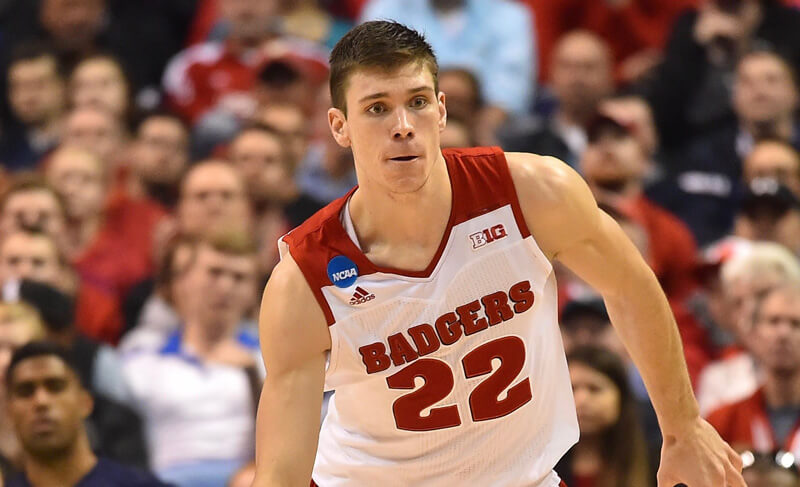 With the official start of practice less than two months away, UMHoops and Inside the Hall have again partnered to bring you a preseason breakdown of the top 25 players in the Big Ten for the 2017-2018 season.
Our selection process involved much deliberation to arrive at a list we hope will provide plenty of reaction and debate. The series will be broken into five parts and our fifth installment of players 5-1 is available below (Previously: 25-21, 20-16, 15-11, 10-6):
5. Nate Mason, Minnesota (6-foot-2, guard, senior)
Nate Mason might have robbed Derrick Walton of All-Big Ten First Team point guard honors last year, but he's still the best returning point guard in the league this year. Mason averaged 15.2 points, 5 assists and 3.6 rebounds per game last year while shooting 36 percent from three. He needs to improve his two-point shooting (38 percent for the year) and that has to start with shot selection. Last year, Mason attempted 45 percent of his shots from the midrange and connected at just a 32 percent clip. His playmaking skills are top notch and he's effective in the ball screen game, but the Gophers will need him to be a more efficient scorer as a senior.
4. Vincent Edwards, Purdue (6-foot-8, forward, senior)
Edwards was a solid player during his first two seasons in West Lafayette, but took his game to another level as a junior because of improved efficiency. Edwards averaged 12.6 points, 4.9 rebounds and 3.2 assists per game for the Big Ten champs and shot 51.8 percent on 2s and 42.3 percent on 3s. He was also the league's second best free throw shooter in league play at 89.3 percent. Edwards is a perfect four in today's game because he can stretch the floor and guard multiple positions. He's also effective as a playmaker for others as he ranked 19th in conference games in assist rate.
3. Moritz Wagner, Michigan (6-foot-11, forward, junior)
Wagner's ability to change a game with a scoring outburst is probably unmatched in the league. He can quickly put together eight or 10 point runs almost by himself. He's an elite pick-and-pop scorer, can drive against slower bigs and can score in the post. There's really not much for Wagner to improve on offensively other than continuing to be more consistent with his jumper and playing smarter with the basketball. He still has a long ways to go on the other end of the floor. Wagner's defense and rebounding will determine his ceiling because they'll dictate how much John Beilein can trust him over long stretches. There were games last season where Wagner seemed to disappear or watched his mistakes compound quickly and he was far better at home (70.1 eFG percentage) than on the road (54.8 eFG percentage) last season. If he can be more consistent and improve defensively then he should see his name rocket up draft boards in a hurry.
2. Ethan Happ, Wisconsin (6-foot-10, center, redshirt junior)
If someone other than Miles Bridges wins Big Ten player of the year next season, it's likely to be Happ. He was terrific as a sophomore and finished eighth in Ken Pomeroy's national player of the year standings. He's the best returning rebounder in the Big Ten as he averaged nine per game last season and was seventh in both offensive and defensive rebounding percentage in conference games. Happ also shot 58.6 percent last season on 2s. What sets him apart, however, is his ability to change games defensively. He averaged 1.8 steals and 1.2 blocks per game as a junior. His steal rate of 4.8 percent was tops in the Big Ten. With the graduation of Nigel Hayes, Bronson Koenig, Zak Showalter and Vitto Brown, the Badgers will have to rely heavily on Happ if the program's streak of finishing in the top four of the league is to continue for another year.
1. Miles Bridges, Michigan State (6-foot-7, forward, sophomore)
Bridges was the most gifted player in the league last year and made the decision to return to East Lansing instead of cashing in his NBA Draft chips. The move has been questioned by many, but it should make for an entertaining year of basketball in the Big Ten. The 6-foot-7 Flint native's weakness was supposed to be his perimeter shot, but he made 39 percentof his threes as a freshman. He's an NBA athlete and plays like it as he's one of the Big Ten's best in block rate, defensive rebounding rate and two-point shooting. He still plays more like a prototypical jumbo forward rather than a playmaking guard or wing. He graded out in just the 10th percentile in pick-and-roll efficiency on 40 possessions, per Synergy, but was more impressive in isolation situations. Overall, ISO and ball screen offense accounts for just 20 percent of his offensive blend and it will be interesting to see if he grows a play creator rather than a play finisher. Either way, he's the most talented player in the league and one who should hear his name at the NBA Draft next June.
Filed to: 2017-2018 Big Ten preview