Big Ten's top 25 players for 2017-18: 25-21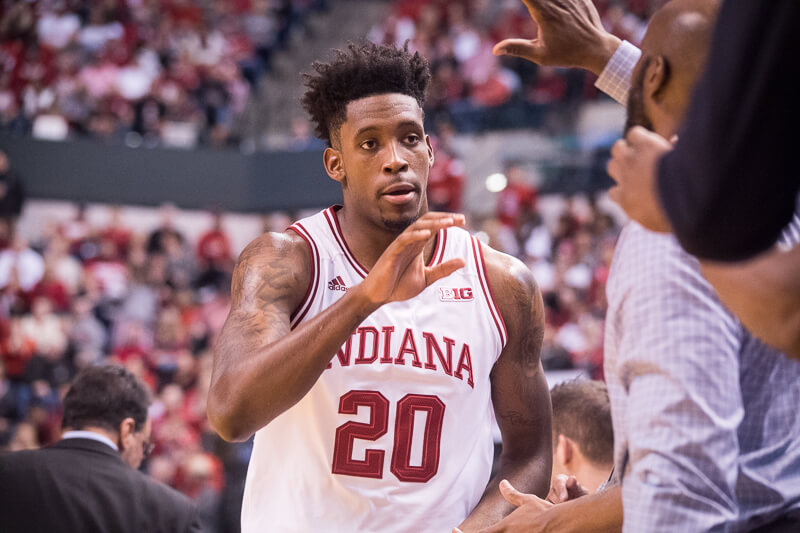 With the official start of practice less than two months away, UMHoops and Inside the Hall have again partnered to bring you a preseason breakdown of the top 25 players in the Big Ten for the 2017-2018 season.
Our selection process involved much deliberation to arrive at a list we hope will provide plenty of reaction and debate. The series will be broken into five parts and our first installment of players 25-21 is available below:
Also considered: Vic Law (Northwestern), Keita Bates-Diop (Ohio State), Charles Matthews (Michigan), Lamar Stevens (Penn State), Corey Sanders (Rutgers), Jordan Bohannon (Iowa).
25. (tie) De'Ron Davis, Indiana (6-foot-10, forward, sophomore)
The inclusion of Davis on this list is a bet on his potential and an increased role with Thomas Bryant moving on to the NBA. A former top-50 recruit from Colorado, Davis was unstoppable at times as a freshman, but struggled with his conditioning and foul trouble (seven fouls per 40 minutes). He's already reshaped his body this offseason by shedding 21 pounds over the last 12 weeks. He's also increased his vertical jump by over eight inches and trimmed his body fat by five percent. With no go-to scorer on the roster, look for new Indiana coach Archie Miller to make getting the ball to Davis a priority. As the only true post player on Indiana's roster, he'll have the opportunity to be a focal point on Miller's first team in Bloomington.
25. (tie) Mike Watkins, Penn State (6-foot-9, forward, redshirt sophomore)
Watkins had a promising freshman season anchoring a Penn State defense that ranked sixth in the Big Ten in points per possession allowed. Watkins was the best shot blocker in the league other than Reggie Lynch (and the 8th best in the country) and he was solid on the glass on both offense and defense. His 59 percent two-point shooting was solid last season, but we'll be watching whether he can develop into a more consistent low post scorer. Most of his offense came by finishing cuts and rolls to the basket, an important skillset to be sure, but he graded out in just the 46th percentile nationally in post-up scoring. With a young core that should continue to improve around him, Watkins has the potential to be one of the better big men in the league.
24. Jaaron Simmons, Michigan (6-foot-1, guard, graduate student)
Simmons joins Michigan as a graduate transfer from Ohio University where he averaged 15.9 points and 6.5 assists per game last season. He cracked the list despite some questionable efficiency numbers (99.7 ORtg, 22% turnover rate) because of the role that he's likely to play in Michigan's offense. The Wolverines have consistently been one of the best ball screen teams in the Big Ten and lose 80 percent of their ball screen production from last year's roster with the graduation of Derrick Walton and Zak Irvin. Given the lack of other proven options, an experienced graduate transfer like Simmons, who played a similar role at Ohio should be the perfect option to step in. He'll have to become more efficient while playing against tougher competition — a tough task — but Simmons will have every opportunity to succeed in Ann Arbor.
23. Carsen Edwards, Purdue (6-foot, guard, sophomore)
Edwards built off of his promising freshman campaign by making the USA U19 basketball squad. The 6-foot guard led the team in assists and averaged 10.4 points per game and had a productive time abroad despite Team USA's disappointing loss to Canada in the FIBA U19 World Cup. Edwards still needs to cut down on the turnovers and improve his 2-point shooting (just 41 percent last season), but his ability to create his own offense should be valuable for Purdue this season. The Boilermakers won't have the luxury of playing through Caleb Swanigan this year, but there are still enough talented pieces in place that Edwards could have a breakout year if he can be just a bit more efficient and consistent.
22. Tony Carr, Penn State (6-foot-5, guard, sophomore)
Although Carr has garnered some discussion as a potential as an All-Big Ten player elsewhere this summer, we're not ready to go that far with the rising sophomore. As a freshman, Carr was fourth in the Big Ten in assist rate in league games and also tenth in free throw rate. Distributing and getting into the lane have been the focal point of Carr's game going back to his days at Roman Catholic in Philadelphia, where he was a top 100, signature recruit for Pat Chambers and the Nittany Lion staff. The next step for Carr is to become more well-rounded offensively. As a freshman, he shot just 39.9 percent on 3s and 32 percent on 3s. For a Penn State program that needs to become more efficient offensively to win more games, improvement from Carr is pivotal and will go a long way in determining if he can outperform our expectations.
21. Reggie Lynch, Minnesota (6-foot-10, center, redshirt senior)
When Lynch is on the floor, he's arguably the most devastating shot blocker in college basketball. Over his first three seasons (two at Illinois State and one at Minnesota), Lynch has ranked first, first and second nationally in block percentage. Last season as a redshirt junior in Minneapolis, he was named to the league's All-Defensive team and was a key piece in the program's turnaround. Offensively, he's a role player, but he did rank in the top 15 in the league in both offensive and defensive rebounding percentage. Unlike last season, Lynch and Minnesota enter the 2017-18 season with expectations. And although he won't be counted on for major offensive production, Lynch has room to grow as both a finisher (54.3 percent on 2s) and free throw shooter (63.9 percent).
Filed to: 2017-2018 Big Ten preview, Deron Davis