Big Ten's top 25 players for 2017-18: 10-6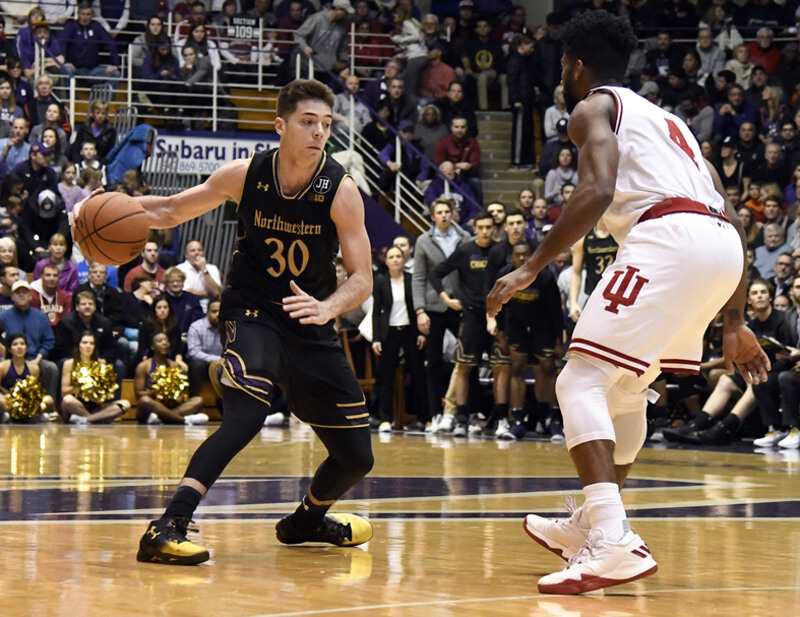 With the official start of practice less than two months away, UMHoops and Inside the Hall have again partnered to bring you a preseason breakdown of the top 25 players in the Big Ten for the 2017-2018 season.
Our selection process involved much deliberation to arrive at a list we hope will provide plenty of reaction and debate. The series will be broken into five parts and our fourth installment of players 10-6 is available below (Previously: 25-21, 20-16, 15-11):
10. Isaac Haas, Purdue (7-foot-2, center, senior)
The Alabama native is the most imposing figure in the conference and is impossible to stop if he catches the ball deep enough in the post. In an era where post play has been de-emphasized, Haas is the definition of a true five. He had the highest usage rate of any Big Ten player in league play last season (33 percent) and shot close to 56 percent on 2s. When he wasn't finishing, Haas was typically drawing fouls and converting at the line. He finished with a free throw rate of 57.9 percent in league play and made 74 percent of his attempts. He also ranked in the top 10 of the league in both offensive and defensive rebounding percentage and was 16th nationally in block percentage. The challenge for Haas as a senior? Taking on a bigger workload. He's never averaged more than 20 minutes per game in his career.
9. Justin Jackson, Maryland (6-foot-7, forward, sophomore)
Jackson tested the NBA draft waters last spring and after attending the combine in Chicago, opted to return to College Park for his sophomore season. Jackson was terrific for Mark Turgeon as a freshman, averaging 10.5 points and six rebounds per game while shooting 44.1 percent on 3s. With Melo Trimble moving on to pursue a professional career, the Terps will shift to Anthony Cowan, who is more of a pass-first point guard. That should give Jackson, the team's leading returning scorer, more opportunities to shine offensively. Jackson is also a solid rebounder on both ends and his length (a 7-foot-3 ¼-inch wingspan) makes him a versatile defender. If Maryland returns to the NCAA tournament for a fourth straight season, Jackson will be a major reason why.
8. Nick Ward, Michigan State (6-foot-8, forward, sophomore)
It seems like the only thing that Nick Ward needs to do to have a breakout sophomore season is earn more minutes from Tom Izzo. Ward was the No. 5 post-up scorer in the Big Ten, he led the league in offensive rebounding percentage and fouls drawn per 40 minutes, and checked in at No. 4 in block rate. There's no reason why Ward can't be one of the league's best big men, but he logged 21 minutes or fewer in 9 of Michigan State's final 14 games despite the fact that Michigan State's backup big man was Kenny Goins. If he can inch closer to 28 minutes per game as a sophomore, then he should be in the discussion for All-Big Ten honors. He'll have to do a better job of staying out of foul trouble (5.9 fouls per 40) and cutting down on his teachable moments with Tom Izzo on the sideline to accomplish those goals, but they are certainly attainable.
7. Amir Coffey, Minnesota (6-foot-8, forward, sophomore)
Amir Coffey averaged 12.2 points, 3.8 rebounds and 3.1 assists per game in his first year at Minnesota, earning a spot on the conference's All-Freshman team. At 6-foot-8, it is Coffey's versatility that sets him apart from other wings in the league. He's an effective slasher from the wing and boasts an impressive 50 percent free throw rate (FTA/FGA). He shot 50.3 percent on twos and 33.7 percent on threes last season and those numbers are solid. But if he wants to be a breakout star he'll have to become more effective in the ball screen game (34th percentile on 149 possessions) and more consistent with his three-point jumper..
6. Bryant McIntosh, Northwestern (6-foot-3, guard, senior)
Overlooked as a recruiting target until late in his senior season at Greensburg High School in Indiana, McIntosh has developed into one of the Big Ten's premier guards. As a junior, he averaged a team-best 14.8 points for the Wildcats, who reached the NCAA tournament for the first time in school history. He also had the Big Ten's second best assist rate (35.7 percent) and shot 87 percent from the free throw line. As a senior, the challenge for McIntosh will be dealing with expectations. Additionally, McIntosh will need to find a way to improve his efficiency. He shot just 30.7 percent last season on 3s and 44.1 percent on 2s.
(Photo credit: David Banks-USA TODAY Sports)
Filed to: 2017-2018 Big Ten preview