Big Ten's top 25 players for 2017-18: 20-16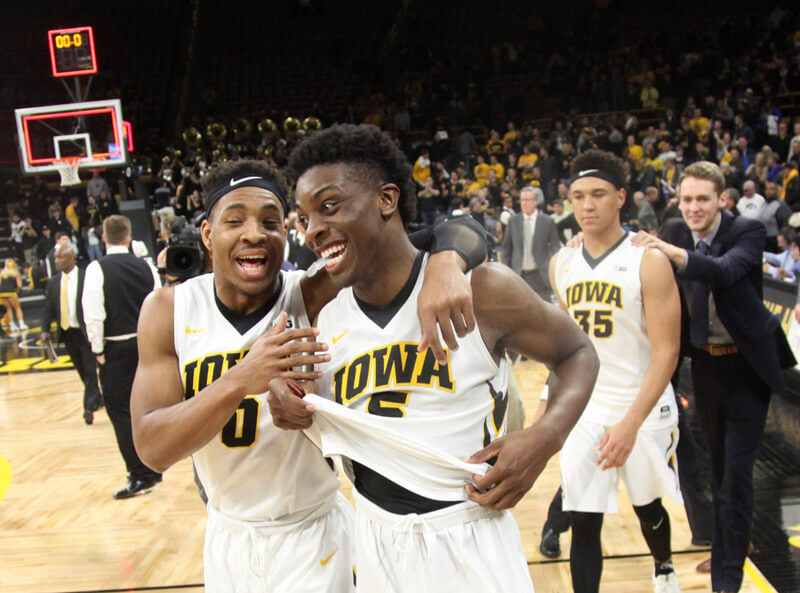 With the official start of practice less than two months away, UMHoops and Inside the Hall have again partnered to bring you a preseason breakdown of the top 25 players in the Big Ten for the 2017-2018 season.
Our selection process involved much deliberation to arrive at a list we hope will provide plenty of reaction and debate. The series will be broken into five parts and our second installment of players 20-16 is available below: (Previously: 25-21)
20. Jae'Sean Tate, Ohio State (6-foot-4, forward, senior)
There aren't many forwards in the Big Ten that play harder than Tate. The 6-foot-4, 230 pound senior is active on both ends of the floor and creates mismatches with his quickness against slower defenders. He does a great job at forcing defenders to guard him for 40 minutes and he's the best cutter in the Big Ten. Tate led the Big Ten in points scored off of cuts to the basket, per Synergy, and finished as effectively as anyone in the league. There's been talk that Tate could play some point guard as a senior, but that would be a radical shift from what we've seen of him thus far. Just 14.8 percent of his workload last season came via isolation or ball screen action. The first step toward becoming a more complete player as a senior will be improving his jumpshot, where he managed just a 32.1 effective field goal percentage in catch and shoot situations last season.
19. Dakota Mathias, Purdue (6-foot-4, guard, senior)
Mathias is the best returning three-point shooter in the Big Ten at 45 percent, he was named to the Big Ten All-Defensive Team, and he led Purdue in assists. He might be a complementary player in West Lafayette, but any coach in the conference would add a three-and-D guard like Mathias to their lineup. Entering his senior year, there's a chance for Mathias to increase his usage rate (just 14.6% last year) with the loss of Caleb Swanigan, but the safer bet is that he plays a similar role holding the team together and allows Vince and Carsen Edwards to grow into playmaking roles.
18. Glynn Watson, Nebraska (6-foot, guard, junior)
Nebraska used more ball screen possessions than anyone in the league last season and with Tai Webster's graduation, Watson should get as many opportunities as he can manage in the pick-and-roll game. Watson was the most efficient player on a Nebraska offense that struggled to score points consistently. He needs to improve as a distributor (a 16.6 percent assist rate isn't good enough for a point guard) and finishing inside the arc (just 42 percent on twos last season), but he can shoot the three (40 percent) off the catch or the bounce. Expectations might not be high for Nebraska this season, but the pressure is heating up in Lincoln and Watson is the best chance for the Cornhuskers to overachieve this season.
17. Tyler Cook, Iowa (6-foot-9, forward, sophomore)
As the gem of Fran McCaffery's 2016 recruiting class, Cook put together a very solid freshman campaign in Iowa City that landed him on the Big Ten's All-Freshman team. With the graduation of Peter Jok, the St. Louis native should become the top option in Iowa's offense. Cook did an excellent job of drawing contact as a freshman (5.8 fouls draw per 40 minutes) and he'll also be one of the league's best returning offensive rebounders. He also proved to be a respectable finisher as a freshman, as he shot 56.5 percent overall on 2s with a healthy usage rate of 24.9 percent. Given what the Hawkeyes lost in Jok from an offensive standpoint, someone will have to pick up some of the load and getting Cook more touches in the paint is a good place to start.
16. Jaren Jackson, Michigan State (6-foot-10, forward, freshman)
The lone freshman on this year's top 25 list, Jackson is the highest rated recruit entering the Big Ten for the 2017-18 season. The 6-foot-10 forward, who played at Park Tudor in Indianapolis before finishing his prep career at La Lumiere, finished at No. 7 nationally in the 247Composite for the 2017 class. Jackson enters a terrific situation in East Lansing as he'll have plenty of talent surrounding him, particularly in the frontcourt. The potential frontcourt logjam, however, is the reason he's not ranked higher on this list. Jackson's wingspan of 7-foot-4 should make him a very good defender in college and beyond. He's also a tough matchup at the four because of his size and ability to finish with either hand. If Michigan State is ultimately able to play Jackson alongside Miles Bridges and Nick Ward, the Spartans may have the best frontcourt unit in the country.
Filed to: 2017-2018 Big Ten preview