Film Session: Purdue
In Indiana's blowout loss to the Boilermakers, Purdue turned up the pressure on defense. It didn't allow the Hoosiers to play to their strengths in the halfcourt and A.J. Hammons also erased shots at the rim with eight blocks.
We'll take a look at Purdue's defense in the latest edition of Film Session:
The Hoosiers are down 11-6 with 13:49 to go in the first half. Yogi Ferrell takes a ball screen from Emmitt Holt: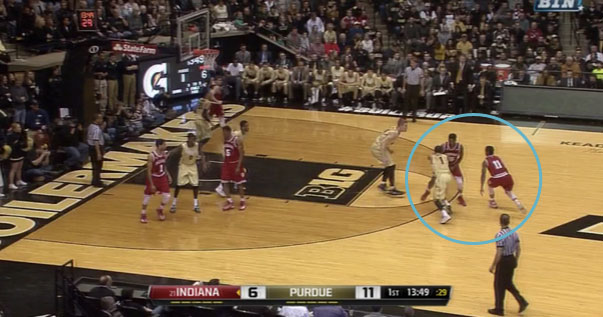 Ferrell gets all the way down to the rim, but Isaac Haas and Bryson Scott have him covered: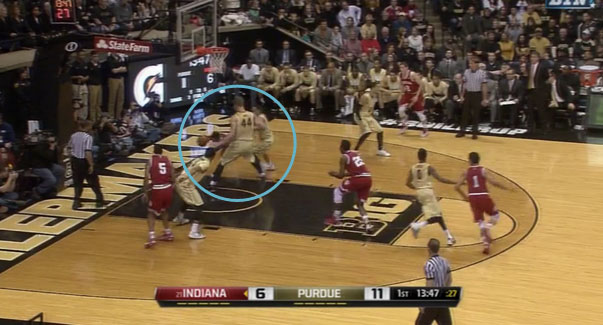 Ferrell comes all the way around to the left corner and left wing before passing it back up top to James Blackmon Jr. The Hoosiers will try resetting: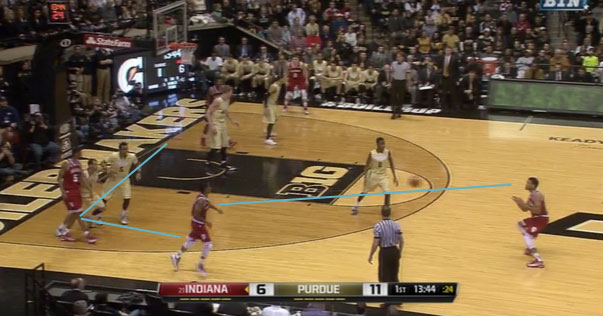 Blackmon Jr. drives in, finds nothing and passes out to Nick Zeisloft: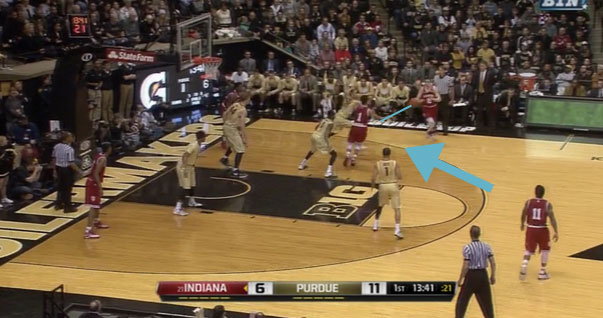 The ball finds its way to Ferrell up top and he again darts down the right side of the lane trying to get something going: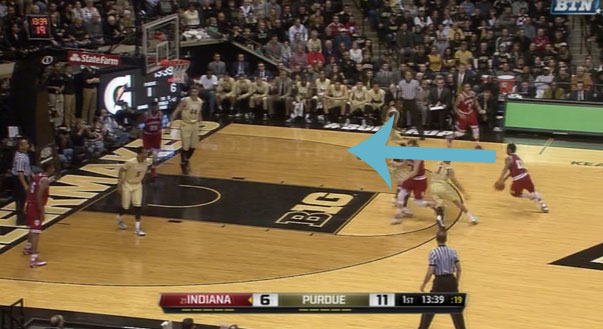 But Haas and Kendall Stephens make sure he doesn't have room to get off a shot: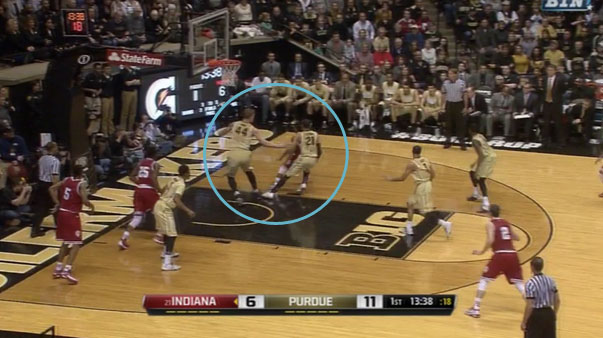 So Ferrell whips the ball out to Zeisloft on the left wing after he attracts the defense down low: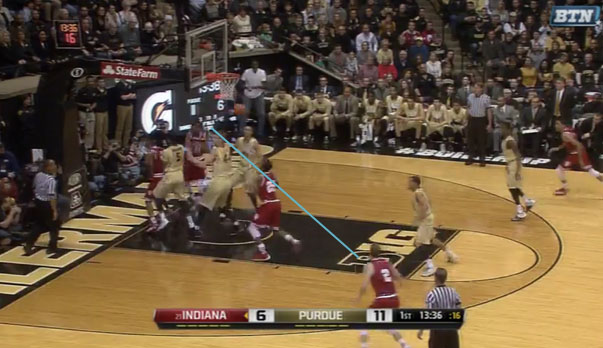 But here's Purdue coming over and getting into Zeisloft before he can get off the 3-point attempt: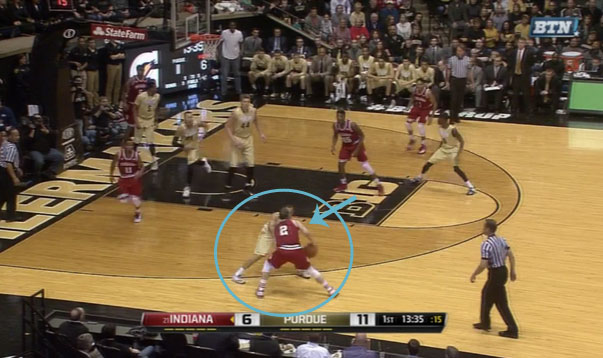 So Zeisloft passes back up top to Blackmon Jr. and now he tries driving right: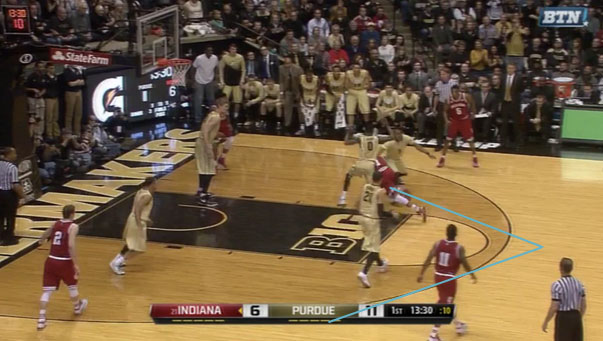 He stumbles and loses control of the ball, but it lands with Holt: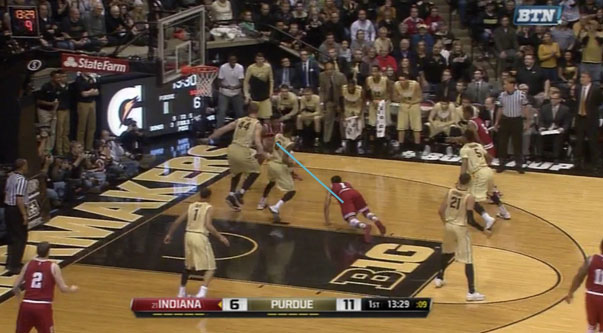 Holt makes the pass to Troy Williams with under 10 seconds on the shot clock. He hoists up a long 2. It misses: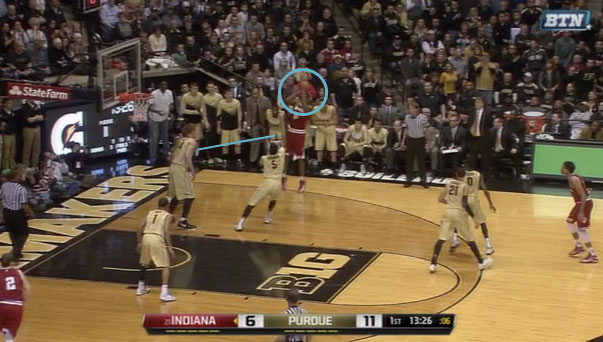 The possession ends with a rebound attempt that Purdue tosses off Holt's body for an out of bounds call on the Hoosiers. Purdue ball: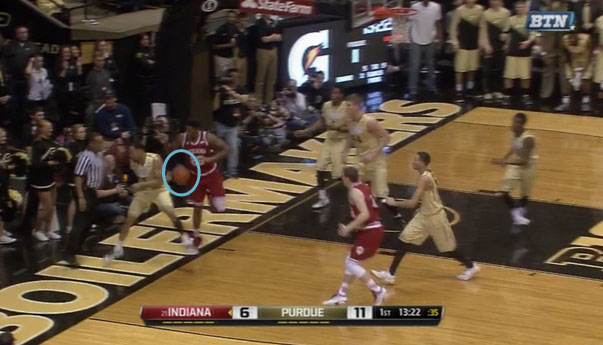 Video:
A long sequence here, but it shows just what kind of defense Purdue was playing at times on Wednesday night. This was an offensive possession where Ferrell got to the cup twice, passed to an open Zeisloft on the left wing and the best shot they were able to muster was a long 2 from Williams — the most inefficient shot on the court.
The Hoosiers actually took a number of mid-range and long 2 attempts in the first half, shots they rarely take. It's another nod to Purdue's D that it forced Indiana into shots it doesn't want to attempt.
Filed to: A.J. Hammons, Purdue Boilermakers