Notebook: Offense and defense lacking in loss at Purdue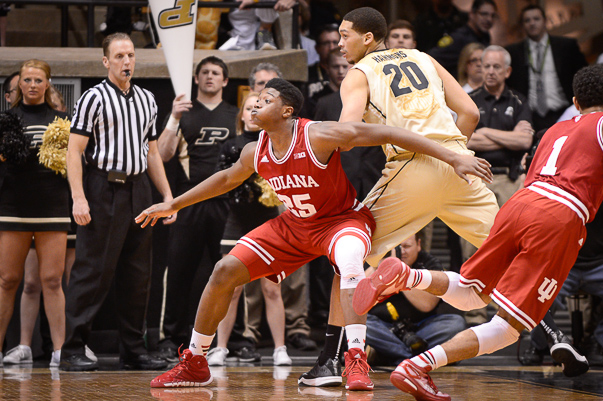 WEST LAFAYETTE, Ind. — From the start of Wednesday night's game at Purdue, Indiana found itself in trouble.
The Hoosiers were rushing shots. They were dribbling too much. They were turning it over. They didn't get many open looks. And when they did, they missed.
By the end of the 40 minutes of action, the Boilermakers (13-8, 5-3) had soundly defeated the Hoosiers (15-6, 5-3), 83-67, giving Indiana its second straight loss.
"They played well," Indiana coach Tom Crean said. "But we put ourselves in positions to allow them to do that too many times by just not making simple plays."
The basis of success for the Hoosiers' offense has always been simple, according to Crean — make the easy pass, and find the open man. The Hoosiers don't have the personnel to play a complicated style — one that involves "trying to create things that aren't there." That was the source of Indiana's problems on Wednesday, Crean said.
The Hoosiers tried to drive on 7-foot A.J. Hammons. He blocked eight shots — his career-high. They were careless with the ball — they had six early first half turnovers that put them in a hole. They rushed jumpers — they were 4-for-19 from 3.
Those indicators of the Hoosiers' poor offensive performance can be traced back to ball movement, Crean said.
"We just have to simplify," he said. "And we didn't trust the corners enough. We didn't take the open jump shot that was there — we tried to drive too much and tried to drive into traffic rather than just making the simple pass, knock down the shot and let's see what happens and get on the glass."
The Hoosiers actually had their best offensive rebounding game in conference play yet – they grabbed 45.2 percent of their missed shots – but the rebounds they didn't get were costly.
"We did offensive rebound the ball and we did get some good looks and I thought we could have got a lot more," Crean said. "But because of that they were able to get out in transition."
Boilermakers pound the paint in win
One of Crean's long-standing M.O.'s has been "defense creates offense." On Wednesday, that was the case. But not for Indiana, however.
Crean admitted the Hoosiers' offensive struggles led to their defensive struggles against Purdue. That started with the Boilermakers' success off Indiana misses.
As the Hoosiers failed to get back quickly from those quick misfires, the Boilermakers did what they do best — score at the rim. They came into the country as one of the top 2-point shooting percentage teams in the country. More than 55 percent of their points came from 2s.
In the first half alone, 32 of their 38 points came in the paint. When they ran half-court sets to Hammons or 7-foot-2 Isaac Haas, the undersized Hoosiers were mismatched. The pair combined for 13 first half points on 5-of-6 shooting and 2-of-4 free throws.
But the Boilermakers guards also got to the rim effectively. 6-foot-5 Rapheal Davis scored 19 points on 5-of-8 field goals and 8-of-8 free throws. 6-foot-1 Bryson Scott had 11 points on 4-of-7 shooting and three free throws. Wings Vince Edwards and Basil Smotherman added nine and eight, respectively.
The bottom line, Crean said, is that "we've got to do a better job of cutting off driving lanes." But beyond Crean, there is more frustration among the Hoosiers.
"We've got to stop being so soft, man," junior Yogi Ferrell said. "I just feel like whenever we go out there we don't play with any energy."
On the night, the Boilermakers shot 71.9 percent on their 2s and had 46 points in the paint — and another 25 at the free throw line. Just a game earlier on Sunday, the Hoosiers allowed Ohio State to shoot 73.7 percent on 2s and score 42 points in the paint.
After Wednesday's game, Crean was asked how the Hoosiers can get better at defending the 2. His response: "Get healthy," that the team is too small in the post — 6-foot-8 Max Hoetzel was the tallest Indiana player to see the court against Purdue.
Crean also said the Hoosiers' interior defense will improve when they get better around the rim. But there was an agreement between coach and players.
They don't see that changing any time soon.
"We think it's going to be easier than it is, especially guys who haven't been here and played in the Big Ten and think it's easier than it is," Ferrell said. "Now we're learning the hard way."
Filed to: Purdue Boilermakers