What to Expect: Rutgers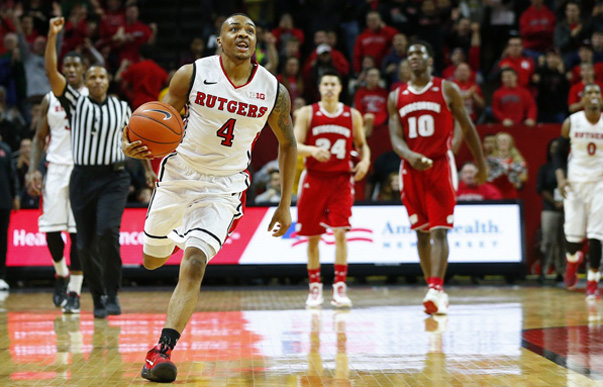 Indiana will try to end its first losing streak of the season on Saturday when it welcomes Big Ten newcomer Rutgers to Assembly Hall. The Scarlet Knights are 10-12 overall and 2-7 in conference play.
The game will be broadcast at 3:15 p.m. ET on BTN:
Conference expansion means that Indiana will welcome another new league foe to Assembly Hall on Saturday afternoon. The Rutgers Scarlet Knights, an addition made by the conference to help with exposure in the northeast, haven't made the NCAA tournament since 1991 and are 0-4 in Big Ten road games thus far.
But that's not to say this group hasn't been competitive at times. Earlier in the month, Rutgers knocked off Wisconsin, sans Frank Kaminsky, in Piscataway, and also won its Big Ten-ACC Challenge game at Clemson. However, reality of just how far the program has to go under second year coach Eddie Jordan has set in as Rutgers is 0-5 since the win over the Badgers with the losses coming by an average of 13.8 points.
Coming off tough losses at Ohio State and Purdue, this is a chance for Indiana to finish out the first half of the Big Ten season with its sixth win and continue on as one of the league's surprises thus far.
MEET THE SCARLET KNIGHTS
Rutgers is led by a pair of seniors: 5-foot-10 guard Myles Mack and 6-foot-9 forward Kadeem Jack.
Mack is playing more Big Ten minutes than anyone besides Penn State's D.J. Newbill and is the team's leading scorer at 14 points per game. He's shooting just 44.9 percent on 2s and 32.2 percent on 3s in conference play, but he is capable of getting going from outside as he knocked down four triples in three straight games against Wisconsin, Maryland and Minnesota. His free throw percentage of 86.2 also leads the team and he's tenth in assist rate in Big Ten games at 25.8 percent.
Jack is 6-foot-9, but he isn't a traditional post player. As shown in his shot chart below via Shot Analytics, Mack takes 50 percent of his attempts from midrange: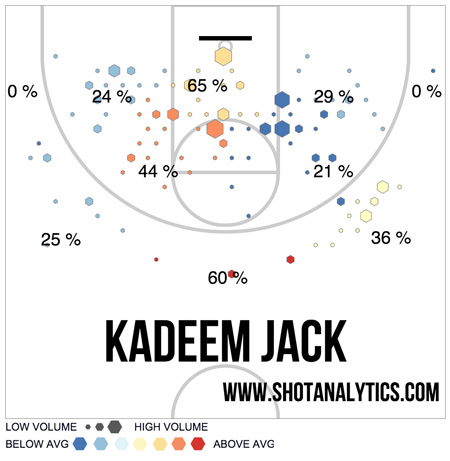 He's using 28.3 percent of Rutgers' possessions while on the floor in Big Ten play, the seventh highest usage rate in the league, and he is shooting 48.5 percent on 2s and only 18.2 percent on limited 3-point attempts. Jack plays the majority of his minutes – 75 percent – at the five spot so Indiana won't have the size disadvantage it experienced on Wednesday when trying to guard A.J. Hammons and Isaac Haas in the post.
The third scoring option on Rutgers is 6-foot-3 junior guard Bishop Daniels, who likes to get into the lane but is turnover prone. Daniels is turning it over on 25.8 percent of his possessions in league play and is making just 42.3 percent of his 2s. He has proven capable of knocking down the occasional shot from distance as he's 6-of-13 on 3s in conference play.
Freshman guard Mike Williams has started 11 games but has been poor offensively all season (38.5 eFG%), which is likely why Jordan is playing Daniels the majority of minutes alongside Mack.
A couple of other names to know: 6-foot-9 Greg Lewis, who can block shots and hit the offensive glass. Junior Etou also has some size at 6-foot-7 and 230 pounds but has made just 27.6 percent of his 2s in league play. Percentage wise, he's currently the Big Ten's sixth best defensive rebounder. Freshman D.J. Foreman, who is 6-foot-8 and 230 pounds, is another offensively challenged player – he's shooting just 39.3 percent on 2s in Big Ten games – who is available in the frontcourt for Jordan.
NUMBERS TO PONDER
If Indiana's defense is going to put the clamps on a Big Ten opponent, Rutgers is likely the victim. Over its past three games, the Hoosiers have allowed 1.09, 1.32 and 1.25 points per possession. IU's defensive efficiency is now 13th in the conference and its allowed effective field goal percentage is 14th: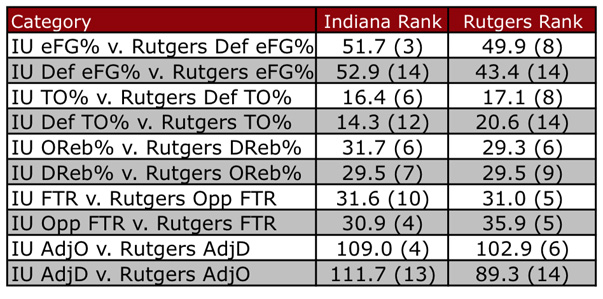 The Scarlet Knights are the most offensively challenged team in the Big Ten and over their last three games, they haven't scored more than .88 points per possession. On Thursday against Michigan State, Rutgers managed just .75 points per trip. This is also the Big Ten's most turnover prone team with a 20.6 turnover percentage in conference play.
Rutgers hasn't been great defensively, but they're middle of the pack in efficiency, opponent free throw rate and defensive rebounding.
WHAT IT COMES DOWN TO
The Pomeroy ratings have this contest as Indiana's best chance for a win over the next 10 games. His model predicts IU to win by 13 with a 90 percent chance of victory. Sagarin is equally bullish as his ratings favor Indiana by 14.
After breaking into both polls on Jan. 19, Indiana is just 1-2 and a pair of humbling losses to Ohio State and Purdue should have this group engaged and ready for a bounce back.
Rutgers, which has dropped five in a row, faces the unenviable task of coming to Assembly Hall, where IU is 12-1 this season, with just one day to prepare and a team waiting that will be hungry to wipe the taste of two bad losses out of its mouth.
More than anything else, Indiana needs to show it can put up some defensive resistance after three straight subpar performances and also respond to the challenge from one of its leaders in Yogi Ferrell, who called this group "soft" following the loss at Purdue.
(Photo credit: Rich Schultz/Getty Images North America)
Filed to: Rutgers Scarlet Knights