Freshman Focus: Tim Priller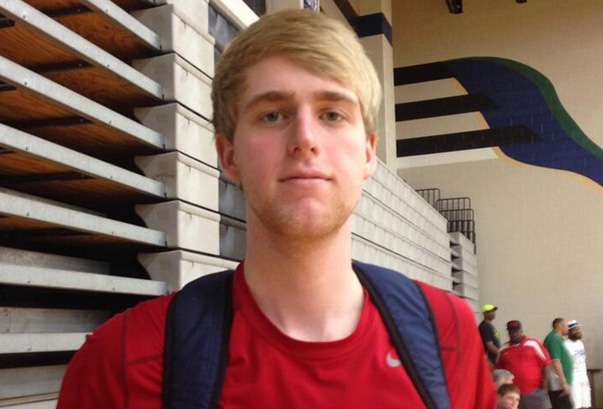 Freshman Focus" is an Inside the Hall series on each of Indiana's five incoming freshmen. Over the next couple of weeks, we will examine what kind of an impact each player can have for the Hoosiers next season. Today: Tim Priller. (Previously: Max Hoetzel, Robert Johnson, Jeremiah April.)
Just as the 2013-2014 men's college basketball season was winding down in the early days of April, Indiana's pursuit of a little-known prospect in this year's graduating high school class was just beginning. Associate coach Tim Buckley was in Texas at the time and happened to watch senior Tim Priller and Richland High School play.
The 6-foot-9, 211-pound forward that shot 52 percent from beyond the arc this season impressed Buckley, to the point where head coach Tom Crean and assistant Steve McClain returned just a couple weeks later. After watching Priller, they extended a scholarship offer. It was his first major offer after being severely under-recruited, compared to other offers from the likes of Lamar, Drexel, Albany and Illinois-Chicago.
But to Priller, the one from Indiana meant more than just the name of the school. He was born in Dyer, Indiana. He knew about its basketball and academic reputations. And though he never spent much time in the Hoosier state and had never visited campus, Priller knew where he wanted to be.
"It was hard for me to get Tim to think about anybody else," his high school coach, Richard Bacon, told Inside the Hall. "When Indiana started showing interest, he flat out told me, 'Coach, if Indiana offers me, I'm going to take that right now.
"I was like, OK."
On the evening of April 26, Priller pulled the trigger and gave his commitment to IU. Fans who had never heard of his name began researching. His Twitter account gained more than 1,500 followers in the days after.
According to Bacon, Priller liked to play the stretch-four and shot 48 percent from the floor, overall. He was their best free throw shooter, shooting 78 percent from the line and was also their technical-foul shooter. And on top of that, he was also the target for Richland's game-ending plays.
But Bacon and Priller both agreed on what the rising freshman needs to work on most when he gets at Indiana: "I definitely need to get stronger," Priller said after his official visit from May 8-10.
"He's got to get a little stronger, and he knows that," Bacon said. "Like I told coach Crean, they're going to appreciate more, and the fans of Indiana are going to appreciate him more and more the more they see the kid. The more they're around him, the more they'll say 'Wow, I didn't know he could make that shot,' or 'Wow, I didn't know he could do this.'
"He's been doing this for quite a while."
Priller already has arrived in Bloomington and will be working out with the team over the summer. And based on first impressions about Indiana, he thinks he will fit right in.
"I was excited about all of the players," he said after his visit in May. "They all seem like great teammates."
Filed to: Freshman Focus, Tim Priller