Class of 2016 guard Rawle Alkins talks Indiana offer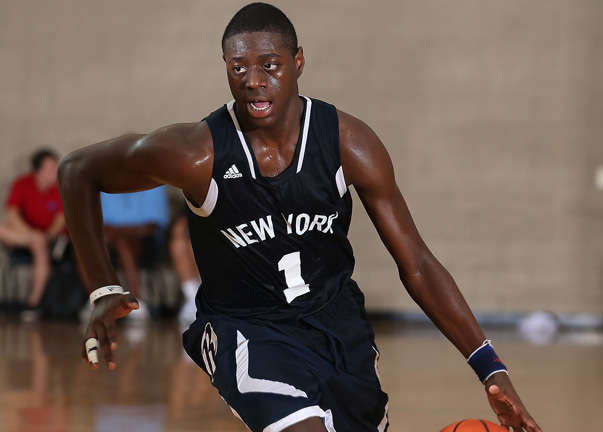 Sunday was a busy day in college basketball recruiting across the country as it marked the first full day that schools could begin unlimited contact with class of 2016 prospects.
One of the new names that has emerged on the radar for the Hoosiers is class of 2016 Christ the King (N.Y.) guard Rawle Alkins, a 6-foot-4, 185 pound guard. Alkins plays with the NY Rens, an adidas based AAU program.
New Indiana assistant coach Chuck Martin reached out to Alkins yesterday and the four-star guard recapped that conversation in an interview with Inside the Hall.
"Actually yesterday was the first time I'd heard from them," Alkins said. "It was coach (Chuck) Martin. He just let me know that he's a NYC guy that used to work with the Oklahoma City Thunder this past year."
According to Alkins, the Indiana coaching staff watched his film from the recent Mary Kline Classic, where he scored a game-high 36 points, and his play caught their eye.
"He was just telling me how he loves my game and the NYC toughness," he said. "He was saying how they need guys like me in their program and I was like, 'just offer me if you guys are really interested in me.' He said that's a 'no-brainer, you've got an offer.'"
Alkins expects to talk with Tom Crean in the coming days.
"It was Father's Day yesterday and he wanted to get me on the phone with coach Crean," he explained. "But they're going to call me in the next few days. I'm expecting a call from them either tomorrow or Wednesday."
Rated the No. 36 player nationally in the 247Composite, Alkins has offers from Cincinnati, Minnesota, Rutgers, Seton Hall and Villanova, among others.
While he was excited by the Indiana offer, Alkins said is trying not to get too caught up in the recruiting process or in which schools are in contact with him.
"I feel honored, Indiana is a great program, but I don't feel like I did something great," he said. "I work hard for this stuff, so when it comes, I don't need to be like some guys who, when they get an offer, they're like so hyped or so happy and probably wouldn't work on their game anymore. Right after we talked, I was getting on a flight from (Las) Vegas. As soon as I landed, I went to the gym and worked out to get better."
Filed to: Rawle Alkins