Freshman Focus: Max Hoetzel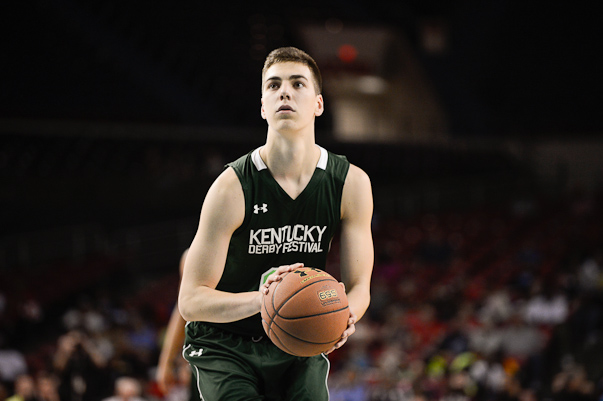 "Freshman Focus" is an Inside the Hall series on each of Indiana's five incoming freshmen. Over the next couple of weeks, we will examine what kind of an impact each player can have for the Hoosiers next season. Today: Max Hoetzel. (Previously: Robert Johnson, Jeremiah April.)
Less than a year ago, rising high school senior Max Hoetzel packed his bags and left his hometown of Calabasas, California, for the unfamiliar, yet promising Wilbraham, Massachusetts. After three years of playing high school basketball in the Los Angeles suburb, Hoetzel decided to transfer to Wilbraham and Monson Academy for his senior year.
It was his best chance to gain exposure, and perhaps college scholarship offers, before graduation, playing under head coach Chris Sparks and with five-star prospect Goodluck Okonoboh.
Indiana fans might be familiar with the latter name. The Hoosiers aggressively recruited the 6-foot-9 power forward, who ultimately committed to and signed with UNLV last fall. But during one recruiting visit to WMA in late September, Sparks convinced Indiana coach Tom Crean to watch his new, and coincidentally fast-rising player, as well. That player was the 6-foot-8 Hoetzel. And he had new offers, already, from St. John's, Rhode Island and Pennsylvania.
"I actually had study hall, and my dorm parent was like, 'No, he's not leaving. He has to do his homework,'" Hoetzel told Inside the Hall on April 17. "I was like, 'Come on, you've got to let me shoot for coach Crean.' They finally did, and now I'm here."
Hoetzel, who is particularly regarded for his shooting, impressed Crean enough to where he continued to stay in contact over the next few weeks. On Tuesday, Oct. 22, Crean returned to WMA. This time, he extended a scholarship offer.
That next weekend, Hoetzel visited Indiana in time for the opening exhibition against Southern Indiana. Before leaving Bloomington that Sunday, on October 27, Hoetzel gave his commitment to the Hoosiers.
"It was when I was walking out on that floor at Assembly Hall," Hoetzel explained as the moment he knew he wanted to commit. "I had never seen brighter lights on a gym. It was crazy for a college arena. And the fact that the place was packed for an exhibition game was ridiculous. It was crazy. And just how people care so much about the basketball program, it's really something else.
"It was something I couldn't really describe. To be a part of that would just be amazing."
But being under-recruited has led to some criticisms of Hoetzel. Some wondered whether he was worthy of an IU offer. Some wondered if he was even any good, especially since the IU offer came before Hoetzel ever suited up for the Titans.
Throughout the season, though, Hoetzel quieted critics, averaging 21 points, nine rebounds and four assists per game in a stretch from late January to early February.
"I think midway through the year, he started to get it," Sparks told Inside the Hall on April 24. "He made significant strides, was a huge contributor for us and really led to our success in the league. We had some great success this year and he had some huge games for us on both ends, offensively and defensively.
"He really changed his game a lot. The catch-and-shoot, one dribble pull-up he was very effective at, he was able to get to the bucket, get to the free throw line. One of the things I think he does really well is: He's going to get to the free throw line a ton. He has a good ability to get into the lane and get to the free throw line. He's an 80-plus percent free throw shooter, so that really helps him."
And in the Derby Festival Classic this past April, facing elite competition, Hoetzel went on to win the 3-point shooting contest and "fan-favorite" award after recording 10 points, five rebounds and two assists in the game.
While Hoetzel's performance in Louisville might have eased some fans' concerns, Sparks knows the incoming freshman has plenty of work still to do.
"I think his strength is something that's going to have to be improved upon," Sparks said. "His strength and stamina because obviously, the Big Ten and the pressure and demands that coach is going to have on him. I think defensively, he's going to have to continue to get better. And I think just his in-between game.
"I think everybody has him labeled as a very good shooter, a catch-and-shoot guy, but like I said, he's been trying to stretch his game out a little more, become a little more dynamic at getting into the lane and some of those things. As that comes and I'm sure those guys will have a lot more time and resources than I do to help him get better."
Filed to: Freshman Focus, Max Hoetzel