Freshman Focus: Robert Johnson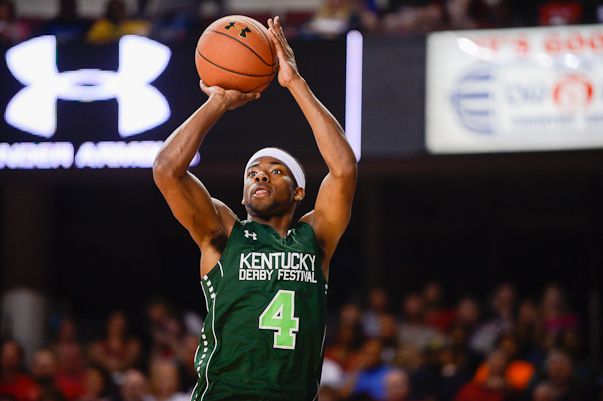 "Freshman Focus" is an Inside the Hall series on each of Indiana's five incoming freshmen. Over the next couple of weeks, we will examine what kind of an impact each player can have for the Hoosiers next season. Today: Robert Johnson.
When Robert Johnson walked into the library at Benedictine College Preparatory on September 20, he was ready to end what had grown into an intense recruiting battle.
After an outstanding summer with the Boo Williams AAU program, Johnson, who at one time only held a scholarship offer from UNC-Greensboro, was a serious target for four schools: Florida State, Indiana, North Carolina and Virginia.
Once the family began taking its official visits last August, communication with the media by Johnson and his father, Robert Sr., slowed considerably. That left many in the dark on which direction he might be leaning in his decision.
Many believed that Johnson would head to Chapel Hill and play for Roy Williams at North Carolina, but the 6-foot-3 guard had a surprise for those who predicted that he would play in the ACC.
"I want to thank all the schools that recruited me and offered me a scholarship," Johnson said, as he reached for a hat below the table where he sat in the library. "In the fall of 2014, I'm gonna be attending…"
Johnson then put on an IU basketball hat.
So how big was the secret that Johnson had just let out? Big enough that his high school coach, Ryan Marable, admits to not knowing which school he would pick until he pulled out the hat.
"When he pulled the hat out (is when I knew)," Marable recalls. "I didn't want to know really. But he wasn't telling even if I had begged."
It was a major coup for the program, especially when you consider that James Blackmon Jr.'s recruitment was in serious doubt at the time following his decision to reopen his recruitment just a month earlier.
More importantly, it was the first step in fulfilling a major need that would become a theme with Indiana's 2014 recruiting class: shooting.
"We addressed our needs with a capital 'N'," Tom Crean said last November, when discussing the commitments of Johnson, Blackmon Jr. and Max Hoetzel. "Downhill players that can make shots."
Crean has often talked about recruiting versatile players who can play multiple positions and fill multiple roles within the program. That's exactly what he's getting with Johnson, according to Marable.
"One of the things we wanted to do, one of the goals we set (for his senior season) was, 'what are you going to have to do your freshman year at Indiana?' You're not just going to have to shoot the ball," Marable told Inside the Hall. "You're going to have to handle it a little bit, you're going to have to get them into the offense a little bit, you're going to have to rebound the ball from the guard position, you're going to have to guard quick point guards, two-guards, three-guards."
"I feel like he really grew into almost a college freshman playing high school basketball this year."
The numbers bear out Marable's assessment of Johnson's final high school season. He did a little bit of everything in leading Benedictine to a 25-7 record. His 24.5 points and 6.3 rebounds per game led the Cadets and his effective field goal percentage (54.1) proves his efficiency.
"It's a huge pickup because he solves three problems," Boo Williams said back in September. "One, he can play point guard; two, he can play shooting guard; and three, he's a shooter. They're getting a hell of a player. He's a great kid."
Beyond the shooting prowess that Johnson will help infuse into Indiana's backcourt, a major deficiency last season with the exception of Yogi Ferrell, there's his defense, too, which Marable believes is an underrated aspect of his game.
"I think he's a great defender, honestly," Marable said. "He really understands the defensive part of the game. And he really embraces that aspect. Some kids that can shoot the ball, score the ball like him might not embrace it as much as he does but he really embraces the defensive end."
Johnson, who will arrive in Bloomington later this month to begin summer classes and workouts, knows plenty of work lies ahead, but it's a challenge he's ready to embrace head on.
"The most important thing (this summer) is just getting my body right, getting stronger and just getting into college shape. I'm probably going to have to play a lot of minutes next year and with the type of schedule we're going to play, I'll have to have my body right and prepare for that.
"I think I can bring that toughness, defensive mindset to the team, shooting ability, scoring, those different aspects of my game. I think my game translates well to the Big Ten. I'm a guard who likes to play defense and takes pride in stopping my man and pushing it right back at them. I think it's going to be fun playing in the Big Ten."
Filed to: Freshman Focus, Robert Johnson