Robert Johnson: Indiana is the "best fit for me"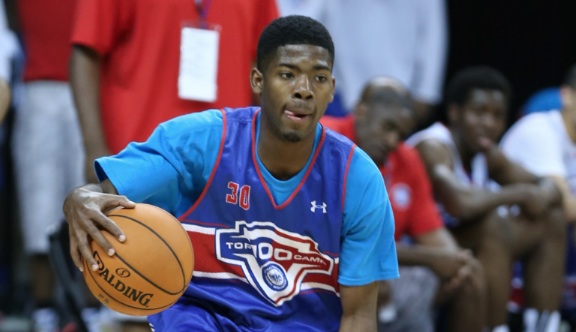 A bit before 3:30 p.m. on Friday afternoon, Robert Johnson made the call from his school's parking lot.
The class of 2014 Benedictine (Va.) School guard was on the phone trying to get in touch with Indiana coach Tom Crean to give his commitment to the Hoosiers. He didn't answer, but Johnson was ready.
He walked into his school's library and sat at a table draped in a green cloth, making his college choice public by choosing the Hoosiers over North Carolina, Virginia and Florida State.
"I want to thank all the schools that recruited me and offered me a scholarship," Johnson said, reaching for a crimson hat below the table. "In the fall of 2014, I'm gonna be attending…" He then put on the IU basketball cap, making his commitment public.
"I just tried to talk to coach Crean but he was doing what he does best —  he was in the gym working on his players —  so I wasn't able to get in contact with him," Johnson added. "I'll probably give him a call him right after this."
By choosing Indiana, Johnson became the lone member of the Hoosiers' 2014 class. He's ranked as the No. 79 prospect and No. 23 shooting guard according to the 247 Composite. And he brings three immediate benefits to Bloomington, his AAU coach Boo Williams said.
"It's a huge pickup because he solves three problems," Williams said. "One, he can play point guard; two, he can play shooting guard; and three, he's a shooter.
"They're getting a hell of a player. He's a great kid."
In the days leading up to Johnson's commitment, the speculation around his recruitment was that the Richmond native would choose either Virginia or North Carolina. But Johnson said he knew "all week" he would pick IU. Why?
"I think they've been recruiting me the hardest, and the main thing (Crean) always talked about is he made me a priority from day one," Johnson said. "For having a chance to play at the next level, he talked a lot about how he would do that by the developmental aspect.
"At the end of the day, I think I made the decision based on what I thought would be the best fit for me."
Johnson said that though Indiana did not make any promises on playing time, he knows he will have the opportunity to play either point guard or shooting guard in Bloomington. But that was not the only part of his decision.
His former AAU teammate, Troy Williams, is a freshman at Indiana this year and helped recruit Johnson to Bloomington. The lure of Indiana basketball history also played a factor, he said.
"It was a big part; they have a history of producing players," Johnson said. "They're trying to get back to where they were in the past, so I'm glad I can be a part of that."
"Robert is a family person and we're a close family. And the main thing is, Robert has to attend a school – we don't. We always want to be supportive of him," Johnson's father, Robert Sr., added. "And I do think all the schools that recruited him, they were the best schools you can ask for. So if our son made a decision, we're going to do everything to support him 100 percent. We're going to do everything we can to be there for him."
As for Johnson's next step?
"I'm gonna try to go out and recruit some other players to come on board with me," he said.
Is there anyone in particular he has in mind? Maybe his close friend and 247 Composite four-star forward Devin Robinson, who is visiting Indiana on Oct. 4, for Hoosier Hysteria?
"Oh yeah, Devin Robinson, No. 1. I'm going after him first."
(Photo credit: Kelly Kline/Under Armour)
Filed to: Robert Johnson