Max Hoetzel's high school coach on his development, game and future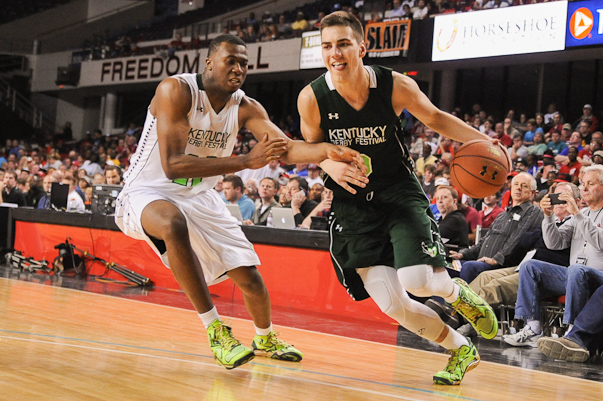 Chris Sparks of Wilbraham and Monson Academy in Massachusetts was one of the coaches at last week's Derby Festival Basketball Classic in Louisville and also the high school coach this past season for class of 2014 signee Max Hoetzel.
Upon his arrival at Wilbraham and Monson last fall from Calabasas (Calif.), Hoetzel saw his recruitment take off, which ultimately culminated in a commitment to Indiana in late October of last year.
Inside the Hall recently caught up with Sparks for an in-depth conversation on Hoetzel and we discussed his growth since arriving at Wilbraham and Monson, his role at the next level and much more.
Here's a complete transcript of our conversation with Sparks:
Inside the Hall: I was just talking to Max about where he was a year ago and where he is now and his rise. You've had him since last fall, can you talk about how he's gotten better and where he is as a player right now?
Chris Sparks: He's made significant progress for us. And I think that's one of the things with the league that we play in. Every team that we play is going to have kids that are going to compete at the Division I, high major, mid-major, low major level. I think it was a good test for him night in and night out and I think it was a big adjustment early on. The pace, the speed of the game and the size and strength of some of the guys compared to where he came from. Not to take anything away from his local high school, but I think midway through the year, he started to get it. He made significant strides, was a huge contributor for us and really led to our success in the league. We had some great success this year and he had some huge games for us on both ends, offensively and defensively. He really changed his game a lot. The catch-and-shoot, one dribble pull-up he was very effective at, he was able to get to the bucket, get to the free throw line. One of the things I think he does really well is: He's going to get to the free throw line a ton. He has a good ability to get into the lane and get to the free throw line. He's an 80-plus percent free throw shooter, so that really helps him.
ITH: His recruitment kind of came out of nowhere last fall. A year ago at this time, I wouldn't have known who he was and then all of the sudden, Indiana offers him and he commits to Indiana. Once he got to you, how did things progress?
CS: Initially, it was Utah, San Diego and a bunch of schools out west, Washington State, that were recruiting him. I think what happened was the team, and the fortunate thing we have is, as many good players as we have on the team, coach (Tom) Crean was recruiting Goodluck (Okonoboh) and he saw this kid and said, 'wow, this kid can really shoot it.' And he was able to get a decent evaluation off of that because of the kids he was competing against in practice. And then he came back again and saw him again and his recruiting started to pick up at that point with some different people coming in whether it was UConn. Florida was another school, coach (Billy) Donovan had been up. I give coach Crean and coach (Kenny) Johnson a lot of credit because he kind of saw him first because he kind of identified him and saw that this kid could really be something eventually and play at that level. I think he's going to do really well there and like I said, by the midpoint of our year, people started to think, this kid is going to be a good player at Indiana.
ITH: The first time Crean watched him, Max said you got him out of his dorm and he did some shooting?
CS: He'd worked out for a hour or a hour and 15 minutes and coach Crean got stuck with his flight. I ended up pulling him out of that and then he worked out for another hour for coach. My opinion, being around coach Crean, he recruited Goodluck and he did a really great job with Goodluck and then the experience with Max, I think he's done a terrific job in his evaluations. Just look some of the kids he's had through the program whether it's been Victor (Oladipo) or other kids. He's had some high profile kids, but he's also had kids that not a lot of people know about and aren't the ranked guys. He kind of sees what they're going to be to play in his program.
ITH: What does he need to work on the most between now and his freshman season to get where he needs to be and play right away and contribute?
CS: My goal really is to shorten the gap as much as I possibly can, but there is going to be a gap. I think his strength is something that's going to have to be improved upon. His strength and stamina because obviously, the Big Ten and the pressure and demands that coach is going to have on him. I think defensively, he's going to have to continue to get better. And I think just his in-between game. I think everybody has him labeled as a very good shooter, a catch-and-shoot guy, but like I said, he's been trying to stretch his game out a little more, become a little more dynamic at getting into the lane and some of those things. As that comes and I'm sure those guys will have a lot more time and resources than I do to help him get better.
ITH: Do you think he'll be a small forward?
CS: That's the great thing about him, I mean he can guard multiple positions, he has to continue to improve on that, but then he can also, on the offensive end, he can play in the post, play outside. He's got a high enough basketball IQ to do some of those things.
ITH: How is he with rebounding?
CS: He rebounds well enough right now. Obviously, I'd like him to rebound a little bit better and I think coach Crean is going to want him to, too. But he'll be a freshman in college. Coming from high school is a big difference. Once he gets stronger, that will change his mentality.
ITH: How is Max with the turnovers consider the turnover problems Indiana had this past season?
CS: Very rarely did he turn the ball over. His IQ gets him through. He never was careless with the ball. He puts himself in positions where he's going to make himself and his team better. He allows himself to be pressured sometimes against smaller guards, but I think as he gets stronger, he'll be able to use his physicality.
ITH: He mentioned Steve Novak and Will Sheehey as two guys he's trying to pattern himself after. Those are pretty high aspirations. Do you see either of those guys in him a little bit?
CS: Sure, I know everyone wants a baseline to compare him to, but he's different than both guys. He's got a unique brand of himself. He does a lot with the ball sometimes, he has enough shiftiness with it. I'd just like to see him get a little stronger and then we'll see where he's at in a year or two. But you start throwing out Novak and Sheehey, I've got a lot of respect for both of those guys.
ITH: Confidence wise, he seems like he's got it. He's like the only guy here (at the Derby Festival Basketball Classic) that wasn't a highly rated recruit, but he looks like he feels like he belongs.
CS: Yeah, I think that's what is going to happen at Indiana, too. The rankings to me, the kid is from Calabasas, California. He's playing against Beverly Hills High School and other schools last year. Now he's playing against Brewster and St. Thomas More and all of these kids going high major. He's had success against those guys. We played against New Hampton this year, they're loaded. They've got six guys going Division I and he drops 25 points and looked great doing it. I think that helped him build his confidence.
Filed to: Max Hoetzel