That's A Wrap: Troy Williams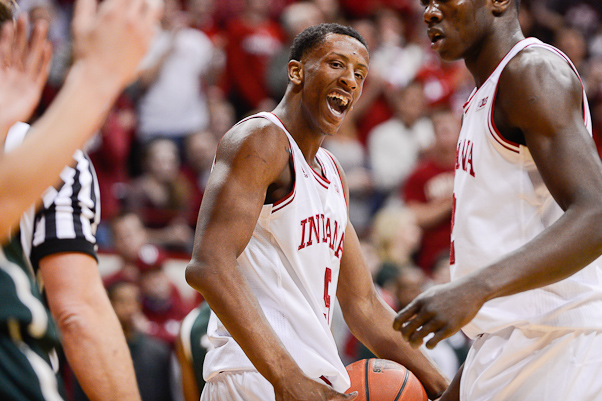 Welcome to "That's A Wrap," our player-by-player recap of the 2013-2014 Indiana Hoosiers. Today: Troy Williams.
Williams (32 games): 7.3 points, 4.4 rebounds, 0.9 assists, 50.9% FG, 20.7% 3PFG, 67.6% FT in 21.5 minutes per game.
If you're looking for the personification of Indiana's inconsistent 2013-2014 campaign, freshman wing Troy Williams is a good place to start.
The Oak Hill Academy product came to Bloomington with much promise and dazzled at times. At Madison Square Garden on Nov. 22, he pumped in 22 points and snagged eight rebounds against Washington, his athleticism and confidence on full display. But the next night against UConn, Williams had just two points in a loss.
He found his offensive niche around the basket this season and sported a team-high 2-point field goal percentage of 56.9. Not counting Luke Fischer, his field goal percentage at the rim was nearly tops on the team, too. Only Will Sheehey (61.1 percent) bested him. Sometimes it was out of the corner, scoring on tip-ins, putbacks and up-and-unders. Others it was connecting with Yogi Ferrell late in the season against Michigan.
But when Williams tried making a move off the wing to the hoop, he often played too fast, taking a step before dribbling and turning the ball over. This happened a lot. Williams' turnover percentage of 24.8 percent was near worst on the team, just barely losing that title to Devin Davis (25.8), Hanner Mosquera-Perea (25.7) and the departing Austin Etherington (25.0), though he used more possessions this season (19.4 percent) than any of those three. Williams also struggled to shoot from distance. He made just six of his 29 3-point attempts (20.7) with two of those coming in one game (at Michigan on March 8).
Defensively, Williams' athleticism led to a team high in steal percentage (2.2 percent) and it would have been higher had he found a way to not step out of bounds after deflecting the ball up ahead on near wing steals more than once this season.
Outside of bigger players, (Vonleh, Mosquera-Perea, Jeremy Hollowell, Fischer, Davis) Williams came in with the highest block percentage (2.0) on the squad. But Williams — like all freshman on this team from time to time — struggled in the team concept. Most notably, he misplayed a switch everything possession against Nebraska which led to a dagger 3-pointer from Walter Pritchford. He felt the wrath of Will Sheehey on a botched assignment more than once, and his penchant for the home run play on offense could leave him out of position to contribute on defense.
Bottom line: Williams' freshman campaign was a mix of good and bad, but his potential for future success is easy to see. Out of all the known returnees at this point, his ceiling might be the highest. But it'll take an offseason of extra hours in Cook Hall for him to take the leap, as his basic fundamentals, decision making and jump shot could all stand major improvement at this point in his career.
Previously: Stanford Robinson
Filed to: Troy Williams