Film Session: Good take, bad take
"The standard offensive set, to begin with, is a 1-in, 4-out flex, where the perimeter players provide ball screens and allow the ball handler to make a decision to drive, pass, or shoot. Indiana began out of that set a lot in the first half and it sent 5 MSU players to the locker room with 2 fouls. It is a read offense. It is not that complicated. Many teams run a similar offense.
Yogi can also call out plays at the top, or Crean can from the sideline, which can send those perimeter players to do off ball screens or other flex motions." — Indiana_Banners
As detailed above by Indiana_Banners in the comments of The Minute After, the Hoosiers were able to find success in the halfcourt by hitting driving lines out of their offensive sets — leading to fouls and scores at the rim.
A look at some success and failure out of these sets, as well as some Noah Vonleh looks in the latest edition of Film Session:
The Hoosiers run some weave action as Yogi Ferrell hands off to Jeremy Hollowell and the two swap spots. Hollowell fills spaces up top as Ferrell hits the left wing. As this happens, Stanford Robinson starts to join the weave off the right wing: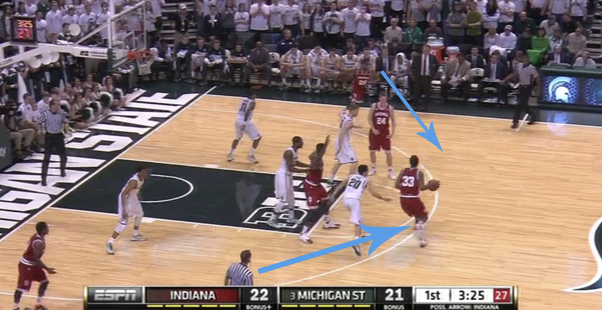 Travis Trice sticks with Hollowell for a split second on the handoff as Keith Appling stays put waiting for Hollowell: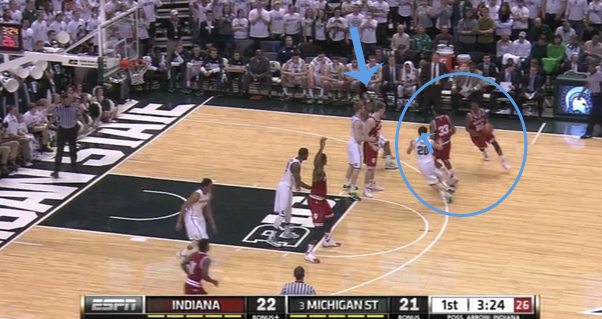 By the time Trice realizes he needs to mark Robinson, he's already moving into space down the middle: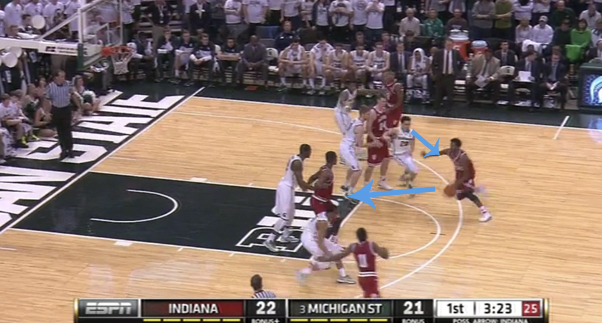 Trice does a decent job of chasing, but as Robinson begins to gather at the free throw line: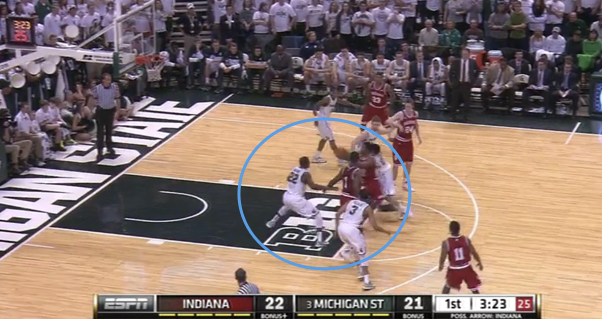 He avoids both Trice and Branden Dawson and scores untouched at the rim: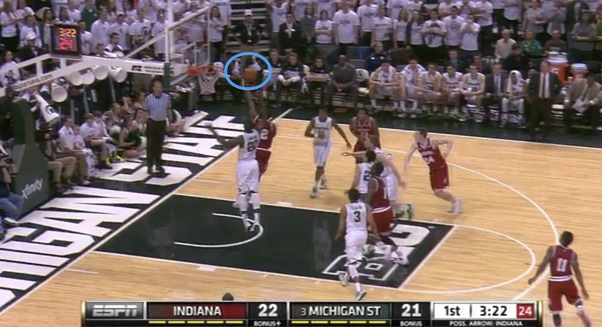 This is Stan Rob's game: The crafty lefty who can avoid defenders and score at the rim.
Video:
Filed to: Michigan State Spartans, Noah Vonleh