The Minute After: Michigan State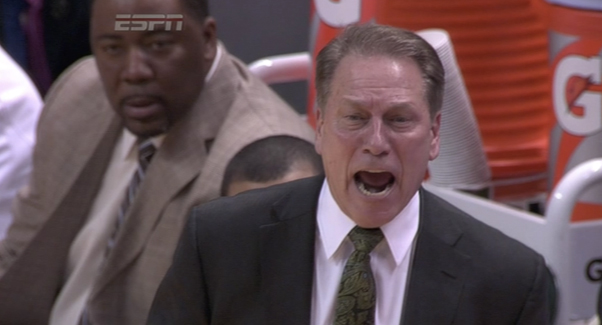 Thoughts on a 71-66 loss to the Spartans:
This time, it was Indiana's turn to put the heat on the better squad at home.
The Hoosiers frustrated Michigan State for much of this one. Without an injured Will Sheehey, they attacked the paint and drew fouls. Without an injured Adreian Payne, Noah Vonleh had his way on the interior when he got the ball in space, posting a double-double (13 points, 13 boards) for the second straight game.
Indiana's mix of man-to-man to matchup zone also gave Michigan State trouble. Tom Izzo seethed. Branden Dawson lacked energy. Keith Appling hobbled. Gary Harris was kept in check. Indiana entered halftime with a 28-27 advantage. Harris would start to heat up in the second half — as did Dawson — but Indiana didn't let it knock them out. It led 46-41 with just over 10 minutes to play and Michigan State was out of sorts, the Breslin Center crowd frustrated.
But the Spartans broke through in a big way over the next stretch. After a Stanford Robinson score gave Indiana a 48-46 advantage with 10:10 to play, the Hoosiers didn't register another field goal for seven minutes of game time until a Yogi Ferrell 3-pointer. (Ferrell hit four free throws for Indiana's only points in-between, but he's now just 16-of-51 over his last three Big Ten contests.) The five-point lead had been erased for a 10-point deficit with 3:00 left to play, and it was simply too much to overcome.
Indiana missed too many layups in the second half. (At one count on the broadcast it was up to nine.) Vonleh was also neutralized, as some of his catches were coming too far out of the basket area in the left corner. The turnover bug came back to bite Indiana in this one as well. After getting it under control the last three games, its turnover percentage ballooned up to 26.1 on the road against MSU. Devin Davis got more run than he has over the last couple games and he had a few costly ones in 10 minutes of play. Austin Etherington had four in 19 minutes.
Give away a quarter of your possessions and fail to score for seven minutes of game clock in the second half? That's a tough road to climb to victory against the No. 3 team in the country on the road.
That said, Indiana certainly rebounded from its effort against Northwestern. Troy Williams had his best game of the Big Ten season and played with confidence. (Perhaps too much at times, as he picked up a taunting technical in the first half. He also shot a jumper in the second half that was less than fundamentally sound, but it dropped.) Williams scored nine points and added six rebounds. Most importantly, he put the ball on the floor a good amount tonight and recorded zero turnovers.
Jeremy Hollowell returned to action in this one. He looked a little slow to start. But he would join in on the gameplan of getting to the foul line (4-of-4) and finished the contest with eight points. He may not start against Illinois on Sunday, but a spot back in rotation could be his again — especially if Sheehey continues to be sidelined with an ankle injury.
It's a loss. And the Hoosiers need wins right now if they want to keep their NCAA tournament hopes alive. Still, this was a performance to build on, one leading into a winnable contest against the Illini on Sunday at home.
Filed to: Michigan State Spartans