Five takeaways from Indiana's loss to Michigan State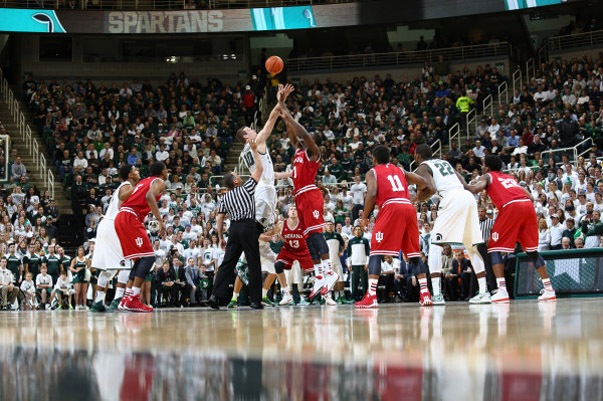 Indiana dropped its second straight Big Ten game on Tuesday night, falling 71-66 to No. 3 Michigan State in East Lansing. The loss dropped the Hoosiers to 12-7 overall.
Here's a look at five takeaways from IU's fourth conference loss:
· The turnovers return: After taking care of the ball better over its previous three games against Penn State, Wisconsin and Northwestern, Indiana saw its turnover problem reappear against Michigan State. The Hoosiers coughed it up 18 times for a turnover percentage of 26.1. Through six conference games, Indiana is the most mistake-prone Big Ten team with a turnover percentage of 21.3.
Turnovers for Indiana are, as described accurately recently by Tom Crean, the elephant in the room for this team moving forward. The Hoosiers are already challenged offensively and the turnovers just compound the problem. Turning the ball over and poor shooting is putting a tremendous amount of pressure on Indiana to produce offensive rebounds and get to the foul line to be successful. When it doesn't happen, the result is typically a loss.
· The effort was encouraging, but IU didn't finish well: In his postgame comments, Crean said he was proud of his team for the way it bounced back following the loss against Northwestern. And he should be. This is a loss that Indiana can grow from.
Leading by five on the road in the second half against the nation's No. 3 team is encouraging, but Indiana simply hasn't finished well around the basket the season. The Hoosiers are last in the Big Ten in 2-point field goal shooting at 40.3 percent.
"We had some shots we'd like to have back, but for the most part we just didn't make shots that we were making around the rim, not necessarily layups but just stuff that was right there; we were getting it where we wanted," Crean said. "But we've got to finish, and we can certainly continue to improve transition defense-wise; we can improve with challenging shots. So I think for the most part we did a good job with that, but we've got to be able to continue to finish. If we'd have finished better the other day, we don't lose the Northwestern game in all honesty. We missed 14 layups."
· Noah Vonleh was dominant at times: IU's star freshman appears to be well on his way to another Big Ten freshman of the week award after Tuesday's performance. Vonleh finished with 13 points and 13 rebounds in 33 minutes and with Adreian Payne on the sidelines, Michigan State had a tough time finding a way to stop him.
What Vonleh did not do was get to the foul line (0-1) or find a way to establish position in the second half. Several of his second half post ups started out too far off the block and he also put the ball on the floor a little bit too much, which led him to finish with three turnovers.
In his postgame comments, Tom Izzo remarked that he believed Vonleh was spending too much time on the perimeter and Crean was asked the assertion when he took the podium.
"I guess just to answer your question, as long as he's getting to the glass it really doesn't matter," Crean said. "He's a multi-dimensional player; that's what we recruited him to be and that's what he will be long after he leaves us. He works very hard to be that type of player. I don't think we'll ever be sitting here saying, 'Noah Vonleh doesn't spend enough time inside.' I don't think he's built that way. He's still learning a lot about the game and he'll continue to learn."
· Yogi Ferrell's efficiency in-conference continues to take a dive: Yogi Ferrell finished with a team-high 19 points, but shot just 4-of-13 from the field and over his last three games, he's 16-of-51 from the field.
Ferrell's improved perimeter shooting was a major storyline in the non-conference portion of IU's schedule, but he's now just 13-of-36 from behind the arc in conference games. Crean said after the loss that he was pleased with Ferrell's play and that his shooting percentages don't tell the whole story.
"He can shoot and score and let's be honest, we don't have a Gary Harris to throw it to on the wing like Keith (Appling) can," Crean said. "They have other guards and other attacking abilities. Yogi has to do a lot of things for us, but he did a good job of not forcing the issue. He found some things that are really working for him."
· Coming off two losses, Indiana is entering a pivotal four-game stretch: The next four games will tell us quite a bit about where this season is going for Indiana. The Big Ten has proven that just about every team can win (save for Penn State, thus far), but the Hoosiers have Illinois, at Nebraska, Michigan and at Minnesota over the next four.
All four games should be competitive and are contests that could end up going either way. With a 1-2 start at home in league play, Indiana probably needs to hold serve at Assembly Hall over this stretch and then win one on the road to give itself a realistic shot at nine or ten conference wins. Right now, the Pomeroy projection is 7-11 for IU and the model only has the Illinois game as a win, so this is certainly a critical stretch coming up.
(Photo credit: Matthew Mitchell, MSUSpartans.com)
Filed to: Noah Vonleh, Tom Crean, Yogi Ferrell