Shane Hall hoping shift pays off in July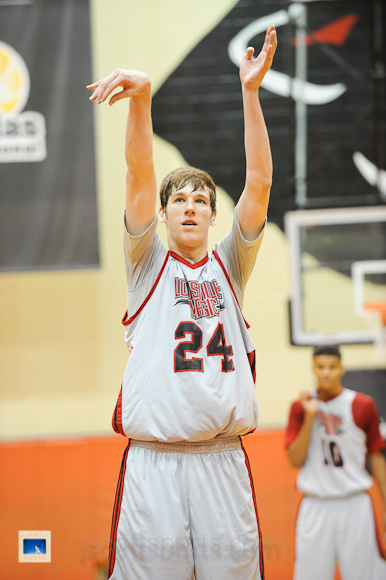 INDIANAPOLIS — The adidas Invitational was an important event to be a part of for Johnson Central (KY) forward Shane Hall.
So Hall, the No. 72 player nationally in the class of 2014 according to Scout.com, opted to play with the Louisville Magic rather than Hoop Dreams, the team he played with in the spring.
The move to play alongside Louisville commit Quentin Snider and five-star guard D'Angelo Russell paid off for Hall and the Magic, who won the tournament for the second straight year.
"On this team, every guy on the bench and on the court can score and do something with the ball," Hall told Inside the Hall. "We win a lot more games, and we go farther in the tournaments, so more coaches see us."
While he's still somewhat under the radar, Hall's athleticism at the power forward position is unique.
At 6-foot-8 and 205 pounds, he can put the ball on the floor, block shots and finish with dunks around the basket.
He said his role with the Magic differs from his duties at Johnson Central, where he's counted on to play multiple positions.
"In high school, I do mostly everything. I come out to the wing, I post up, I handle the ball," Hall said. "On this team, I don't have to handle the ball. I can just be the big guy down low in the post."
Indiana is among the schools that Hall says has been in regular contact in recent months. UAB (offer), Virginia Tech, Louisville and Kentucky have all expressed different degrees of interest to this point and Hall hopes that playing with the Magic in July will lead to additional schools taking a look.
He's already taken two unofficial visits to Bloomington, including a trip to Hoosier Hysteria last fall.
The turnout of IU fans to the opening practice was impressive in the eyes of Hall, who called Assembly Hall "pretty awesome."
The presence of Tom Crean at Indiana is also a positive for the big man from eastern Kentucky, who is impressed by the energy and intensity Crean brings.
"He likes to work hard and make everyone better," Hall said. "He likes to fast break and likes to be intense. I like to get up and down the court and get everyone hyped up."
More from the adidas Invitational:
· HD Video: Trevon Bluiett at the adidas Invitational
· HD Video: Noah Vonleh at the adidas Invitational
· Photo Gallery: adidas Invitational (part two)
· Photo Gallery: adidas Invitational (part one)
· Vonleh's coach: "He's a kid that doesn't have any kinks in his armor"
· D'Angelo Russell: "I can be No. 1"
· List of suitors for Trevon Bluiett continues to grow
· Reuter on IU: "I loved everything about it"
· Davis continues to work on jump shot
Filed to: Shane Hall