Davis continues to work on jump shot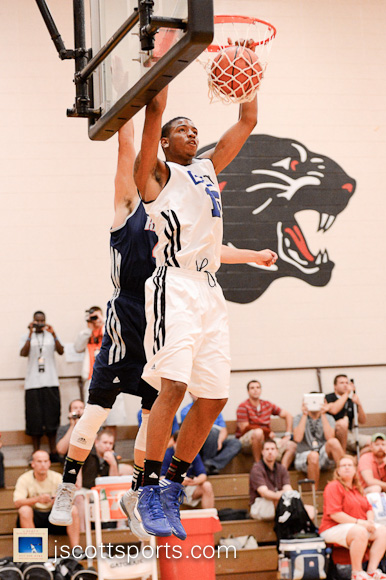 INDIANAPOLIS — Colin Hartman drove the lane, and got off an off-balanced floater. Just as the ball was rolling off the rim, Devin Davis — Hartman's teammate — grabbed it with one hand and slammed it down.
It was just a pool play game at the Adidas Invitational, but plays like that are the ones IU fans could get used to seeing when both Hartman and Davis arrive in Bloomington together next year. Both Hartman and Davis play AAU ball together with the Eric Gordon Central Stars.
As usual, Davis' remarkable athleticism was on display when he took the floor on Wednesday.
But Davis also showed signs of an improved jump shot — something he's been working on ever since he committed to play for the Hoosiers.
The 6-6 Davis hit a pull-up shot from the elbow in the opening minutes of a game against the Memphis Magic, and he looked comfortable doing it. Davis finished with nine points, six rebounds, and three blocks.
The majority of Davis' shot attempts still came inside the line, but it was clear he's worked to extend his shooting consistency in recent months.
"The jump shot is pretty good," Davis said afterward. "I still have to improve more off the dribble, and even set shots.
"IU wants me to work on becoming an all-around player, becoming more versatile, just with rebounding, and every part of the game."
While he's still got another high school season to play, Davis said he gets more excited about his commitment to IU every day.
He said he's never thought twice about his decision.
"It's pretty exciting," Davis said. "I went down [to Bloomington] a couple times, and you really feel how much you gotta get better, and how much Coach Crean and his staff is into winning."
Filed to: Devin Davis