Robinson excels at Skills U, New Jersey forward hears from IU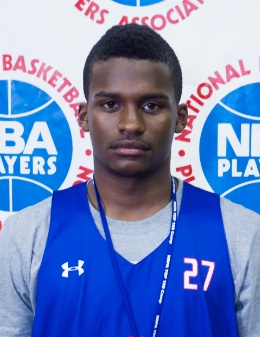 ALEXANDRIA, Va. – 2013 Indiana commit Stanford Robinson was one of the top performers after the first set of games of the Nike Skills U tournament near Washington D.C.
He did a little bit of everything in a blowout victory: scored both inside and out (including a monster two-handed dunk), finished well in transition and played solid defense.
Robinson seemed to be in attack mode from the start, which is exactly what new IU assistant Kenny Johnson – who was at the event – asked him to do.
"I talked to him a couple days ago," Robinson said. "He and Crean both told me they want me to have a scoring mentality and should stop being so passive. I want to work on being comfortable shooting the ball and getting to the rim all the time."
A busy summer has enabled him to do this.
Prior to his time at the Nike Skills U event, he participated in the LeBron James Skills Academy in Las Vegas. He said the other players pushed him to improve his overall skillset.
"I was blessed to be there," Robinson said. "There was a lot of great talent there, very competitive. You had to work for everything you got."
Aside from his time on the court, Robinson said he has been trying to recruit fellow players to Indiana. Isaiah Briscoe (Union, N.J./ St. Benedict's Prep), one of the top guards in the class of 2015 and Robinson's cousin, has been hearing about the Hoosiers.
He's also spoken to 2013 forward Josh Hart, a Washington D.C. native who is the No. 89 player according to ESPN.com.
2013 forward hears from the Hoosiers: Another name to follow is Reggie Cameron (Paterson, N.J./Hudson Catholic High School), a consensus top-100 player in the Class of 2013. The 6-foot-7 small forward named a lot of high-major schools with interest, including Indiana, and plans to narrow his list later this summer.
"I've talked to coach Johnson over the phone a couple times," Cameron said. "I've texted with Coach Crean."
Indiana has not offered a scholarship yet, but he likes the program and would be open for a visit to Bloomington.
Filed to: Reggie Cameron, Stanford Robinson