Vonleh's coach: "He's a kid that doesn't have any kinks in his armor"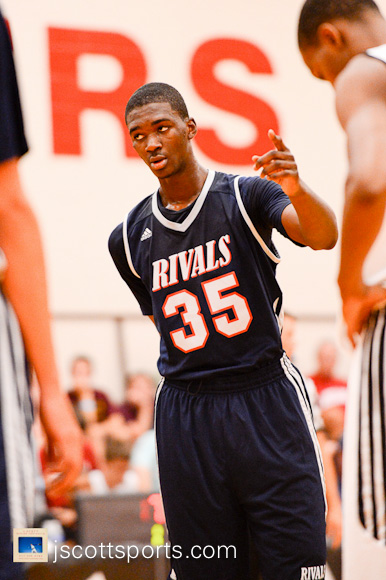 INDIANAPOLIS — Noah Vonleh is arguably the top prospect taking the floor at this week's adidas Invitational, so it was no surprise he was quickly surrounded by voice recorders and cameras after his Mass Rivals team dropped their opening game on Wednesday night.
As Vonleh answered question after question on just a few hours of sleep after arriving in Indianapolis at 2 a.m., it became clear his demeanor off the court was a far contrast to his dominant presence on the floor.
The 16-year old son of immigrants from Liberia, Vonleh is soft spoken, humble and seemingly unaffected by the recruiting attention he's receiving from the country's top programs.
"I think the best part about Noah through this whole process is that he's a gentleman," Mass Rivals coach Vin Pastore, who has worked with Vonleh since the seventh grade, told Inside the Hall. "He hasn't been poisoned by the system. I think the goal is to keep him that way. He's got a lot of humility off the court. He's actually kind of a reserved guy. He doesn't like a lot of attention."
The attention, whether Vonleh enjoys it or not, has come full throttle over the last month.
He mentioned Indiana, Kentucky, Louisville, Ohio State, North Carolina, Arizona, North Carolina, Syracuse, Boston College, UCLA, Providence, Massachusetts and Connecticut as some of the schools showing interest.
"Right now I don't have any school that I'm favoring," Vonleh said. "I'll probably wait until the end of the summer and cut down some schools. But right now, I'm open to everyone."
At 6-9 with a 7-4 wingspan and a size 17 shoe, he's rated as the top power forward nationally in the 2014 class by ESPN.com.
Vonleh, who plays at New Hampton Prep in New Hampshire but is from Haverhill, Massachusetts, can play on the block and has the ability to come out to the wing as well.
"He's a kid that doesn't have any kinks in his armour," Pastore said. "He plays hard, he's got unbelievable skills, length and size. He can shoot. He's got great touch. He puts it to the floor great. He's unselfish. He's mean on the court but he's a sweetheart off the court. He has all the intangibles. Anytime you can get to coach a kid like that, it's once in a lifetime. He's that good."
Pastore, who said he places the development of his players before winning on the AAU circuit, said Vonleh's game has evolved tremendously since the two began working together.
"Obviously he was used at a younger age on the block and we took him off the block and then he put the ball on the floor. He was putting the ball on the floor and getting into the middle and making plays," Pastore said. "The next phase has been, he's really shot the ball great this year. That makes him pretty much un-guardable. I think the next part of his game is to develop a midrange game where off the dribble he can make some shots."
Vonleh, who has only visited Massachusetts, Connecticut, Boston College and Providence, planned to make an unofficial to Bloomington when he was in Chicago for adidas Nations last month.
The trip ultimately didn't work out, but he's still hearing regularly from the Hoosier staff.
"I've been talking to Coach Kenny Johnson and Tom Crean," Vonleh said. "They've been talking about getting me up for a visit pretty soon. I don't know when that will happen."
The school that ultimately lands Vonleh will be getting a player Pastore believes is simply too talented to keep off the court, regardless of the position he ends up playing.
"The bottom line is that he's gonna play somewhere," Pastore said. "But it's going to be on the court no matter where he goes to school because he's a winner in every aspect of the game."
Filed to: Noah Vonleh