D'Angelo Russell: 'I can be No. 1'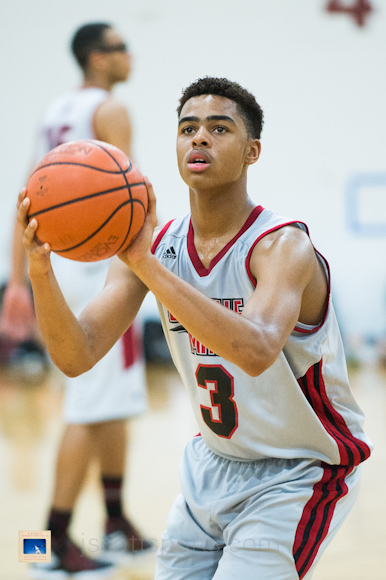 INDIANAPOLIS — D'Angelo Russell has climbed the class of 2014 recruiting rankings as quickly as anyone in recent months. But Russell, currently ranked No. 10 by Rivals.com, knows he can climb even higher.
"I can be No. 1," Russell said.
His AAU coach Ellis Myles, a former forward at the University of Louisville, didn't disagree with his star player's belief that he could become the top player in the class.
"I believe so. He's 16 years old and two years away," Myles said. "There's a lot of guys re-classifying into that 2013 class. Hopefully it can happen that way."
The 6-4 guard is in Indianapolis this week for the adidas Invitational. Russell is originally from Louisville and plays for the Louisville Magic, but he's playing his high school ball at Montverde Academy in Florida.
Some of the top players in the country, including guard Kasey Hill and big man Dakari Johnson, also play at Montverde.
Last year was Russell's first in Florida, and it was a challenging one for him. He failed to get off the bench in some games as the coaching staff tried to teach him how to play meaner.
"It gave me a chance to grow up a little bit," Russell said. "It opened the doors for me to be able to defend. It's like college — you gotta play defense to be on the floor, and I guess I didn't bring it every day in practice."
Myles said remembers constantly trying to motivate Russell to play harder defensively when he first began coaching him in AAU.
"It's been an issue since the first few years I had him, trying to motivate him and get him to play defense and not give up that easy bucket when I'm hollering at him that everybody can make 3-point shots now," Myles said. "That's where the maturity has come from. Him playing defense really helps us get out on the fast break."
There had been rumors that Russell would return to Louisville for his junior season next year, but he said there's no truth to them. His experience at Montverde has challenged him like he's never been challenged before, and he's not ready to walk away from the test.
"I didn't play as much as I should have, so I would say that I'm hungry," Russell said. "I wasn't mean enough. I adjusted to the system. I turned it around. It'll be a different story next year."
Russell has gotten interest from North Carolina and Kentucky recently, but he has yet to receive an offer from either school. Russell currently has offers from Cincinnati, Indiana, Louisville, Missouri, N.C. State, Ohio State, Tennessee, Virginia and Xavier.
While the list is long, Russell said Indiana is certainly a player.
"I'm in contact with them a lot," he said. "I just like how coach Tom Crean, he turned the whole thing around."
Russell is in no hurry to make a decision and he said he'll probably wait as long as possible to do so.
"I want to see who's coming with me, and who's going in before me," Russell said.
Filed to: D'Angelo Russell