Zeller decision coming on Monday afternoon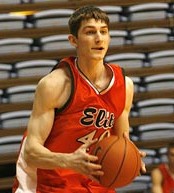 Various media outlets have confirmed that Washington High and five-star recruit Tyler Zeller will announce his college decision Monday, November 5 during a 3PM EST news conference at a local Ponderosa. That last detail is courtesy of our friends over at the Hoosier Scoop. Perhaps everyone will hit up the buffet afterwards.
The fact that Zeller will announce on Monday comes as a surprise as speculation over the past few days has run rampant that the decision could be delayed. Specifically I'm referring to an article on Wednesday by Evan Daniels of Scout.com that stated Zeller was considering taking more visits.
I've already given my view on each of the schools still in the running, so now we just sit back and wait for the announcement. If you haven't had a chance yet to weigh in with your prediction, I'm interested in hearing your take.
Previously:
(Also of note, the first AP poll was released today and IU checks in at No. 9. In fact, the top 10 in both polls are identical.)
Filed to: Tyler Zeller