Zeller talks IU visit, staying coy about recruitment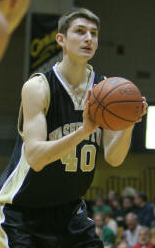 If you've got any doubt about how big the recruitment of Tyler Zeller is getting, just take a look at the sports section on the Indianapolis Star's website. Embedded on the right side of the page is a special section called "Chasing Tyler."
Zeller visited IU this past weekend and by my count talked to three media outlets after the visit. And unlike most recruiting stories where a kid will give some clues to where he's leaning, Zeller is giving no indication on which school is leading the race.
Take notice, courtesy of Jeff Rabjohns of the Indy Star:
"I'm definitely taking everything in," Zeller said. "I haven't written everything down, but I'm trying to figure out, this school has this, but this other school has that. This school is better than that one in this, but this other school is better in that. One day, you're going to wake up and it's going to be, 'I'm going there.' I'm just kind of waiting around for that to happen."
In other words, he's going to take all of his visits and he's still wide open. I've seen a couple posts here on the Hall asking where Zeller is leaning and I've been asked a few times for my opinion on where he'll end up. To be totally honest, I've got no idea where this is all heading. You can legitimately make a case for all four schools in the race. Until a decision comes, just sit back and enjoy the ride.
Filed to: Tyler Zeller