Tyler Zeller visits Bloomington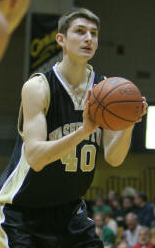 Thanks to one of our contacts in Bloomington (and a faithful reader of the site), Zach, Inside the Hall has learned that Tyler Zeller was in Bloomington today on an unofficial visit.
Zeller was spotted in the South lobby of Assembly Hall around 2 pm this afternoon along with IU Athletics Director Rick Greenspan, coach Kelvin Sampson, Eric Gordon and D.J. White.
No other details are available of the visit, but we figured we ought to pass it along.
I assume Zeller was checking out the Kelley School of Business, which he is reportedly interested in learning more about. Zeller will not participate in tonight's Barnstorming Tour game at North Daviess as originally speculated.
The key in my estimation for the Hoosiers landing Zeller will be getting their official visit the weekend of Midnight Madness or securing the last official visit.
While I'm not yet ready to call IU the leader for his services, there's no question that the Hoosiers are picking up momentum for the Washington (IN) big man.
Filed to: D.J. White, Eric Gordon, Kelvin Sampson, Rick Greenspan, Tyler Zeller