Zeller recruitment will go down to the wire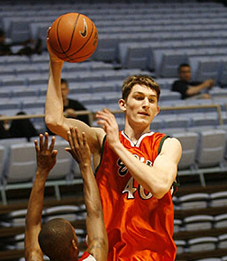 With official visits to North Carolina, Indiana, Notre Dame and Purdue now in the rear view mirror, Tyler Zeller is faced with a decision that will shape the next four years of his life. Unlike most recruits, Zeller is playing his decision close to the vest and few clues have surfaced as to where he'll end up.
What we do know, thanks to comments made by Zeller over the weekend in West Lafayette to the Journal and Courier, is that he'll make his decision sometime between November 5th and November 14th.
Here's a little bit of what Zeller had to say about the decision making process and how the recent sanctions announced at IU could effect him:
On where he stands in the decision making process:

"I really have no clue right now. All the players are factors. You have to look at who you come in to play with, where you fit in and how you fit in. Can you play with them? You have to look at everything."

On the sanctions recently announced by Indiana:

"You have to look at the long run. You've got to look at what is going to happen down the road. We will just see what happens with all of that. It didn't really bother me, because after I talked to (coach Sampson) and he explained everything, it didn't sound as bad as I thought it was at first."
I have a hard time buying into Zeller's statement that he has no clue where he'll be going. He's been to all four schools and he's been able to see how he fits in at each school. By this point, I hope he's got some clue as to where he'll end up.
I've always felt that Notre Dame was a distant fourth in the race and I still feel that way. North Carolina is the storied, national program that might be just as passionate as Indiana about basketball. Zeller seems to have a good relationship with Roy Williams and he wouldn't be the first Indiana kid to head to Chapel Hill (Do the names Sean May, Eric Montross and Rick Fox ring a bell?). Purdue has things headed in the right direction with Matt Painter at the helm and is making a living plucking top talent from the state. And we all know the appeal of playing at IU.
The unfortunate thing about the sanctions for Kelvin Sampson is that if Zeller doesn't choose Indiana, there will be immediate questions about the effect of the sanctions on recruiting. Ultimately, I believe they'll have little to do with Zeller's decision.
So, where do you think Tyler Zeller will end up and why? Will he join brother Luke in South Bend? Will he head to Tobacco Road? Will Purdue, his last stop for an official visit, get the nod? Or will he end up in the cream and crimson? I'm interested in hearing your thoughts.
Filed to: Tyler Zeller