Confidence behind Zeller's rise to five-star status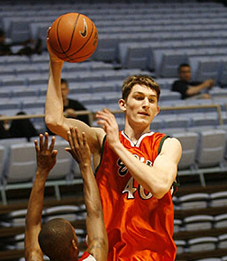 As someone who follows recruiting very closely, the rise of Washington (IN) big man Tyler Zeller to a five-star prospect caught me a bit off guard.
Earlier this year, most recruiting services viewed Zeller as a three-star or a four-star prospect. Many would have argued for East Chicago Central's Angel Garcia or Warren Central's Walter Offutt as the top 2008 prospect from the state of Indiana.
However, after an off-season of improvement and strong AAU play in the spring, Zeller shot up the charts and became a high priority for several schools. Scout.com put him in their top 20 and Rivals.com put him in their top 25. His play has also made him a firm favorite for the title of Mr. Basketball.
So what was behind Zeller's rise as a prospect? His confidence finally caught up to his potential.
"The biggest factor was, and Tyler and I've had conversations about this, he simply wasn't ready," Scout.com National Recruiting Director Dave Telep said. "When there's a player like Tyler Zeller with a family history of size and being a high major player, you make sure you pay that guy a little extra attention. It wasn't Tyler's time until this year and once he seemed comfortable and confident, things just exploded for him."
"It has happened like that for other guys in the past," Telep added. "Andrew Bynum (now of the Los Angeles Lakers) was the same way. You always kind of knew that he was going to be a prospect. When his confidence level started equaling his potential, he really started getting good in a hurry. I think the same thing happened with Tyler."
Filed to: Angel Garcia, Dave Telep, Tyler Zeller, Walter Offutt