Spartans picked to win Big Ten by media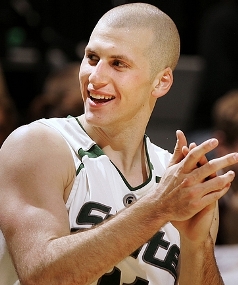 Big Ten media day is this afternoon in Chicago and the Big Ten announced the following this morning:
Michigan State has been selected as the preseason Big Ten favorite for the 2007-08 men's basketball season, as voted upon by a 22-member media panel. Indiana and defending Big Ten Champion Ohio State are ranked second and third, respectively. In addition, Michigan State guard Drew Neitzel was named the Preseason Player of the Year and was joined on the Preseason All-Big Ten Team by Illinois' Shaun Pruitt, Indiana's D.J. White, Ohio State's Jamar Butler and Penn State's Geary Claxton.
The preseason All-Big Ten team that I did over the summer was nearly identical to the one selected by the media. The only difference was that I had Raymar Morgan in place of Pruitt. I also had Neitzel as the player of the year with D.J. a close second.
As far as the order of finish in the conference, you can make a case for Michigan State or Indiana. Everyone else is playing for third.
Steve Grinczel, a Michigan State beat writer, gave us an excellent breakdown of the Spartans a few months back. If, and it's a big if, Tom Izzo can find consistency in the frontcourt, I would also give the nod to Neitzel and Co. However, considering the options up front are Goran Suton, Marquise Gray, Drew Naymick, Idong Ibok and Tom Herzog, I would say consistency from that group is a longshot. Gray is an effective player when his head is in the game and the rest of the gang is relatively unproven (or not any good) sans Suton.
So, who do you have to win the conference? Player of the year? Surprise team? Coach of the year? Newcomer of the year? Let's hear your thoughts.
Filed to: D.J. White, Drew Neitzel, Geary Claxton, Jamar Butler, Michigan State Spartans, Raymar Morgan