All-Big Ten preview: Raymar Morgan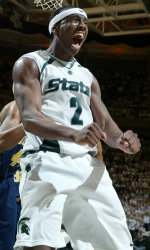 As we told you last Tuesday, Inside the Hall will be counting down the days to Midnight Madness by giving you our preseason look at the 2007-2008 Big Ten Men's Basketball season.
For the next five weeks, we'll reveal one player from our preseason All-Big Ten team. This portion of the preview will culminate on August 27, when we reveal our pick for Big Ten Player of the Year.
Now, onto the festivities.
This first selection was really a no-brainer, Raymar Morgan of Michigan State. Morgan was a member of last year's Big Ten All-Freshman team as selected by the league coaches.
He was the second leading scorer for the Spartans, averaging 11.7 points per contest. This summer, he played with the USA Basketball 19-and-under World Championship team that captured a Silver Medal in Serbia.
Pairing Morgan with Drew Neitzel, Travis Walton, Marquise Gray and their stacked incoming freshman class will surely have Spartan fans thinking Big Ten title.
The best thing about Morgan's game is his versatility. While not a great shooter from beyond the arc (he only hit five threes last season), the 6'7″, 220 pound forward possesses a nice stroke from 15 to 18 feet.
What makes him most dangerous is that he attacks the basket relentlessly. When he gets all the way to the rim, he can finish with the best of them. He's a tough matchup because he can shoot over smaller defenders and drive right around defenders his size.
On the defensive side of the ball, he's a workhorse than can defend any position. This is probably what Coach Tom Izzo appreciates about him the most.
So there you have it, we're off and running with our All-Big Ten preview. We'll continue the preview next week when we reveal the second piece of our All-Big Ten team.
Filed to: Big 10 Preview, Michigan State Spartans, Raymar Morgan, Tom Izzo