All-Big Ten preview: Jamar Butler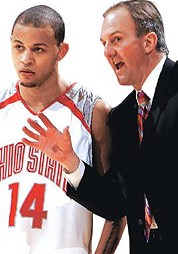 I'm back for our second installment of our All-Big Ten preview and this week we have our second piece of the puzzle, Jamar Butler of Ohio State. For those who didn't see it, last week we profiled Raymar Morgan of Michigan State.
With Greg Oden, Mike Conley Jr. and Daequan Cook now in the NBA, Butler will be counted on by coach Thad Matta as the leader for the Buckeyes and I fully expect the Lima, OH native to respond to the challenge.
Butler was named honorable mention All-Big Ten last season by the coaches and the media as he started all 39 games, averaged 8.5 points per game and hit 85% of his free throws. He was second on the team in assists behind Conley Jr.
Expect those numbers to jump considerably as he'll be expected to take on more of the scoring load while the Buckeye newcomers get acclimated to life in the Big Ten.
While he wasn't the one getting the brunt of the attention as Ohio State made their remarkable run last season, Butler was one of the "glue" guys that held the team together. He knew the role he needed to play for the team to be successful and played it magnificently.
He'll now step to the forefront in his final season in Columbus as the leader of what should be another fun Buckeye team to watch.
Filed to: Big 10 Preview, Jamar Butler, Thad Matta