An early look: Michigan State Spartans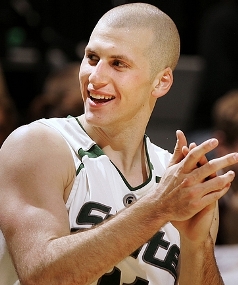 Steve Grinczel is the Michigan State beat writer for the Booth Newspaper chain, which includes the Ann Arbor News, Bay City Times, Flint Journal, Grand Rapids Press, Jackson Citizen Patriot, Kalamazoo Gazette, Muskegon Chronicle, and Saginaw News — and MLive.com. He recently took the time out of his busy schedule to give Inside the Hall an in-depth, early look at Michigan State hoops for 2007-2008. Check out Steve's Spartans Insider blog by clicking here.
Inside the Hall: With Drew Neitzel and Raymar Morgan returning and a solid incoming freshman class, what are the expectations going to be like this year in East Lansing?
Steve Grinczel: While MSU has had some terrific NBA-caliber talent and experience come through the tunnel in recent seasons, the most the program seemed to generate is a hopeful hum. That said, I expect a buzz that's been conspicuous by its absence in recent years will be back in 2007-08. To some, the Spartans are building toward a run to the Final Four that will be played in Detroit in 2009. However, Neitzel's reputation for not being denied preceded him to East Lansing and as a senior he's down to his final season of eligibility. This is a payoff year for him, and I'm certain he's expecting nothing less than leading MSU to its first Big Ten title since '01 and a deep run in the NCAA Tournament. Neitzel has the credentials as a scorer and set-up man to justify likely preseason All-America honors. And, the backcourt should be as good as any in the country with point guard Travis Walton establishing himself as a lock-down defender. Morgan showed why he's considered a special player during his injury-slowed freshman season and should make a big jump with a year under his belt.
Goran Suton and Marquise Gray struggled to find consistency in the frontcourt, but should have ironed out those problems with experience. I look for lanky 7-foot Tom Herzog, who redshirted last season as a freshman, to be the surprise player of the Big Ten. A true postman who likes to play with his back to the basket, his skills and athleticism defy the first impression of being ungainly. Then there's senior Drew Naymick, whose breakout second-half-of-the-season was critical to the Spartans' 10th straight NCAA Tournament appearance.
A lack of depth forced Coach Tom Izzo to go against everything he holds near and dear and slow things down last season. With three athletic freshmen coming in, MSU will be back to its withering, up-tempo game. All-in-all, things are falling back into place for the Spartans.
ITH: Tom Izzo is rumored to be a candidate for a vacant coaching position every off-season. Do you see him finishing his coaching career with Michigan State?
Grinczel: I see him finishing only a chapter of his career at MSU in the not-too-distant future. Anybody who knows Izzo knows he's all about "the experience." That's why over the years he's played games in every hallowed gymnasium — from Cameron Indoor to Rupp Arena to the Smith Center to Allen Fieldhouse to Pauley Pavillion — in the nation. That's why he jumped at a chance to play at Wisconsin-Green Bay a couple of seasons ago. He took the players on a tour of Lambeau Field, and when it began to snow, almost on cue, those goose bumps weren't because the Upper Peninsula native was chilled.
Izzo is all about making memories, and he doesn't exclude himself from that process. If he can make a few more at the collegiate level in the next few years it shouldn't surprise anyone if he jumps at a chance — that's right for him and his family — to coach the game at its highest level. And, he clearly enjoys being a talking head when given the opportunity by CBS and ESPN.
ITH: Let's talk a bit about Drew Neitzel. By my estimation, he'll be one of the favorites for Big Ten Player of the Year. I've been impressed with how much he's improved over the past few seasons. What's the biggest reason for his metamorphosis from a role player into an All-Conference star?
Grinczel: First and foremost, he's an indefatigable gym rat that shoots with either paw – er, hand — at that. And, in keeping with this Noah's Ark theme, he's also a bit of a chameleon. He came to MSU as Michigan's Mr. Basketball, an undeserving one in some views. But with three future NBA players on the team, Izzo didn't need Neitzel to be a star so he excelled as a role player even though he was the team's best outside shooter all the while. Last year, when Izzo desperately needed a scorer, Neitzel defied everybody who thought opponents would nullify him with their best defender and double-teams by simply outworking everybody on the floor from start to finish. Simply put, he's a painstaking student of the game who gains a step with knowledge. And, he's a much better defender than Izzo ever expected.
ITH: On paper, it looks like an outstanding recruiting class coming in for the Spartans. Tell us a little bit about each player and the impact they'll have.
Grinczel: Chris Allen (6-3, 190) has continued to turn heads since signing his letter-of-intent. Former Spartan All-American Steve Smith was the latest to be wowed by his advanced all-around game this summer. Kalin Lucas (6-0, 165) is a ready-made college point guard and Durrell Summers (6-5, 195) has the speed and athleticism Izzo loves on the wing.
As a group, they will be expected to come in and contribute minutes right away so Neitzel and Walton won't evaporate from overuse. Most importantly, all three have high basketball I.Q.s because Izzo is counting on them to assimilate his playbook, which is the size of the Manhattan phone book, rather quickly. Izzo wants to get back to running every chance MSU gets, even after made baskets, and these three jets will make that possible in spite of their youth.
ITH: We realize it's only August, but give me your top 3 teams in the Big Ten when it's all said in done next March.
Grinczel: Oh man, I haven't even figured out Big Ten football yet, but here goes:
1. Michigan State
2. Indiana
3. Wisconsin
Filed to: Big 10 Preview, Chris Allen, Drew Neitzel, Kalin Lucas, Mainstream Media, Michigan State Spartans, Raymar Morgan, Tom Izzo