All-Big Ten preview: D.J. White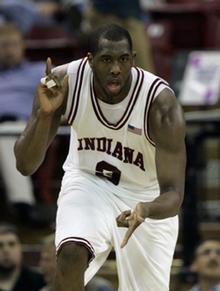 We've already revealed the first three members of our preseason All-Big Ten first team: Raymar Morgan of Michigan State, Jamar Butler of Ohio State and Geary Claxton of Penn State. The tough part came in deciding who would be our preseason player of the year: Drew Neitzel or D.J. White. After putting all bias aside, the nod went to Neitzel. It was not an easy decision and I'm sure it'll generate quite a bit of discussion here at the Hall.
This will be the year that White's star finally shines bright in Bloomington. As a freshman, White burst onto the Big Ten scene by leading all freshmen in scoring in the conference. Unfortunately, that talented team never lived up to its potential and dropped a first round NIT game at home to Vanderbilt.
In 2005-2006, White struggled with a foot injury that limited him to five games and left many wondering if he'd ever return to his freshman form.
Last season was a bounce back year for White, as he was named second team All-Big Ten under new coach Kelvin Sampson. He played in his first NCAA Tournament and led IU in scoring (13.3), rebounding (7.3), blocks (2.3) and minutes (31.8). He was the only Hoosier to start every game.
White entertained the idea of testing the NBA waters following IU's second round tournament loss to UCLA, but decided to return because he felt it was in his best interest and more importantly, he wants to earn a degree:
"I believe it is in my best interest to return for my senior season. I learned a lot from Coach Sampson and the rest of the coaching staff and really improved my game last year. I'm excited to take my game to another level and I look forward to a very successful season with my team. Another factor in my decision is I want to graduate. Getting my degree from Indiana University is very important to me and my family."
While much of the buzz for the upcoming season surrounds the arrival of Eric Gordon, White is the key to getting the Hoosiers to San Antonio. The Hoosiers are heavy with talent on the perimeter and thin on experience in the paint. D.J. will be counted on to carry the load down low and also be a leader as one of the captains. He's already embracing that role:
"We have a lot of young guys, so we just have to do the right things on the court and do what Coach Sampson asks. I think these guys want to learn enough that they'll follow our guidance, so I think that will be big for Lance and I to lead by example."
In the end, White's play this season will propel IU to a deep run in the NCAA Tournament and first round status in the NBA Draft. He and Neitzel will decide the player of the year award with two head-to-head battles and ultimately, the nod will go to the player who leads his team to a league title.
Filed to: Big 10 Preview, D.J. White