All-Big Ten preview: Geary Claxton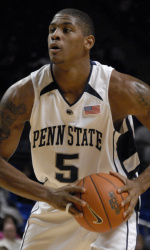 It's Monday and that means it's time for another player to be revealed in our All-Big Ten preview for the upcoming season. Inside the Hall has already taken a look at Raymar Morgan of Michigan State and Jamar Butler of Ohio State. This week, Geary Claxton of Penn State joins our list of soon-to-be five players.
If Claxton played for a more prominent Big Ten program — say Ohio State, Michigan State or IU — I'd be talking about him as one of the favorites for Big Ten Player of the Year.
Since he plays for one of the lesser known programs in the league, he has to settle for the title of "Best Big Ten Player You've Never Heard Of."
Passed over by the likes of Connecticut, Syracuse and Villanova, Claxton came to coach Ed DeChellis and the Nittany Lions as a two-time first team All-State selection out of West Haven, Connecticut.
To give you an idea of how overlooked he was on the national scene, his only other offer came from Fordham, an Atlantic 10 program.
As a freshman in 2005, he was named one of the five best freshman in the league. As a sophomore in 2006, he was third team All-Big Ten by the coaches and the media (he was the first Penn State player to be selected to an all-league team since 2001).
And last season as a junior, Claxton was second team All-Big Ten by the media and third team by the coaches.
The 6'5″, 215 pound guard-forward has been forced to play out of position at Penn State due to the personnel surrounding him. He can take larger defenders out on the perimeter and hit the midrange jumper and overpower smaller defenders down on the box. He's a stud athlete for his size and once he is able to play his natural position full-time, his game could translate well at the NBA level.
Despite being the center of attention each time he steps on the floor, he's averaged 14.7 points and 7.2 rebounds per game over his career.
Expect more good things for Claxton this upcoming year as he looks to try and get Penn State to the NCAA Tournament for the first time since 2001.
Filed to: Big 10 Preview, Geary Claxton, Penn State Nittany Lions