All-Big Ten preview: Drew Neitzel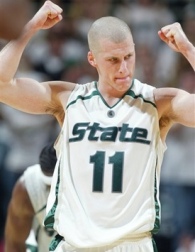 It's taken over a month to do it, but I finally have my complete All-Big Ten preseason team. Drew Neitzel, the senior point guard from Michigan State, rounds out my list of five and is my preseason pick for player of the year.
Joining Neitzel on the first team are Raymar Morgan of Michigan State, Jamar Butler of Ohio State, Geary Claxton of Penn State and D.J. White from our beloved Hoosiers.
When I first saw Drew Neitzel as a freshman during the 2004-2005 season, it was hard to imagine him as someone with the potential to become an all-league player. Quite frankly, he looked over matched during his first couple of seasons. And then, he got better. A lot better.
Neitzel came into his own last season for the Spartans when coach Tom Izzo needed a go-to-guy. Neitzel was a role player his first two seasons, deferring to the likes of Maurice Ager, Shannon Brown and Paul Davis. In fact, Neitzel never had a scoring average in double figures before last season.
As a junior, he led the Spartans in scoring at 18.1 ppg and was an absolute load for opposing defenses. More importantly, he emerged as the leader on a team that won a game in the NCAA Tournament, something that Brown, Ager and Davis were unable to do in their last season together.
Neitzel returns for his senior season in East Lansing with no shortage of accolades. Most publications have him tabbed as a first or second team All-American. He'll be the centerpiece and the captain of a Michigan State team that is expected to start the season ranked in the top ten.
Expect an encore performance for the Grand Rapids native as the Spartans will battle it out with IU for the conference crown and Neitzel will try to nab the player of the year title over D.J. White.
I'll continue my conference preview over the next couple of months and break down my predictions for the order of finish in the conference. And if we're lucky, E and R will chime in with their picks as well.
Filed to: Big 10 Preview, Drew Neitzel