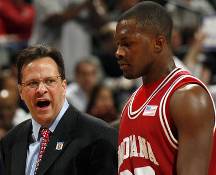 The scholarship situation in Bloomington is starting to sort itself out. A couple of weeks ago, the Hoosiers were oversigned by a scholarship and speculation grew on players considering a transfer. First, it was Malik Story. And now, his roommate and fellow freshman Nick Williams has also decided to leave the program.
Our friend Chris Korman of The Herald-Times/Hoosier Scoop was first to report the transfer:
"After the season, Nick expressed displeasure with his role this year and also shared concern with members of our coaching staff about his future role in the program, " said Crean.  "He is a fine young man and we have enjoyed our relationship with him over time.  He played hard and did some very good things for us and we wish him the best."
The decision by Williams is a curious one considering he originally signed with Marquette and then followed Crean to Bloomington last spring. But when you consider that Maurice Creek is coming into the program, Devan Dumes commands his share of looks and Verdell Jones came into his own down the stretch, Williams, like Story, would likely have taken a tumble down the depth chart. As of right now, IU will enter next season with 12 scholarship players. There is, however, a possibility that another player could be added to the 2009 class as the staff continues to evaluate talent this spring.
Korman's story also reported that walk-on Broderick Lewis has left the team. The complete release from IU, with more comments from Crean and a quote from Williams, after the jump.
(Photo credit: Indianapolis Star)