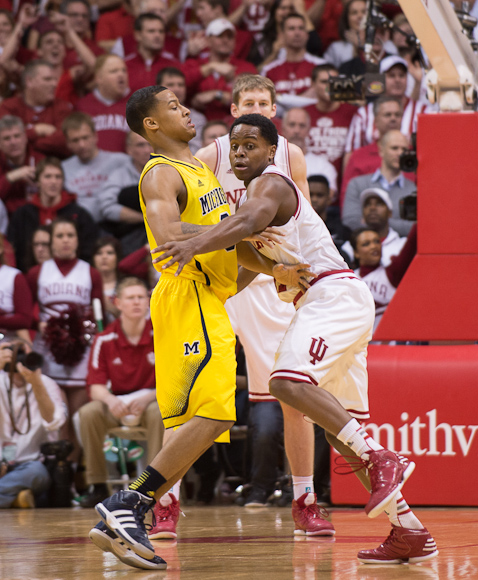 Like it did last year, Indiana took down No. 1 at Assembly Hall on Saturday night. Only this time, no court storming was necessary.
While it will go down as an upset by the rankings, these are the kinds of games the Hoosiers are expected to win these days. That's a credit to Tom Crean, who has rebuilt this thing from nothing.
No. 3 Indiana 81, No. 1 Michigan 73.
"Indiana is a heck of a team," star Michigan guard Trey Burke said. "I'm glad we got an opportunity to play them tonight."
I've been critical of Crean in the past for his occasional failure to make adjustments (See: Wisconsin), but he came up with a masterful game plan against the Wolverines. He figured Burke would get his, but Crean devised a defensive game plan to keep any other player from going off.
The Hoosiers almost completely took freshmen Nik Stauskas and Glenn Robinson III out of the game, holding them to a combined 12 points on 4-of-16 shooting.
"They were locking down on Glenn and Nik, not letting them get the ball, and then putting good pressure on us," said Michigan coach John Beilein.
Added Burke: "They kind of made us win the game just from the point guard and the center position. Indiana did a good job of denying them. It was tough getting them the ball."
This is not the same team that so often won games because of its ability to outscore teams. With Victor Oladipo and Yogi Ferrell leading the charge, this Indiana team now prides itself on its defense.
When shots stopped falling as they occasionally did Saturday night, the Hoosiers' defense kept a Michigan team full of offensive firepower from claiming the lead.
"We felt that the Indiana defense they saw last year was what they remembered," Crean said, "and we wanted to give them something different because we did not guard them as well as we should have a year ago. We really wanted to prove to ourselves tonight that we were a much better defensive team against a team that's that good."