For Hoosiers and Wolverines, defense will be key Saturday night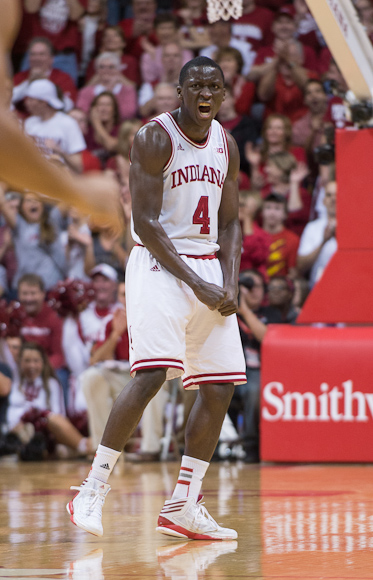 Indiana and Michigan are two of the best offensive teams in the country. They can run as well as anybody, and each team has several reliable scoring options.
Both coaches are well aware of that fact. As Indiana coach Tom Crean and Michigan coach John Beilein addressed the media on Friday, each spent the majority of the time talking about the challenges their teams will face on the defensive end.
The consensus? Neither team is ranked in the top five because of only one guy.
When looking at the No. 3 Hoosiers, Cody Zeller's name comes up most often. Beilein fielded numerous questions about the Indiana big man on Friday, but was quick to point to Zeller's supporting cast.
"It's not like you throw it in there and he's got a bunch of stiffs running around him," Beilein said. "He's got a great team around him. … They are playing at a high level."
And for No. 1 Michigan, the main man is point guard Trey Burke, one of the leading early candidates for the player of the year award. Burke is averaging 17.9 points and 7.1 assists per game.
"I'm sure they've thought this out," Beilein said. "Last year, they put [Christian] Watford on Trey a little bit in that game, [Victor] Oladipo is an option. We have other options as well besides Trey Burke, as everyone knows."
Yes, the Wolverines most certainly do. They have several other scoring options, including Tim Hardaway Jr., Nik Stauskas and Glenn Robinson III. Crean put Oladipo on Hardaway Jr. for the majority of the time in last year's two meetings, and the matchup favored Indiana. Hardaway Jr. shot just 11-of-33 from the field and 2-of-15 from the 3-point line in those games.
But Hardaway Jr. is a much-improved player this season, due in large part because of the Wolverines' additional depth. He's shooting 41 percent from beyond the arc and is hitting two per game after knocking down only 28 percent of his 3-pointers a year ago.
"He's got an incredible first step. He can score off the dribble, he's hitting 3s," Crean said. "He's one of the better players in the country. What makes him good, what makes Trey Burke good is the same thing that makes our better players good – everybody else on the court can play too."
Oladipo will likely start the game against Hardaway Jr. again, leaving freshman Yogi Ferrell to guard Burke. Ferrell has had a terrific year on the defensive end, but he hasn't yet faced a player as talented and as skilled as Burke.
While the Hoosiers will likely throw a number of players at Burke throughout the game and also play help defense, Crean said it's especially important that they play good 1-on-1 defense.
"You can't rely on help against them," Crean said. "They've got too many good players. You've got to do your work early, you've got to be very physical to the ball, you've got to be very vocal to your teammates, and it can't be a game where you get caught in a lot of overhelp situations.
"When we get in an overhelp situation, we're not as good, and that's happened to us some. That happened in the second half against Minnesota big time, and it happened in the Wisconsin game too much. You just can't overhelp."
Crean's concerned mostly with Michigan's explosiveness and athleticism. While that also worries Beilein about Indiana — especially with Oladipo — he's found it much more difficult to devise a way to take away the Hoosiers' shooters.
"These guys have a bunch of Jon Dieblers there, not just one or two," Beilein said, referring to the former Ohio State guard. "Ferrell can shoot it, there are a lot of guys."
Filed to: John Beilein, Tom Crean, Trey Burke