What better way to preview Indiana's match up against No. 25 Wisconsin than with former IU guard Errek Suhr?
Podcast On The Brink hosts Matt Dollinger and Greg Rosenstein speak with Suhr — a Bloomington native who played for the Hoosiers from 2003-2007 — about the game and what he has seen so far out of this season's team. 
Suhr, who is temporarily filling in for Royce Waltman as Don Fischer's color commentator, also discusses playing on the road in Madison, his most memorable game as a Hoosier and where Assembly Hall ranks for best arena atmospheres. 
So tune in and enjoy. As always feel free to drop us a note at podcastonthebrink@gmail.com. We will be back Friday to recap the Wisconsin game, so be sure to check back. 
Listen in the embedded media player below, download the episode, subscribe via iTunes or subscribe to the RSS feed.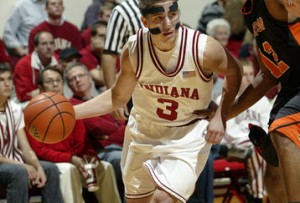 It's going to be hard to write these little features of ours for a while. Why? Because we literally don't know anything about this batch of Hoosiers. We know a few things, sure — that Daniel Moore handles the ball well, that Devan Dumes is lightning-quick — but we don't really know the sum of their parts yet. Are they destined to be this bad all season? Are they going to start playing screens better? For the love of your diety of choice, will somebody please grab a rebound? I don't know what to believe, and I'm afraid to blindly guess.
Compounding the problem are the teams IU is playing. Things will become much clearer next Monday in Maui against Notre Dame — I am not looking forward to seeing who is going to guard Luke Harangody — but for now, what are we to make of IUPUI? Are they occasionally tourney-bound IUPUI? Or are they just bad? Should we be even more worried than we already are? I have no answers. Merely questions.
This was the case after the first game, too. Instead let's just recap what we saw.
Read →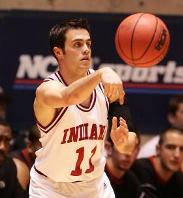 Less than four months removed from his playing days at Indiana, Errek Suhr is already back into basketball. Suhr has returned to Bloomington North, where he graduated in 2003, as an assistant coach.
Suhr talked to the Times Mail about the role coach Kelvin Sampson played in preparing Suhr to be a success in coaching:
"He'd just pull me aside during a practice and say, 'Now this is what you should do when you are a coach,' " Suhr said. "He'd just talk to me about all the things you encounter as a coach."
It's no surprise to us that Suhr has landed this gig. When he was on the floor with the Hoosiers, he was an extension of the head coach and you could be sure good things were going to happen.
And we have no doubt that Suhr will make a successful coach. Why are we so confident in saying that? If the attitude he showed us over the past four years is any indication, nobody will outwork Errek Suhr.