Errek Suhr gets into coaching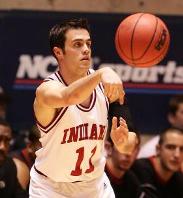 Less than four months removed from his playing days at Indiana, Errek Suhr is already back into basketball. Suhr has returned to Bloomington North, where he graduated in 2003, as an assistant coach.
Suhr talked to the Times Mail about the role coach Kelvin Sampson played in preparing Suhr to be a success in coaching:
"He'd just pull me aside during a practice and say, 'Now this is what you should do when you are a coach,' " Suhr said. "He'd just talk to me about all the things you encounter as a coach."
It's no surprise to us that Suhr has landed this gig. When he was on the floor with the Hoosiers, he was an extension of the head coach and you could be sure good things were going to happen.
And we have no doubt that Suhr will make a successful coach. Why are we so confident in saying that? If the attitude he showed us over the past four years is any indication, nobody will outwork Errek Suhr.
Filed to: Errek Suhr, Kelvin Sampson