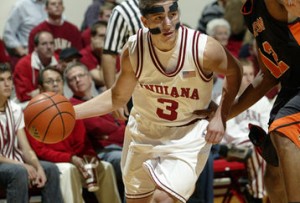 It's going to be hard to write these little features of ours for a while. Why? Because we literally don't know anything about this batch of Hoosiers. We know a few things, sure — that Daniel Moore handles the ball well, that Devan Dumes is lightning-quick — but we don't really know the sum of their parts yet. Are they destined to be this bad all season? Are they going to start playing screens better? For the love of your diety of choice, will somebody please grab a rebound? I don't know what to believe, and I'm afraid to blindly guess.
Compounding the problem are the teams IU is playing. Things will become much clearer next Monday in Maui against Notre Dame — I am not looking forward to seeing who is going to guard Luke Harangody — but for now, what are we to make of IUPUI? Are they occasionally tourney-bound IUPUI? Or are they just bad? Should we be even more worried than we already are? I have no answers. Merely questions.
This was the case after the first game, too. Instead let's just recap what we saw.

DEFENSE. REBOUNDING. OY VEY.
Again, I can't emphasize this enough, especially to myself, because sometimes I get a little shortsighted: It's early. Very much so. I remember last year when the team we all thought was going to the Final Four looked like they couldn't play a lick of defense, and I was sort of freaked out. Then they got it together, and they were fine. (And then, well, you know what happened next.)
But if there are two things that have been utterly consistent — and utterly frightening — from tonight's game and Saturday's, it's that this time does not rebound, and does not really defend. At all.
Part of it they can't help. Tom Pritchard does his share, and Kyle Taber is never really out of position, but there's just no size there. Even at the guard position, IU is incredibly small, and so there aren't really any athletic guards that can crash the boards and help compensate for the overwhelmed front court. IU is going to be overmatched all over the place this year, and those mismatches will likely manifest themselves most blatantly when the ball clangs high off the rim.
That said, there is still room for improvement here. Box-outs can get better. Guards can use long rebounds to get out on the break. With a little tweak here and a little tweak there, things won't be so cringe-inducing, especially on the defensive end.
Defensively, it's much the same story. There are times when IU flashes some defensive chops, but most of the time I feel hostage to the other team's whims. For example: In the first half, IUPUI seemed content to settle on outside shots, and they made almost none of them, including a stretch toward the end of the half when they missed something like 11 straight jumpers. They shot 25.8 percent in the first half, and IU took a lead into the break.
Then, in the second, half, IUPUI realized they could get layups at will, and so they took them. And took them. And took them. And they shot 60 percent in the second half, and they rushed back into the game, and IU had to fight them off at the last second. All because of the Hoosiers' limitations — their defensive porousness on the perimeter, their inability to challenge shots at the rim. I don't know whether these things are systemic, or whether they're correctable. I just know that Luke Harangody and Kyle McAlarney might combine for 80 points on Monday. I fear for this outcome.
THE "CHIN-UP, SPORT!" PORTION OF THE PROCEEDINGS
I don't want to be too negative, though. So let's talk about things that weren't actually all that bad:
Matt Roth can shoot. It's nice to have a really, really good shooter on your team. No matter what else happens, at least there's always the faint glimmer of hope that he could get hot and keep you in a game from time to time.
Daniel Moore is like Errek Suhr, but way better. Daniel Moore, what with being diminutive and white and scrappy and so on, is already drawing comparisons to everyone's favorite scrappy, diminutive white guy of recent vintage, Errek Suhr. Problem is, those comparisons don't do Moore justice. Suhr was essentially a short guy with a good long range shot and a tough nose on defense. Moore is a legitimate ball handler. He sees the entire court well, can make needle-point passes from the key or on the break, and just generally has more confidence on the ball than Suhr ever did. Suhr was always jittery. He reminded me of a Chihuaha. He would take three high dribbles and then get rid of the ball, quickly, before anyone could get to him. Moore actually seems interested in handling it, and doing some semi-stylish things in the process. I like Daniel Moore. He's not exactly going to carry IU to a Big Ten title, but for a walk-on, IU could do a whole lot worse.
Plus, his face gear is pretty awesome.
Tijan Jobe. You think I'm being sarcastic, but stay with me for a — haha. Just kidding again. There's nothing optimistic about Tijan Jobe, except that for three minutes a game, he looks more baffled on a basketball court than anyone I've ever seen, and this entertains me.
Tom Pritchard deserves more time. I was a little too harsh on Tom Pritchard in the first TMA. I guess I was just disappointed — I was hoping for some more athleticism, some more strength, that sort of thing. But those aren't the only qualities that make a good big man, and a guy like Pritchard can get by on being in good position under the block, finishing consistently around the hoop, and being crafty in mismatches. Again, like Moore, he's a limited sort of guy … but he's all we've got, and it could be a lot worse, I think.
In fact, that's the motto for the first two games: I have no idea what's going on, but it could be a lot worse. Don't believe me? Wait until Monday.
Filed to: Daniel Moore, Devan Dumes, Errek Suhr, Kyle Taber, Matt Roth, Tijan Jobe, Tom Crean, Tom Pritchard