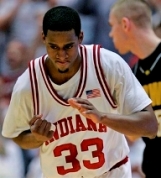 The 11-game losing streak is over.
In a game that looked eerily similar to earlier contests the Hoosiers haven't been able to close out down the stretch, Tom Crean's club reversed the trend and fended off Iowa 68-60 in front of 14,247 fans in Assembly Hall. The win was the first since December 10 for the Hoosiers.
"It was a great win for us," Indiana coach Tom Crean said. "As I said to the players late in the game and I said in the locker room, this will be the toughest win that they ever get. And it wasn't just because it was game night, it was because we haven't won in a while and I'm really proud of them."
Indiana (6-15, 1-8 Big Ten) led by 13 at halftime and enjoyed a 20-point lead with 11:58 remaining. The Hoosiers, however, saw the gap close to 63-60 with 44 seconds remaining on a Jeff Peterson layup.
Crean then called for a timeout and Iowa fouled Verdell Jones, who hit 1 of 2 free throws to make it 64-60. IU forced turnovers on Iowa's final two possessions on steals by Devan Dumes and Nick Williams. A layup by Malik Story and a pair of free throws by Dumes sealed the victory.