Hoosiers crush DIII opponent Anderson, 103-71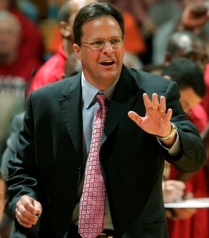 Forgive us for not firing up Cover It Live or a game thread to help usher in Tom Crean's debut in Assembly Hall, but let's be realistic and treat tonight's game for what it was: a glorified practice against a Division III team.
Crean's team did what it was supposed to do: The Hoosiers started with a nice run (21-2 to start the game) and kept applying pressure to a team that was clearly overmatched.
The starting lineup featured four freshmen (Verdell Jones, Tom Pritchard, Nick Williams and Matt Roth) and Vincennes JC transfer Devan Dumes.
Pritchard (20 points and 10 rebounds), Dumes (22 points) and Jones (18 points) each turned in solid offensive performances and Williams showed a nice touch from the free throw line, going 6 of 7. Roth never got into the flow and totaled just five points in 22 minutes.
IU shot 83 percent from the foul line and 56 percent from the field, which could very well be a season-high when it's all said and done. Overall, it was a solid performance for a team that will struggle to find consistency due to its inexperience, but should pull out a decent amount of wins on account of grit and hustle.
Your thoughts on the game and complaints about the BTN's botched streaming experiment are welcome in the comments.
Note: IU is considering adding another walk-on, Kipp Schutz, who plays baseball for the Hoosiers and was all-conference in high school at Evansville Harrison. (Thanks to ITH reader Corey for the tip.)
(Photo credit: Associated Press)
Filed to: Anderson College, Devan Dumes, Kipp Schutz, Matt Roth, Nick Williams, Tom Crean, Tom Pritchard, Verdell Jones